U.S. stocks ended lower Monday, lurching into the final month of the year with all eyes on the stalemate in Washington over the nation's fiscal policy.
A survey of purchasing managers highlighted the cloudy outlook for the economy as lawmakers and President Obama remain at odds over tax hikes and spending cuts set to kick in automatically on Jan. 1, widely known as the fiscal cliff.
The ISM manufacturing index contracted in November, falling to its lowest level since July 2009. Economists said the drop in manufacturing activity was driven by concerns about the fiscal cliff, rather than disruptions due to Hurricane Sandy.
"This survey may indicate that businesses are concerned enough about the fiscal cliff to put spending and hiring decisions on hold," said Paul Dales, senior economist at Capital Economics.
Separately, the government said construction spending rose 1.4% in October from September. And car sales rebounded even more than expected in November after being hurt a month earlier by the storm that wreaked havoc on the East Coast.
After opening higher, the Dow Jones industrial average and the S&P 500 both fell nearly 0.5%. The Nasdaq lost 0.3%.
Investors are grappling with an uncertain political environment as the White House and Congress have just four weeks to come up with a solution to a self-imposed crisis that economists say could tip the nation back into recession.
Related: Fiscal cliff quiz: How much will taxes go up?
Obama outlined an initial proposal last week by calling for $1.6 trillion in new taxes, among other things. Republicans issued a counter proposal Monday that includes tax reforms, changes to Medicare and other spending cuts worth $2.2 trillion over the next decade.
"The question now is whether enough common ground can be found to come to an agreement before the end of the year," said Jason Pride, director of investment strategy at wealth management firm Glenmede. He expects a last-minute delay of the fiscal cliff, "but we do not believe that the risk of inaction is immaterial."
After a go-nowhere November, some investors are expecting a rebound in December, if history is any guide. December has been the strongest month of the year for stocks over the past 30 years, as investors close out positions and square portfolios, according to research from Schaeffer's Investment Research. There hasn't been a negative December since 2007.
Related: Fear & Greed Index slips into fear
After the market closed, Oracle (ORCL) announced plans to make its second, third and fourth quarter dividend payments on Dec. 21. The tech giant is the latest in a string of companies to have accelerated dividend payments in anticipation of higher tax rates under the fiscal cliff.
Shares of computer maker Dell (DELL) jumped nearly 5% after Goldman Sachs (GS) upgraded its stock from sell to buy. Shares of Advanced Micro Devices Inc (AMD), which makes chips for Dell computers, gained 7.5%.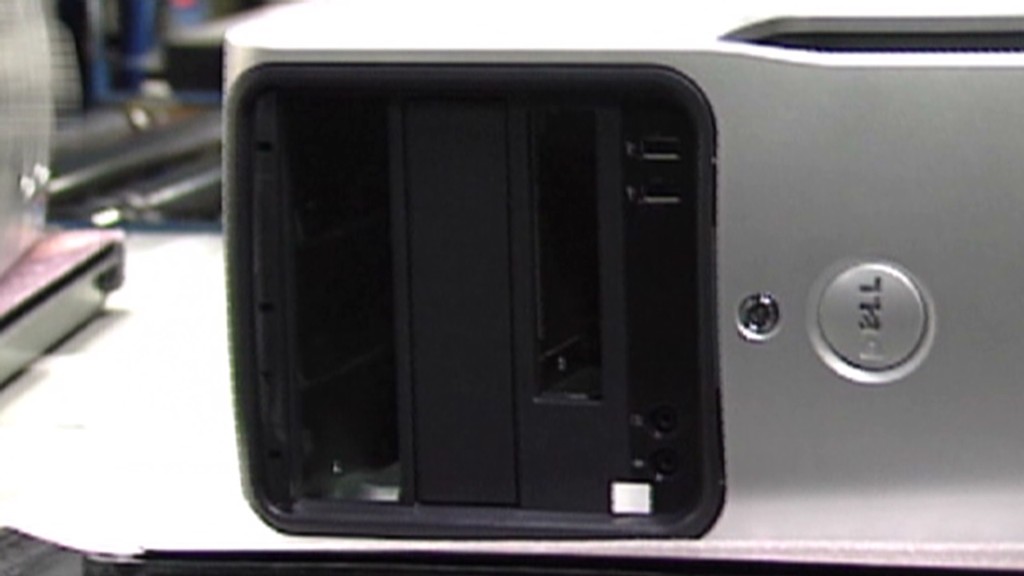 Qihoo 360 (QIHU) shares surged 9% after a report in the Wall Street Journal said the Chinese Internet company was gaining market share from larger rival Baidu Inc (BIDU).
Dean Foods (DF) announced plans to sell its Morningstar division, which makes "extended shelf-life" products, to Saputo Inc. for $1.45 billion.
Positive data on China's manufacturing sector gave Asian markets an early boost. But fiscal cliff fears ultimately weighed on markets there as well. The Shanghai Composite lost 1%, the Hang Seng declined 0.9% and Japan's Nikkei posted a small gain.
Related: There's hidden value in CASSH
European markets ended higher, amid the positive news out of China, and signs of the eurozone crisis easing, as Greece announced details of a debt buyback linked to its revised EU-IMF rescue. The FTSE 100 (UKX) in London edged up less than 0.1%. The DAX (DAX) in Germany and France's CAC 40 (CAC40) both gained 0.3%.
The dollar lost ground against the Japanese yen, British pound and euro. In commodities market, oil and gold prices were higher.
U.S. Treasuries, meanwhile, sold off, with the yield on the benchmark 10-year note rising to 1.63%.