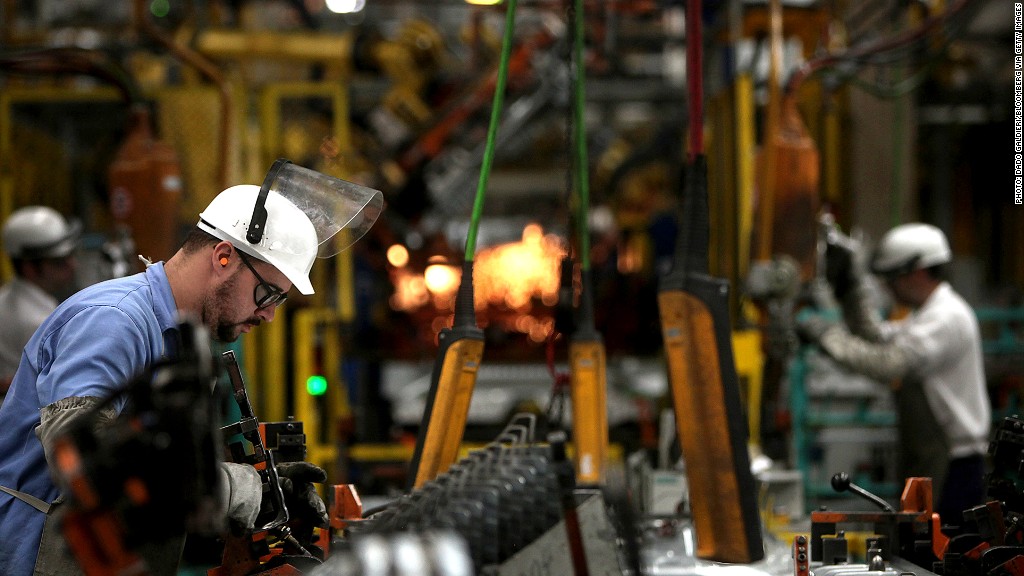 Manufacturing activity came to a standstill in the United States, as global competitors reported improving conditions in November, according to separate reports released Monday.
The Institute of Supply Management's monthly reading on the U.S. manufacturing sector came in at 49.5 in November, the lowest level since July 2009. The index is compiled from a survey of manufacturing supply managers, and any number below 50 indicates the sector is contracting.
Respondents said fiscal cliff fears are weighing on business investment and hitting manufacturers. New orders for goods had grown in October, but then were essentially flat at 50.3 in November.
"The fiscal cliff is the big worry right now. We will not look toward any type of expansion until this is addressed," said a manufacturer of fabricated metal products in the report. "If the program that is put in place is more taxes and big spending cuts — which will push us toward recession — forget it."
Meanwhile, the employment index showed factories have been cutting workers, a worrisome sign ahead of a key report on the U.S. job market due Friday.
In October, manufacturers created 13,000 of the 171,000 jobs added in the U.S. economy overall. Chad Moutray, chief economist for the National Association of Manufacturers, said that manufacturing jobs will likely be flat, or perhaps even lower, when the November jobs numbers are released Friday.
"There is a skittishness on the part of many manufacturers to hire or to invest in the business," he said.
Separate surveys also released Monday showed slight improvement for manufacturers in China, India, Europe and Brazil in November.
Related: China's manufacturing sector expands
China's official purchasing manager's index ticked up to a seven-month high of 50.6 in November. Another measure of Chinese manufacturing, released by HSBC, was at 50.5, the highest level in 13 months.
While economists called the data an encouraging sign for the world's second largest economy, they were also quick to note that fiscal cliff negotiations in the U.S. could negatively impact China and other Asian exporters.
"If the tiff over the cliff finds no resolution, a U.S. recession would knock over growth in Asia, too," Frederic Neumann, co-head of HSBC's Asian Economic Research, said in a note to clients.
Manufacturing activity is accelerating at a faster pace in India. HSBC's India manufacturing PMI picked up in November to 53.7 due to a strong rise in new orders.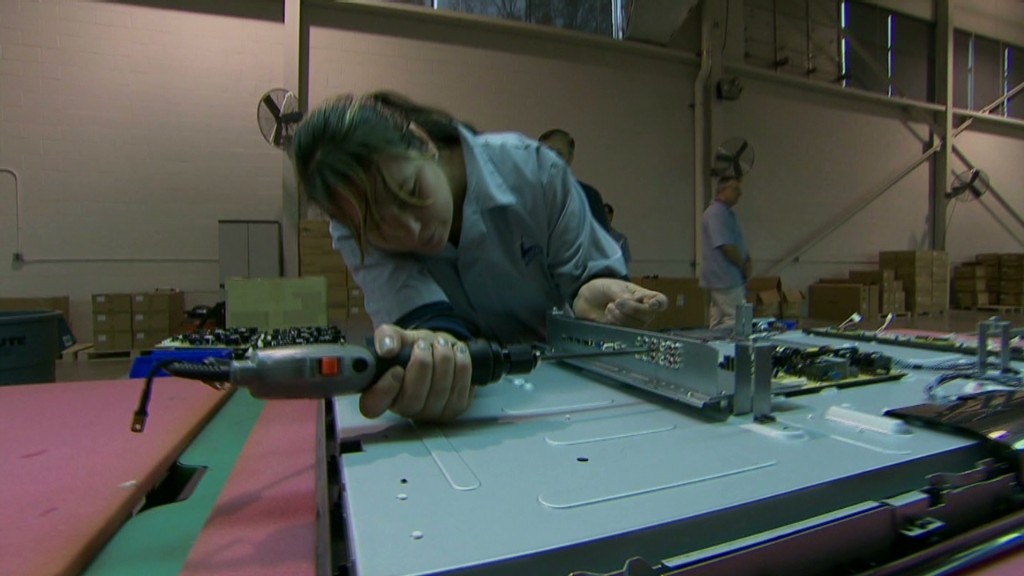 And in Europe, where factories have recently weathered a downturn, the contraction eased somewhat in November. Declines slowed in Germany, France, Spain, Austria and Greece. In Ireland, manufacturing activity accelerated at its fastest rate in four months.
"The November PMI indicated that manufacturing conditions deteriorated at the slowest rate for eight months, but the downturn clearly remains severe," Chris Williamson, Markit chief economist said in a statement.
Brazilian manufacturers reported improving business conditions for the second month in a row. HSBC's Brazil PMI rose to 52.2 in November, up from 50.2 in October.