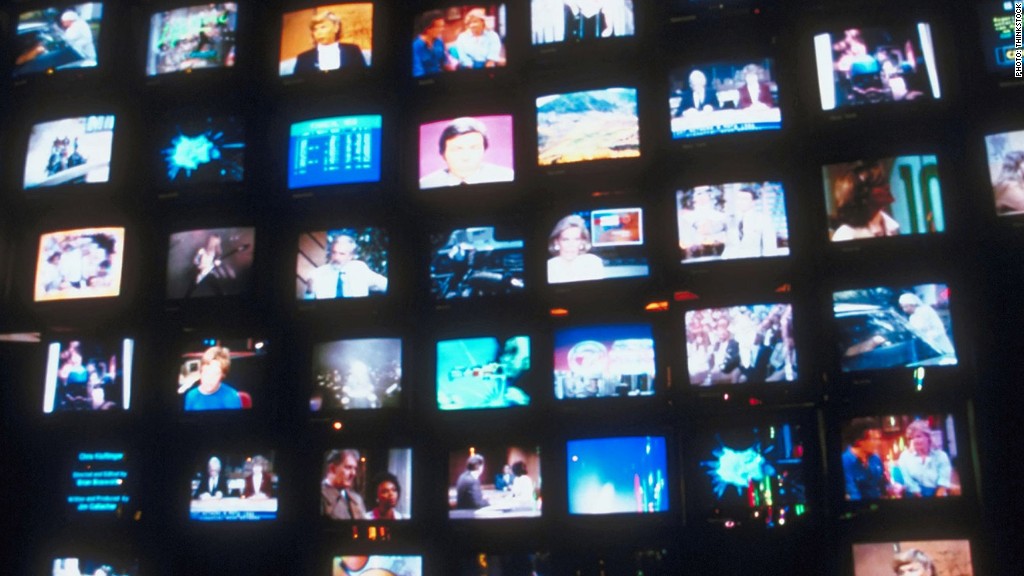 Broadcasters have come back from the dead, and some investors think they have even more room to run.
Gray Television (GTN), Lin TV (TVL), Belo (BLC), and Nexstar Broadcasting Group (NXST), have seen a resurgence in revenue, and share prices, this year.
While some of that jump was unsurprisingly due to record spending during the 2012 election cycle, other types of television advertising has been bouncing back too.
As the U.S. economy climbs out of its rut, and consumers start to open their wallets, car dealerships, banks and home improvement retailers are vying for their attention by spending more on television ads.
Excluding political and Olympics-related ad, advertisers increased spending by 0.5% in 2012, according to research firm Magna Global. Next year, that's expected to grow by 2.3%.
"TV advertising has become more valuable as media becomes more fragmented, because TV is still one of the most efficient ways to reach people," said Eric Greenberg, a corporate partner at the law firm Paul Hastings.
Companies that many thought would make television obsolete, including Netflix (NFLX), Hulu and Coinstar (CSTR)'s Redbox, also haven't made their mark as quickly as investors and media industry watchers had predicted.
During the third quarter, Lin TV's revenue jumped 35%, from a year earlier, while Nexstar's third-quarter revenue rose 20%. Excluding the benefit of political spending, Nexstar's revenue would still have seen a solid 11% bump.
Media conglomerates with large broadcast networks like CBS (CBS), Fox, Comcast (CMCSA)-owned NBC and Disney (DIS)-owned ABC have been less directly affected by these trends because they have more diversified streams of revenue.
Related: Why old media stocks are on top today
Investors have also jumped onto the broadcast bandwagon this year. Shares of Nexstar are up 18%; Lin TV has surged 55%; and Gray Television has gained 27%.
Hedge funds, which have previously shied away from broadcasters, are also placing longer-term bets that these stocks will have significantly more upside, according to several portfolio managers.
Even if TV ad spending slows, broadcast stations will continue to get a nice boost from higher fees charged to cable and satellite companies that want to rebroadcast their signals in local markets.
"Our dependency on ad revenue as a percentage of our overall revenue is the lowest it has ever been in our history," said Lin TV CEO Vincent Sadusky on a recent analyst call.
And there are still untapped revenue sources.
Broadcast TV companies are trying to figure out how to charge telecom firms to use their bandwidth.
Television broadcasters generally have more bandwidth than they need, while mobile phone companies like Verizon (VZ), Sprint (S) and AT&T (T) have been struggling with digital spectrum constraints. Just last year, a consortium of large cable companies including Comcast and Time Warner Cable (TWC) sold unused spectrum to Verizon for $3.6 billion.
Sinclair Broadcast Group (SBGI) said it would consider a similar move "The partnership opportunities going forward are going to be significant," said Sinclair CFO David Amy. "If Verizon says, 'how do I reach a million people at once for this particular product?' We provide a significant and viable partnership in that regard."
Still, this revenue stream might not last forever, as the Federal Communications Commission is considering how to force broadcasters to give up or auction some of their spectrum bandwidth to free up more room for wireless carriers and others uses.
Related: News Corp takes a stake in YES Network
Dealmaking has also perked up. Private equity firms, such as Cerberus and Providence Equity Partners, have been selling off their television stations to Nexstar, Cox, and Sinclair over the past 18 months. And publishing company McGraw-Hill (MHP) sold its TV stations to Scripps last year for $200 million.
Several media bankers and attorneys said they expect broadcast deals to heat up in 2013.
Amy said Sinclair Broadcasting has been acquisitive and expect to continue buying stations outside of the top 10 media markets.
"One of the things that has made TV such a survivor is that it generates cash, so you have the potential to leverage your investment knowing that day in and day out you'll get cash back," said Greenberg.