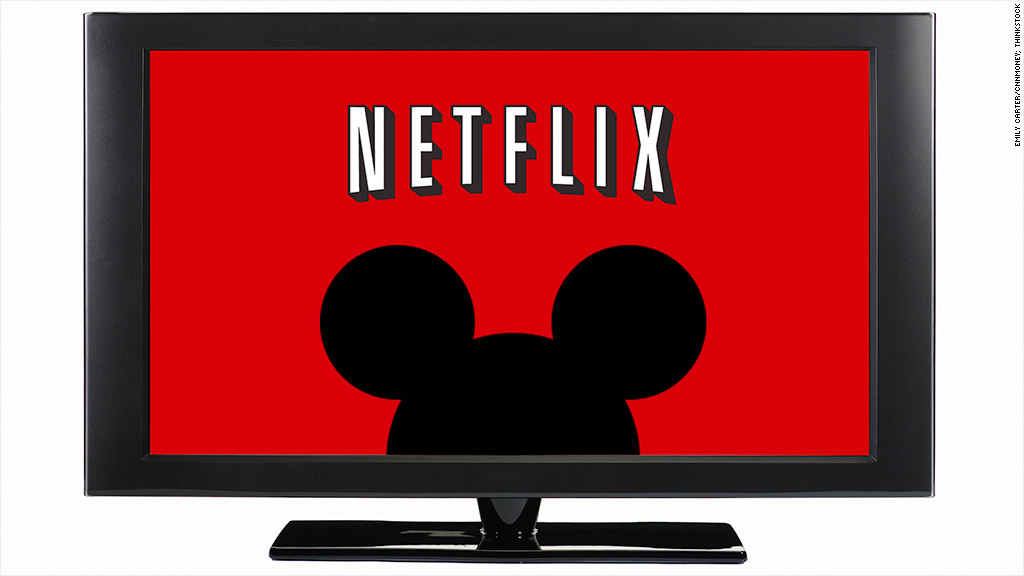 Netflix has inked a high-profile deal with Walt Disney Studios, but you won't see new releases in your streaming queue for another four years.
Starting with Disney's 2016 feature films, Netflix customers will be able to stream a catalog of titles from Disney and four of its subsidiaries: Walt Disney Animation Studios, Pixar Animation Studios, Marvel Studios and Disneynature.
Netflix will become "the exclusive U.S. subscription television service" for Disney's new releases. That means pay-cable network Starz will no longer carry those films, Netflix spokesman Jonathan Friedland confirmed.
That makes Tuesday's deal a nice bit of revenge for Netflix, whose contract with Starz expired in February after deal-renewal negotiations fell apart. Starz currently licenses many Disney films, in addition to titles from several other studios.
Netflix's 2016 exclusivity will end Starz's licensing deal with Disney, and it will also keep other streaming services like Amazon (AMZN) Prime from signing their own Disney contracts. Financial terms of the deal weren't disclosed, but Wedbush Securities analyst Michael Pachter estimates it will set Netflix back about $300 million per year.
If true, that would be about 38% of the $798.4 million in cash Netflix had on hand at the end of September. On the other hand, its got four years to save up.
Friedland, the company spokesman, kept mum on whether the deal will include future "Star Wars" titles from Lucasfilm, which Disney agreed in October to buy for $4 billion. Disney is targeting a 2015 release of "Star Wars" Episode 7.
"Nothing to say until the deal is approved," Friedland wrote in an email, referring to Disney's still-pending Lucasfilm buy.
Starz spokesman Josh Hochberg fired back: "Given the targeted 2015 release date for Star Wars Episode 7, that would go to Starz."
The Netflix deal includes some Disney (DIS) straight-to-video new releases, which will appear on Netflix starting in 2013. In a separate contract, Netflix also signed a "multi-year" deal to stream classic Disney movies including "Dumbo," "Pocahontas" and "Alice in Wonderland." Those movies will be available for streaming starting Tuesday.
Shares of Netflix (NFLX) jumped 14% Tuesday on news of the Disney deal.
But Rich Tullo, analyst at Albert Fried, slammed the deal as one that "takes the craft of PR to a high level."
He criticized Netflix's eagerness to sign a deal under which the best content is not available until 2016. He also noted that Disney's classic movies are available on its own channels, Apple's (AAPL) iTunes, Amazon Prime, and even "the discount rack at Walmart (WMT)."
Sterne Agee analyst Arvind Bhatia called the deal "a major coup for Netflix" on the content side, but like many others he noted that the pricing is risky.
"Our main concern is the price to get this exclusive deal may be high, given competitors such as Amazon have shown ample willingness to bid for new content," Bhatia wrote. He hopes Netflix will shed more light in its next quarterly report on what it's paying Disney.
In any case, the Disney deal is still the best news Netflix has received in a while. In October, notorious corporate raider Carl Icahn bought a nearly 10% stake in Netflix and said the company is a prime takeover target for tech giants.
A spooked Netflix hastily adopted a "stockholder rights plan" designed to prevent activist shareholders from launching a hostile takeover, otherwise known as a "poison pill."