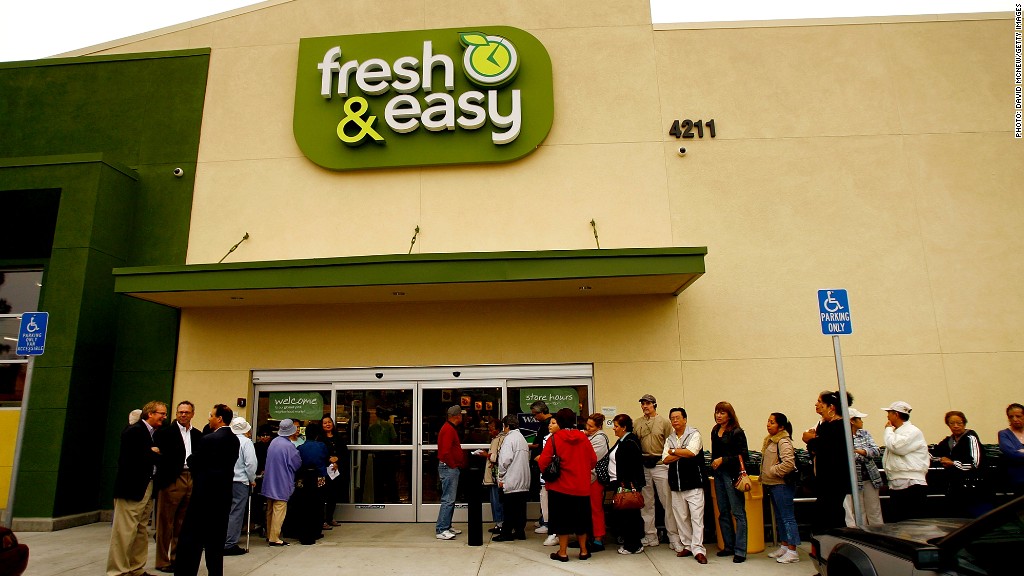 The Fresh & Easy chain has been put up for sale, as U.K. retail powerhouse Tesco admitted defeat in its attempt to take on established supermarkets in the United States.
Tesco launched Fresh & Easy in California in 2007, hoping its chain of smaller stores would draw customers away from large Wal-Mart (WMT) or Safeway (SWY)supermarkets.
But Tesco (TSCDF) underestimated the reluctance of shoppers to change their buying habits, and has been forced to retreat after five years of losses and a total investment of about $1.6 billion.
Fresh & Easy CEO Tim Mason, who has been with Tesco for 30 years, will leave the company.
"It is now clear that Fresh & Easy will not deliver acceptable shareholder returns on an appropriate time frame in its current form," Tesco said in a statement.
Related: Deal reached in California port strike
Boutique investment bank Greenhill will conduct a strategic review of the U.S. business. All options are being considered.
"In recent months, we have had a number of approaches from parties interested in acquiring either all or part of Fresh & Easy, or in partnering with us to develop the Fresh & Easy business," the company said.
The results of the review will be announced along with full-year financial figures in April.
Fresh & Easy's woes have added to the problems Tesco faces in the U.K and other international markets. Third-quarter sales at stores open a year or more fell company-wide by 1.3%, as depressed consumer spending in the U.K. and Europe outweighed an improvement in Asia. Tesco's share of the U.K. market is also declining.
The U.S. chain reported same-store sales growth of 1.8%, down from 6.9% in the second quarter.