As protesters descended on the Michigan Statehouse Tuesday, two controversial "right-to-work" measures that would weaken unions' power were signed into law.
The House approved two bills, which the Senate already passed last week. Both chambers are dominated by Republicans.
On Tuesday evening. Gov. Rick Snyder, a Republican, signed the legislation, which allows workers at union-represented employers to forgo paying dues.
Thousands of people, many of them union workers, gathered outside the statehouse, chanting and holding signs as snow fell. At least three school districts were closed as teachers traveled to Lansing to protest.
There are 23 states which have right-to-work laws, mostly in the South and western plains states, where union membership is relatively weak. Nationwide, union membership stands at 11.8%.
Related: Check union membership in your state
Michigan, the birthplace of the United Auto Workers where 17.5% of employees are represented by unions, would be by far the most heavily unionized state to pass such legislation. It would join neighboring Indiana in converting to right-to-work this year.
"It would devastate the workers," UAW President Bob King told CNN Tuesday morning. "We're worried about all workers in the state of Michigan."
Advocates of the bill say it will help attract businesses to the state, but critics say that it would weaken labor's bargaining strength by cutting union financial resources without doing anything to bring in more jobs.
Related: Michigan vote could be big blow to labor
Employees in right-to-work states have lower wages, on average, than their counterparts elsewhere, according to Richard Hurd, professor of labor studies at the ILR School at Cornell University. That's because the unions are weaker in those states and aren't as effective in bargaining for higher wages. Only two-thirds of workers join unions in right-to-work states, on average.
The average full-time, full-year worker in a right-to-work state makes about $1,500 less annually, according to the Economic Policy Institute, a left-leaning organization. The rate of workers covered by employer-sponsored health insurance is 2.6 percentage points lower, while pension coverage is 4.8 percentage points lower.
Right-to-work states have done better in terms of growing jobs, according to State Budget Solutions, an advocacy group that supported the measure. Right-to-work states saw employment expand by 8.2% between 2001 and 2010, while those without the law experienced a 0.5% decrease, according to the group's analysis of Bureau of Labor Statistics figures.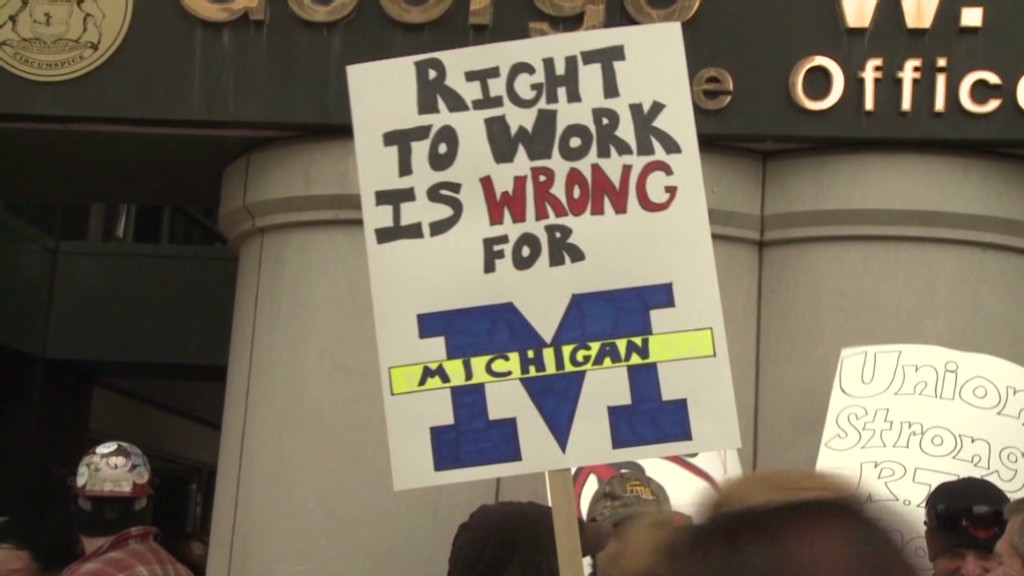 The measure's passage would symbolize the declining fortunes of the nation's once powerful union movement. Only four states have passed right-to-work laws since the 1960s.
"If right-to-work passes in Michigan, it demonstrates the weakness of the labor movement," Hurd said. "If it can happen in Michigan, there's a feeling it can happen anywhere."
CNNMoney's Chris Isidore and CNN's Poppy Harlow, Alison Kosik, Chuck Johnston and Jake Carpenter contributed to this report.