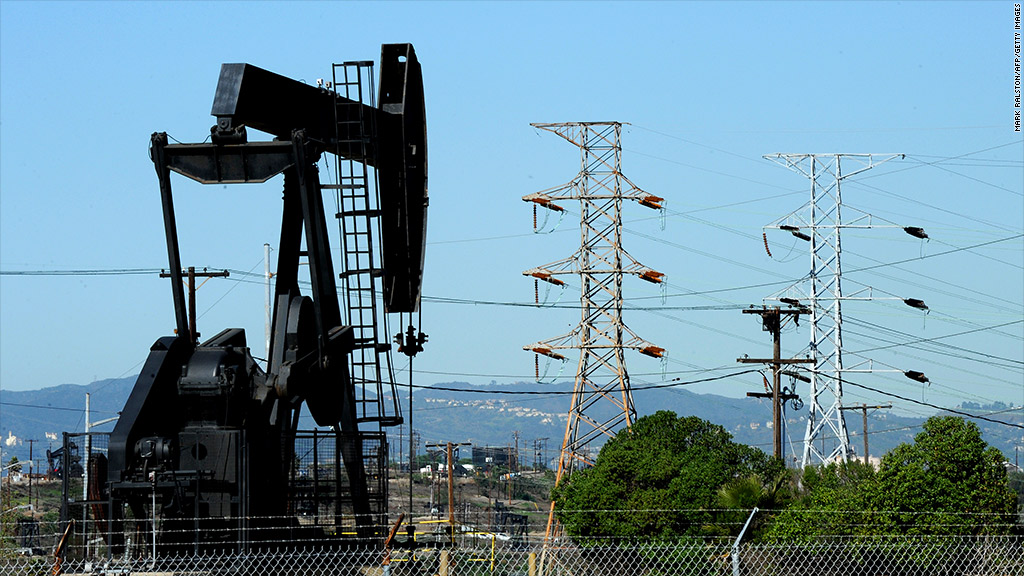 U.S. oil prices could sink to $50 a barrel at some point over the next two years, according to analysts at Bank of America Merrill Lynch.
But don't expect a corresponding drop in gas prices.
Merrill analysts expect U.S. oil prices to still average about $90 a barrel over the same time period. Global oil prices meanwhile, which more closely dictate the price of gasoline in the United States, are expected to remain high as growth in global oil supplies lags population growth and economic output.
The drop in U.S. oil prices would likely be temporary, caused by the difficulty in moving huge amounts of new oil from places like North Dakota's Bakken shale or Texas' Eagle Ford to market. Already, all the new production has led to a glut of oil in the region.
"No one expected output to grow by a million barrels per day last year," Francisco Blanche, Merrill's head of commodity research, said at a press briefing in New York. "No one."
As a result, oil has been accumulating in Cushing, Okla. -- home to the convergence of several pipelines and dozens of oil storage tankers that acts as the delivery point for the most commonly quoted U.S. oil price, West Texas Intermediate.
Related: U.S. closer to being major natural gas exporter
The problem for U.S. drivers is that WTI crude accounts for just a small percentage of the oil used to make gasoline in the United States. And prices for other types of oil -- such as Louisiana Light Sweet, Alaskan North Slope or Nigeria's Bonny Light -- remain high.
In fact, Blanche said the U.S. government may have to approve exports of WTI if it wants the oil boom in this country to continue, as $50 a barrel is below the cost of production.
Merrill also predicted relatively slack economic growth in both the United States and globally in the years ahead.
The bank predicts the U.S. economy will grow by 1.5% in 2013 and 2.8% in 2014. Globally, it sees 3.2% growth in 2013 before returning to a more average level of 3.9% the following year.
But there is some good news for investors.
Continued high prices and low yields on bonds, plus the successful resolution of the so-called fiscal cliff and an improving outlook in Europe, means money should pour into stocks. Returns could run between 9% and 16% in 2013, while the S&P 500 may hit an all time high, the firm predicts.
"We are unapologetically bullish for 2013 when it comes to the U.S. equity market," said Savita Subramanian, Merrill's head of U.S. equity research.
Sectors the bank likes: tech, energy and industrials. Ones to avoid: telecoms and utilities.