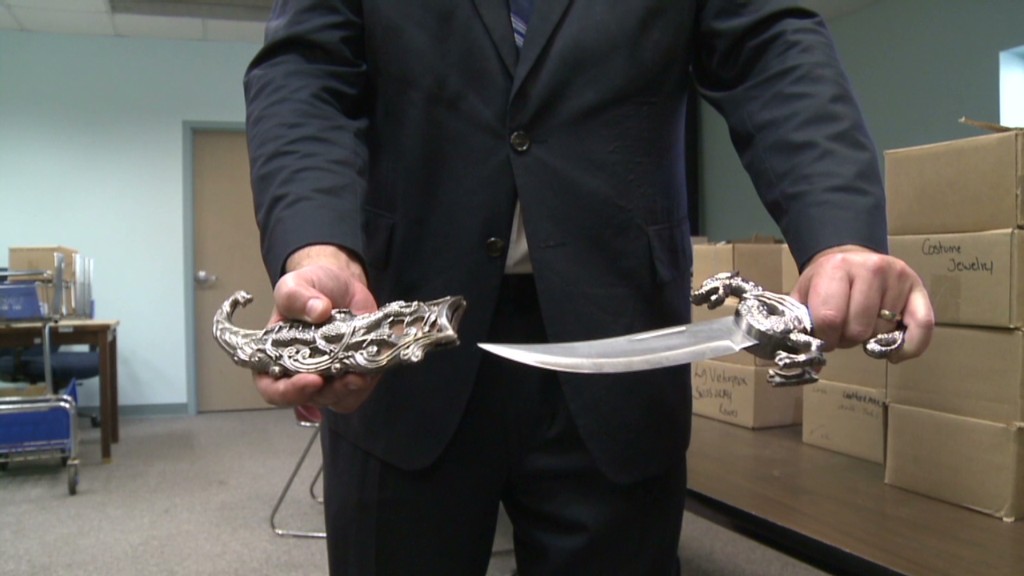 Last year the Transportation Security Administration collected 888,000 items -- from knives and scissors to snow globes and sunglasses -- that were confiscated or left behind by airline passengers as they boarded their flights.
But airport contraband has an afterlife.
It ends up in state-run stores, where thrifty customers can rummage through bins of objects from the TSA's no-fly list. In warehouses around the country, bargain-seekers browse through crates of knives, tools and even box cutters, the weapon used in the terrorist attacks of Sept. 11, 2001. Everything is sold at a steep discount, sometimes for $1 apiece, and sometimes by the pound.
"These places actually collect what's discarded at our checkpoints," said TSA spokesman David Castelveter. "We are required to give those leftover items to the state governments, and then they decide what to do with it."
The "leftover stuff" includes not just items that can be used as weapons, like meat cleavers, ice picks, sabers, bows and arrows, nunchucks, hammers, power saws and cattle prods, but also forgotten items like books and jewelry. Some of the items are sold at state-run stores and some are auctioned off in bulk on the website Govdeals.com.
Pennsylvania press secretary Troy Thompson said that his state has made $800,000 in revenue from the online auctions since they began in 2004. The state's Harrisburg store, which sells things surrendered at airports in New Jersey, New York, Ohio, Maryland and Washington, D.C., has logged $15,000 in sales since it opened last year.
Related: TSA fire sale: Knives, power tools, baseball bats
Thompson's office receives crates from the TSA filled with potentially dangerous items, including cricket bats, Medieval-looking daggers, key chain clubs called kubatons, fake but realistic-looking Nazi submachine guns and even those trendy dumbbells known as Shake Weights.
"We can't sell anything that would be classified as a weapon," said Thompson.
But the state's definition of "weapon" is not nearly as broad as the TSA's. Instead, it applies to anything designed specifically to harm human beings, like guns, martial arts knives, samurai swords and Zulu-style spears, which are discarded rather than sold.
The Harrisburg store does sell an abundance of miniature souvenir baseball bats and even lightweight hollow plastic Wiffle bats. The TSA's Castelveter said the TSA prohibits "any blunt object that could present a threat, and Wiffle bats fall into that category."
Along with its assortment of power tools, and bowling balls, the Harrisburg store has a section dedicated to snow globes. Many of them are verboten on planes because of the TSA's ban on containers with more than 3.4 ounces of liquid.
The store also sells Play-Doh, which is not permitted on planes despite its harmless, colorful appearance.
"Two words: plastic explosives," replied Thompson, when asked why Play-Doh is on the no-fly list.
Related: Weapons you need to survive a zombie apocalypse
Entrepreneurs visit the store to buy and resell the discounted goods. Jim Thorpe, owner of the Some New, Some Used, Thrift Store in Lebanon, Pa., recently paid $6 for a statuette of the elephant-headed Hindu god Ganesha. Thorpe said that exotic statuettes are among the hottest products in his store and he could get at least $20 for Ganesha, which could be used as a blunt object.
"[Passengers] don't comprehend that these things can be used as weapons," said John Supry, manager of surplus property for the state of New Hampshire. "The average person isn't thinking that way, I guess."
Even harmless items that look like weapons, like belt buckles shaped like handguns, are a common sight at the state-run stores. What can't be found in these shops are the more exotic -- for lack of a better term -- items confiscated by the authorities.
"We've had our share of furry handcuffs," said Thompson, who added that items of this nature are not sold in his store. "We might reuse those for law enforcement, minus the fur."