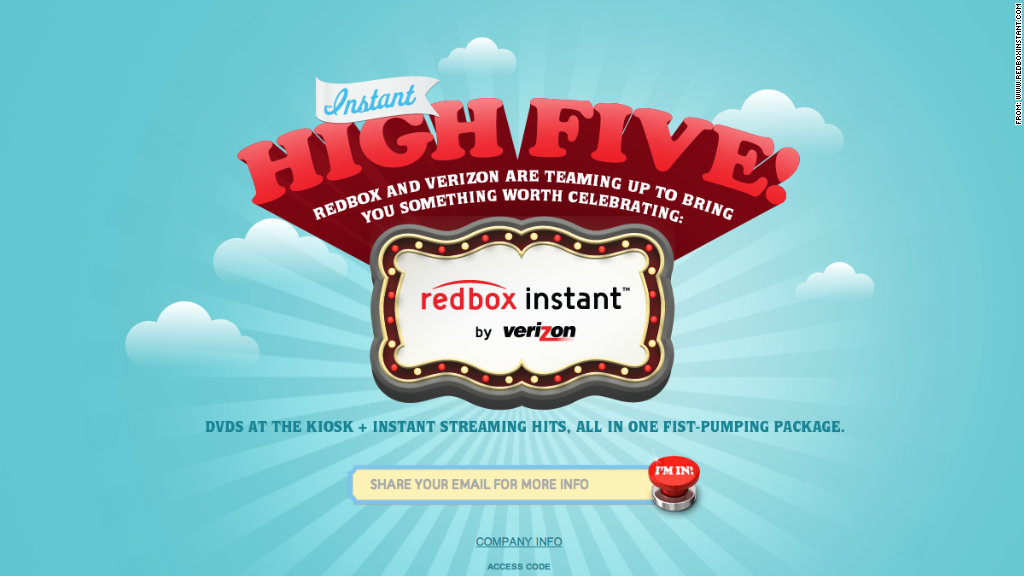 Redbox Instant, a long-in-the-works video streaming service from Verizon and Coinstar, is finally launching this month, at the same price as chief rival Netflix.
The service will begin a public beta test later in December, and after one free month, Redbox Instant will cost $8 per month. At launch, the service will include movies from Epix, Lionsgate, NBCUniversal, Paramount Pictures, Relativity, Sony Pictures, and Warner Brothers (which is owned by CNNMoney parent company Time Warner).
A monthly subscription includes four credits for one-night DVD rentals from Redbox's 42,000 kiosks -- an advantage over Netflix's streaming-only $8 plan. For $1 more per month, Redbox Instant customers can upgrade those credits to Blu-ray rentals.
Redbox Instant been nearly two years in the making. Coinstar (CSTR), the parent company of Redbox, said way back in February 2011 that it would partner with another company to launch a streaming service. One year later, in February 2012, Coinstar and Verizon (VZ) announced they had a deal.
Coinstar and Verizon had kept extremely quiet about the program details until Wednesday's announcement, but Coinstar's chief financial officer told CNNMoney in February that the venture would be aimed at new-release content. The comment appeared to be a dig at Netflix (NFLX), which features a large catalog of past-season TV shows and older movies for streaming, but has been criticized for a lack of newer content.
The Redbox Instant press release on Wednesday talked up that new-release focus, particularly Epix content.
Epix is a Viacom-owned (VIA) company that owns the digital rights to many Paramount, MGM and Lionsgate (LGF) movies. Those titles will be available on Redbox Instant 90 days after they are released in theaters.
Epix once partnered exclusively with Netflix, but the exclusivity clause of that 2010 contract expired September 1, 2012 -- leaving Epix free to link up with other services. Amazon (AMZN) promptly signed a deal with Epix on September 4, for its own Prime streaming service.
Like Redbox Instant, Amazon may also view Netflix's $8-per-month price point as the magic number. Last month Amazon began testing that pricing scheme for some customers.
At launch, Redbox Instant will be available through traditional web browsers, tablets and phones that run on Apple's (AAPL) iOS or Google's (GOOG) Android, as well as a few Blu-ray players and smart TVs.