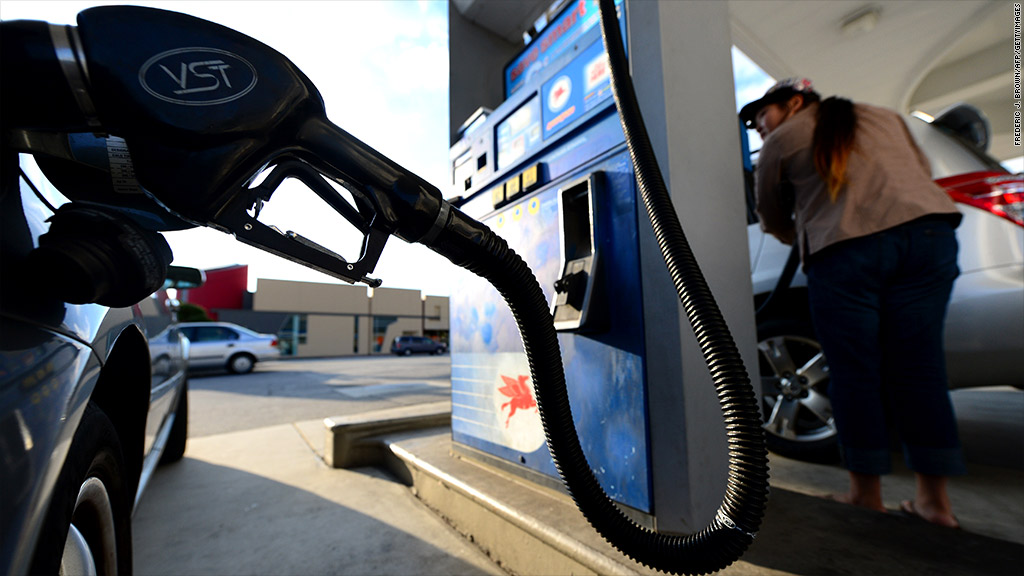 Relief at the pump meant a drop in overall prices in November, according to the government's latest inflation reading.
The Consumer Price Index, the key measure of inflation, fell 0.3% during the month, thanks to the 7.4% drop in gas prices in November alone, the Labor Department said Friday. Overall prices were still up 1.8% compared to a year ago, but that's down from the 2.2% inflation rate recorded in October.
"Consumers benefited from falling prices at the pump, a timely development supporting spending heading into the critical holiday shopping season," said Jim Baird, chief investment strategist for Plante Moran Financial Advisors. "In simplest terms, inflation is not a problem."
Even with the drop in prices in November, gasoline prices are still 1.9% above year ago levels.
The average price of a gallon of regular gasoline fell about 12 cents during the course of the month to $3.40, according to a daily tracking of prices at 120,000 gas stations by the Oil Price Information Service.
Related: Oil prices could fall to $50
There were some increases in gas prices in the New York and New Jersey area early in the month due to gas shortages and some price gouging that followed by Superstorm Sandy. But the national price average fell steadily throughout the month.
Food prices, another key component of the price index, edged up slightly in November and were up 1.8% from a year earlier.
The so-called core-CPI, which strips out volatile food and energy prices, also edged slightly higher in the month and was up 1.9% compared to a year earlier, slightly higher than the annual change in October. The core prices are more closely watched by economists as a sign of the underlying inflation pressure.
A reading of under 2% in core inflation is considered within the Federal Reserve's comfort zone of where the central bank prefers to see inflation come in.