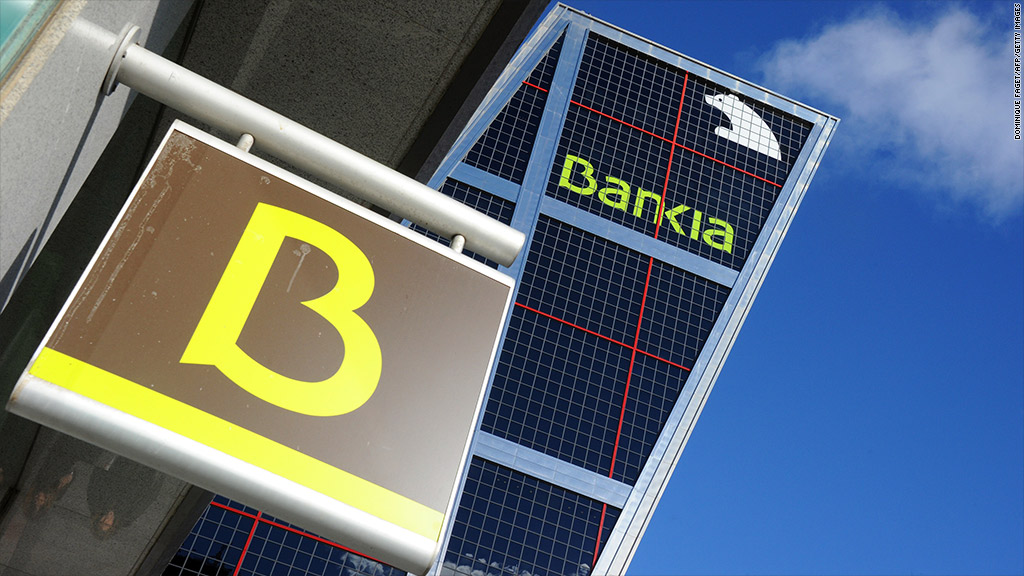 Shares in Spain's Bankia plunged Thursday as private investors ditched the stock before an imminent EU-backed rescue wipes out much of their holdings.
The European Commission agreed last month to inject nearly 37 billion euros from the eurozone's bailout fund into Bankia and three more Spanish banks, which had been nationalized to prevent them from collapsing under massive losses on real estate lending.
Spain's bank restructuring fund said it would draw on the EU funds to inject 13.5 billion euros into Bankia's parent company BFA before the end of the year. BFA will then use part of that money to buy new Bankia bonds worth 10.7 billion euros, which will convert into shares early in 2013.
"[W]e are safeguarding the principle established by law ... which requires that shareholders are the first to bear losses or restructuring cuts," the Spanish restructuring fund said in a statement.
A Bankia spokesman declined to comment on the share price fall or details of the capital increase, which was first announced in November, saying only that "existing shareholders will retain a small stake in Bankia".
The EU-backed bailout is designed to allow Bankia, NCG Banco and Catalunya Banco to become viable in the long term without continued state support. The fourth, Banco de Valencia, is being sold to CaixaBank.
Independent stress tests conducted on the Spanish banking sector earlier this year identified a capital hole of about 59 billion euros, to a large extent created by the collapse of the country's property bubble.
Spain is suffering its second recession in three years and can no longer prop up its ailing banking industry. But it has stopped short of following in the footsteps of Greece, Ireland and Portugal in requesting a full-blown sovereign bailout.
Related: EU strikes deal to bring banks under single supervisor
A second group of four banks -- Liberbank, Caja3, BMN, and Banco CEISS -- had their restructuring programs approved by the European Commission last week and will receive some 1.9 billion euros in assistance.
All eight banks in receipt of EU funding have committed to conduct major overhauls of their businesses, shrinking balance sheets, selling assets, offloading property loans to a "bad bank" and imposing losses on existing holders of equity and debt. Together these measures are expected to have reduced the bailout bill by at least 14 billion euros.
Bankia's shares will be suspended from Spain's benchmark Ibex index starting January 2, the stock exchange said. The stock has lost about 85% of its value since the bank was listed in July 2011 via a public offering that was promoted to small investors.