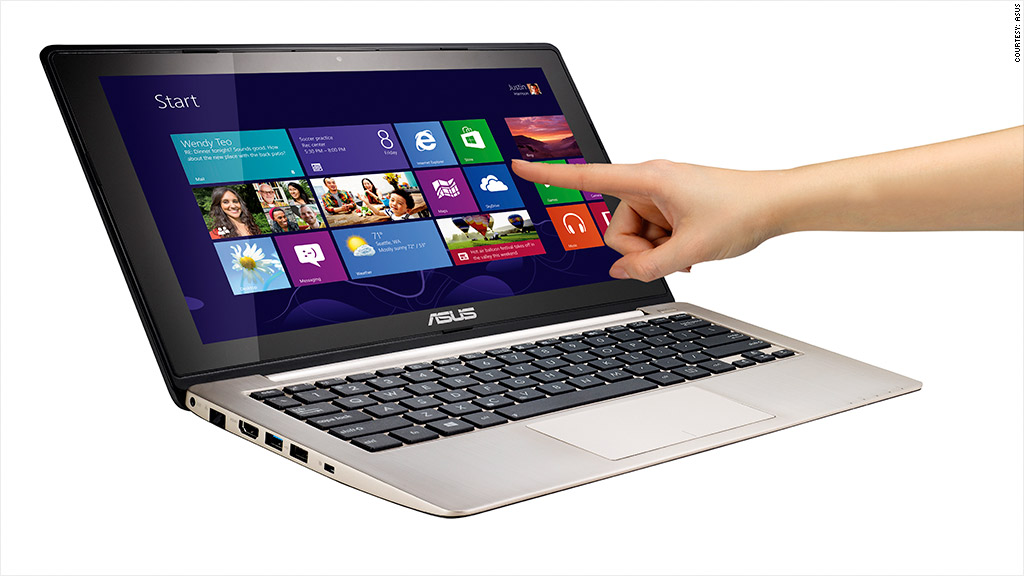 Windows 8's best feature isn't being used by most Windows 8 PC owners.
The ability to touch, tap, swipe and pinch on Windows 8 computers is what makes the new operating system come to life. You can still use Windows 8 without a touchscreen, but that's kind of like tossing aside the remote, getting up, and repeatedly pushing buttons to change the channel on your TV -- it's an old-fashioned drag.
Yet remarkably few people are actually buying touchscreen computers. Just 5% of Windows 8 laptops sold through Dec. 15 had touchscreens, according to the NPD Group.
One challenge is that there just aren't many touch-enabled laptops out there. Only 30 of the more than 700 laptops that Best Buy (BBY) sells on its website have touchscreens, and just two touchscreen laptops ranked among the retailer's top 10 sellers.
Another sticking point: Touchscreen laptops are expensive. They'll cost you around $120 to $150 more than their non-touch-enabled equivalents. The cheapest touchscreen laptop -- the 11.6-inch Asus VivoBook -- sells for about $500, but fuller-sized touchscreen notebooks with all the latest features will set you back at least $625.
That's not hugely expensive for a laptop, but it does give many people pause when they're deciding whether touch is a feature that's worth shelling out more than a hundred bucks for.
Here's the problem: It is.
Touch features aren't an afterthought in Windows 8; they're core to the entire operating system. A swipe in from the right brings up some of the software's best new additions, like in-app search and sharing. The "options" menu is accessible with a downward swipe, navigation is done with a swipe in from the left, and a laundry list of other actions are made much simpler and intuitive with gestures. The whole Windows 8 interface just begs you to touch it.
Microsoft (MSFT) has been aggressively marketing Windows 8's touch features on TV, showing off new inventions like "picture passwords" (use a gesture, like a circle, on a chosen part of a favorite image as your log-in credential) and tablet-like apps. But consumers haven't gotten the message.
That gap contributed to Windows 8's mixed reviews. It's a clunky interface when used with a traditional keyboard-and-mouse arrangement.
Related story: Windows 8 makes you relearn how to use your PC
Getting people to adopt touch technology on their laptops won't be easy. It's not the way people are accustomed to interacting with PCs.
"The problem is everyone expected this to come out fully baked," said Stephen Baker, a consumer tech analyst at NPD. "But Windows 8 is not like anything before. It'll take time for people to get it."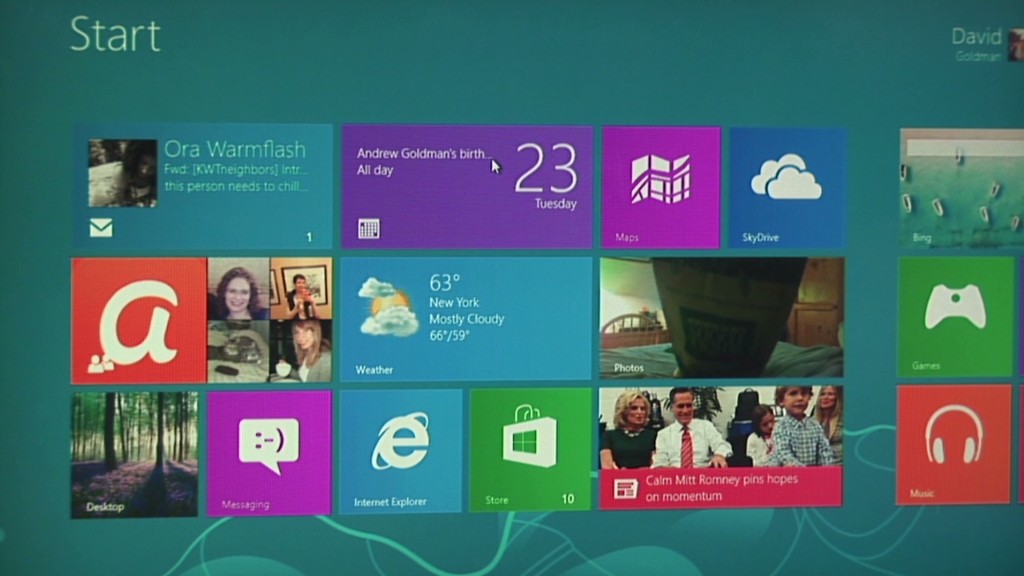 Even some top industry executives haven't wrapped their heads around the concept. In April, when asked if Apple (AAPL) would be producing touchscreen laptops to compete with Microsoft, company CEO Tim Cook scoffed.
"You can converge a toaster and a refrigerator, but those things are probably not going to be pleasing to the user," Cook said on a conference call with analysts. "You wouldn't want to put these things together because you wind up compromising in both."
The price, availability and awareness obstacles that touchscreen laptops face can all be overcome. But at least two of those won't be knocked down until next summer, at the earliest.
Because today's touchscreen market is dominated by smartphones and tablets, there's been little vendor demand for the larger sizes needed for laptop screens. That means suppliers aren't making many of them, which drives up their price, according to NPD's Baker.
He predicts that increased demand will force screen makers to ramp up their large touchscreen supplies by the middle of next year. That will push more touchscreen laptop prices down into the $500 range.
"It will be a very different market by 'back to school,'" Baker said.
Will consumers take notice? If they want the best Windows 8 experience, they should.