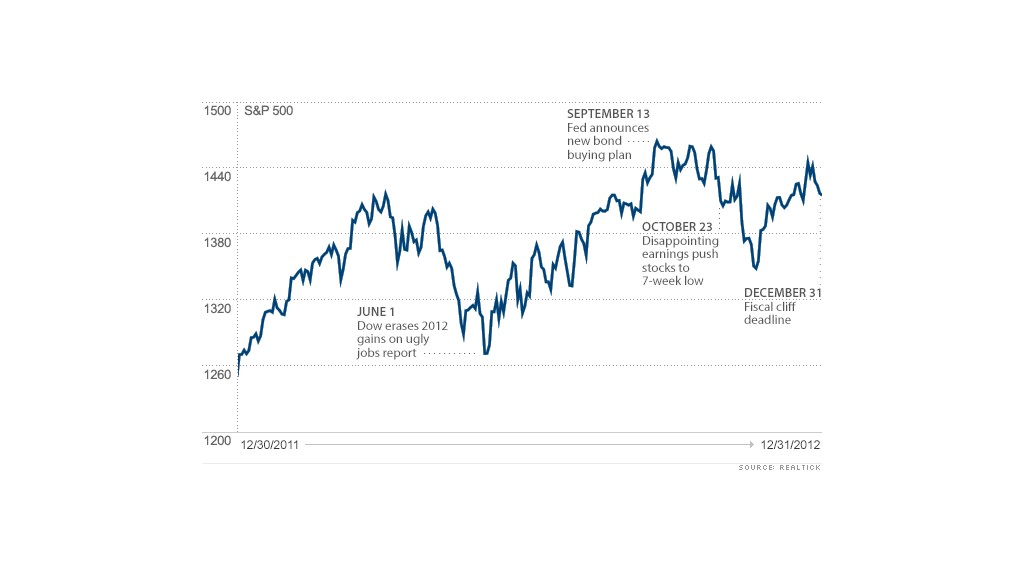 U.S. stocks rallied Monday, ending a volatile year on a high note, as investors welcomed signs a fiscal cliff deal is taking shape in Washington.
On the final day of 2012, the Dow Jones Industrial average rose 1.3%, or more than 167 points. The S&P 500 added 1.7%. The Nasdaq rose 2%, with shares of Apple (AAPL) gaining 4.6%.
The advance came on light volume, since many professional investors are away from their desks for the holidays, traders said. While an official agreement has yet to be announced, investors were relieved that lawmakers appear to be moving toward an agreement to prevent tax hikes and spending cuts from taking effect Jan. 1.
"Investors were expecting the worst, so anything positive coming out of Washington is greeted with buying," said Jack Ablin, chief investment officer at Harris Private Bank.
President Barack Obama said an agreement to prevent taxes from going up on middle-class households "is within sight, but it's not done."
"There are still issues left to resolve, but we are hopeful that Congress can get it done," the president told a gathering of "folks" at the White House.
Obama chided lawmakers for waiting until the last possible minute, acknowledging that he will not be leaving town for the New Year holiday. "It looks like I will be spending New Year's here, in D.C.," he said.
After the president's speech, Senator Mitch McConnell said lawmakers are "very, very close" to a deal.
Congress appears to be near an agreement to raise the income tax rate on top earners to what it was during President Bill Clinton's last term in office, according to sources close to the process.
The deal would also increase estate taxes, extend unemployment benefits and potentially put off the $110 billion in automatic spending cuts called for under the fiscal cliff, sources told CNN.
The proposal, assuming lawmakers in both chambers approve it, would prevent the full force of the fiscal cliff from hitting the economy. But it does not address the nation's long-term fiscal problems and will not resolve the uncertainty hanging over the market, said Ron Florance, managing director of investment strategy at Wells Fargo Private Bank.
"They are a day late and several trillion dollars short of solving this problem," said Florance. "It's an embarrassment."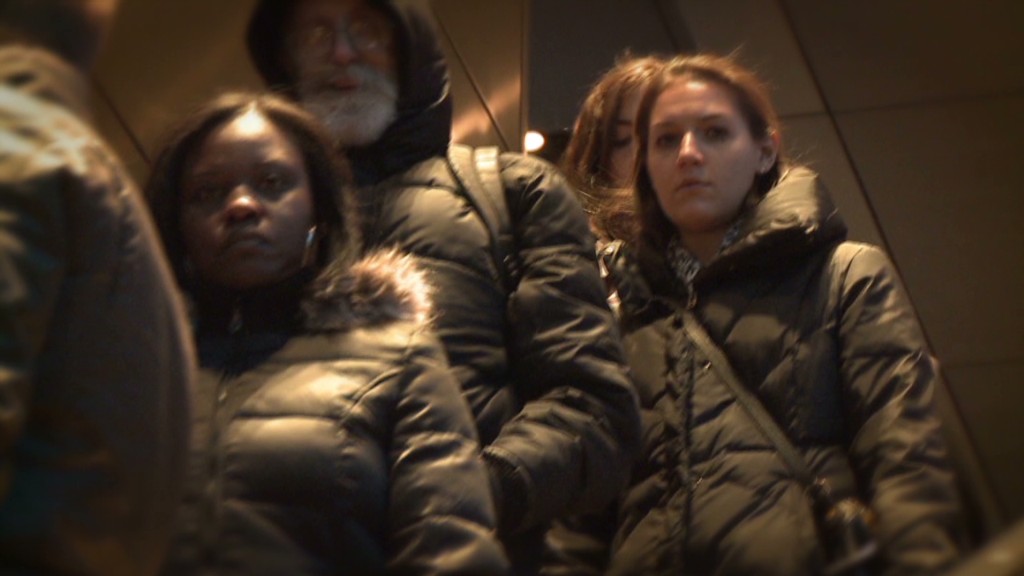 If a deal is announced after U.S. markets close today, global investors will not have an opportunity to respond until the Shanghai Composite and Hang Seng markets open for trading Tuesday at 8 p.m. ET.
All major global markets will be closed Jan. 1 in observance of New Year's Day.
Related: Fear & Greed Index ends the year in greed
Despite all the uncertainty, U.S. stocks have had a pretty good year overall, with all three indexes up between 7% and 16%. By comparison, stocks ended 2011 almost exactly where they began the year, although there was a lot of movement in between.
Stocks rallied in the first quarter of 2012 on hopes the Federal Reserve would step up its stimulus policies. But the market took a tumble in May as concerns about Europe's debt crisis resurfaced and the U.S. economy stalled. After bouncing back in the summer, stocks hit a high for the year in September, when the Fed announced more asset purchases.
In November, stocks fell anew after Obama beat out Republican challenger Mitt Romeny in the race for the White House. Investors have been sidelined by the fiscal cliff ever since, with stocks ending little changed in December.
The ongoing battle over taxes and spending in Washington will continue to cause volatility in the market over the short term, said Florance. But he said stocks are still priced at attractive levels relative to expectations for corporate earnings next year.
"We see a pretty healthy environment for stock investors next year," said Florance. "We're not exuberant, but modestly bullish."
Related: S&P 500 winners and losers 2012
On Friday, European markets ended mixed. Stocks in London and Frankfurt fell, while the Paris market advanced. Asian stocks got a boost from strong manufacturing data out of China. The Shanghai Composite, one of the world's worst performing indexes, managed to eke out a 3% gain for the year and the Nikkei, which was closed Monday, ended the year with a 20% gain.
Meanwhile, oil prices eased and gold prices edged higher. The yield on the 10-year U.S. Treasury note rose to 1.72%. The U.S. dollar gained versus the euro and the yen, but fell against the British pound.
One of the only pieces of company news was a $665 million deal announced late Sunday to buy investment banking firm Duff & Phelps (DPG) by a joint venture led by the Carlyle Group (CG). The offer price represented a 19% premium over Duff & Phelps' stock close Friday.