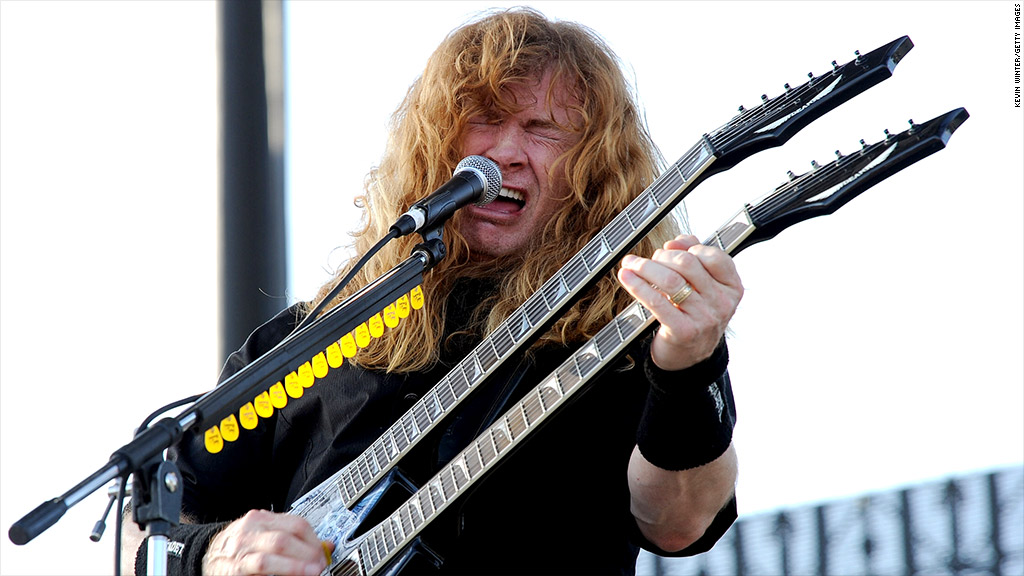 The infamously irascible Dave Mustaine launched an online rant against an unlikely business: Men's Wearhouse.
The Megadeth frontman is less than pleased with the purveyor of suits and formal wear. On his band's Facebook (FB) page on Dec. 28, the heavy metal guitarist publicly accused Men's Wearhouse of failing to make good on its guaranteed two-day delivery of a gift card for his "awesome" tour manager.
"I really think that it sucks when people make false claims, that they don't care to make good on a problem that is clearly their fault, and with all of the 'ABSOLUTELY GUARANTEE IT' crap I just had to say something," wrote Mustaine.
He said he purchased the gift card at a Men's Wearhouse (MW) in Salt Lake City before Christmas, and nine days later, it still hadn't been delivered to his tour manager. He went so far as to suggest that suit-wearing headbangers take their business to JoS. A Bank Clothier (JOSB) instead.
"I for one, will never set foot in a Men's Wearhouse, even for shelter from a blizzard," wrote Mustaine. "I absolutely GUARANTEE it."
As of Friday afternoon, his online diatribe had generated 1,450 comments and 8,871 likes.
Related: Napster enemy Metallica signs with Spotify
Men's Wearhouse did not immediately answer an email from CNNMoney, but a staff member responded to Mustaine's post on Jan. 2, promising to make things right.
"Dave, thanks for reaching reaching out to us on Facebook," the social media representative wrote. "We apologize for the delay in receiving your gift card and agree that the delay is unacceptable."
Mustaine was one of the original members of the heavy metal superband Metallica, but he was kicked out in 1983 after punching bandmate James Hetfield, "turning his mouth into a pile of bloody Chiclets," as Mustaine wrote in his memoir.
Despite his own superstar status, Mustaine still holds a grudge against the more successful Metallica. He famously confronted his former friends during a band therapy session in the 2004 documentary "Some Kind of Monster," where he gloated over Metallica's struggles to write new music.