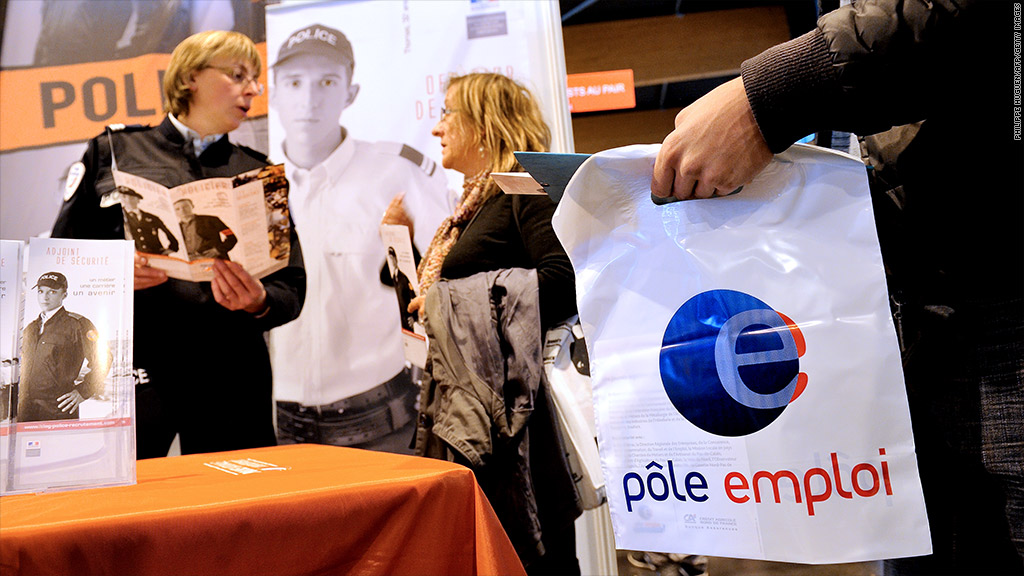 Businesses in the eurozone may be feeling more confident but there's no sign of that translating into better employment prospects yet.
Eurostat data published Tuesday showed unemployment in the 17-nation eurozone hit a record high of 11.8% in November, leaving 18.8 million people without work - two million more than a year ago.
At nearly 27%, Spain has the highest unemployment rate in the European Union, and youth unemployment is more than twice as high at 56%. Thousands of Spanish bank employees will lose their jobs as a result of an EU-backed bailout of Spanish banks. Only Greece, which is facing a sixth year of recession, has a greater proportion of young people out of work.
The latest unemployment figures coincided with the release of a survey of European Union businesses and consumers which showed sentiment in December picked up across all sectors of the eurozone economy, with the exception of retail. The Economic Sentiment Indicator hit its highest level since July.
But the sentiment survey also suggested Europe's jobless blight will continue well into 2013. Industrial managers expect hiring to improve, but the retail, services and construction sectors could experience further declines in hiring. That's consistent with consumers' gloomy view about their chances of finding work.
Related: Merkel warns Europe crisis far from over
Recent data have suggested the region's purchasing managers are becoming less pessimistic though. Financial data firm Markit's index was at a 9-month high in December, although the reading still reflected declining activity in manufacturing and services rather than growth.
The eurozone economy shrank in the second and third quarters of 2012, and official data due next month are expected to confirm a contraction in fourth quarter output.
Forecasts for 2013 are not much better, ranging from stagnation to another year of recession as governments continue to grapple with the fallout of the credit crisis, cutting spending and raising taxes to rein in budget deficits.
Eurozone consumers have become more cautious. Retail sales rose just 0.1% in November from the previous month, according to data published Tuesday, and were 2.6% lower than November 2011. Sales of food, drink and tobacco were particularly weak.
Hopes that stronger growth in Asia and the U.S. could spark a eurozone recovery also took a knock, as Germany said its exports fell 3.4% in November, from the previous month, and were flat year over year.