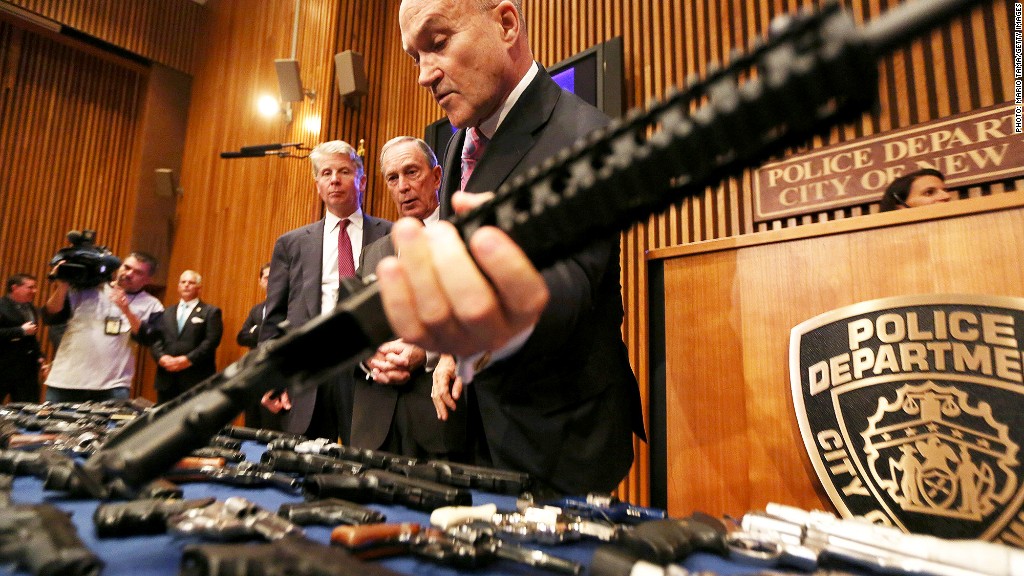 A recent rally in gun stocks hit a snag Wednesday amid talk that Vice President Joseph Biden's Gun Violence Task Force could result in tighter restrictions on firearms ownership in the wake of recent mass shootings.
Of particular concern to gun companies is a recent comment by Biden that President Obama is exploring the potential for executive orders to impose forms of gun control, said Rommel Dionisio, a gun industry analyst for Wedbush Securities.
"That would not be a good thing for manufacturers who derive a significant part of their profits from the manufacture and sale of tactical rifles," said Dionisio.
He said gun control "does not seem to be going away and clearly you have a presidential administration that's focused on it. It seems to be motivated on carrying through until some type of legislation is actually passed."
The stock price for U.S. gunmaker Sturm Ruger & Co. (RGR) slipped less than 1% Wednesday, cutting its 5-day gain to just under 6%. The share price for Smith & Wesson Holding Co. (SWHC) dropped just more than 2%, but remained slightly positive over the past five days.
A gun retailer rally also hit a snag. Shares of Cabela's (CAB) and Dick's Sporting Goods (DKS) both fell about 1%, but were still up over the last five days.
Gun control has been a hot issue in the U.S. for the past month, since a gunman killed 20 students and six teachers at Sandy Hook Elementary School in Newtown, Conn., on Dec. 14. Talk that the slayings could spark stricter gun control legislation sent gun sales surging, breaking a record last month with nearly 2.8 million background checks, according to the Federal Bureau of Investigation.
Related: Assault rifles are selling out
Besides Biden's task force, New York Gov. Andrew Cuomo proposed the "toughest assault weapon ban in the nation" in his State-of-the-State speech on Wednesday. New York already has restrictions on military-style assault rifles that are more stringent than many other states, though Cuomo, a Democrat, has described the existing laws as having "more holes than Swiss cheese."
Proponents of gun restrictions and gun enthusiasts alike tend to focus on the semi-automatic rifle, which fires one round for every pull of the trigger. Its military-style features have earned it the label of assault weapon, though members of the gun industry prefer to call it a modern sporting rifle. They were prominent in last year's two most notable shootings -- at Sandy Hook and at a movie theater in Aurora, Colo., where 12 people died.
Many retailers have sold out of these weapons since Obama's re-election inspired fresh fears that the guns might be outlawed.
"They created a buying frenzy with all this talk," said John Kielbasa, who has experienced brisk sales as the owner of Fernwood Firearms in Hankins, N.Y. "There are people buying guns who wouldn't normally buy guns."
Related: After massacres, gun industry faces uncertain future
Kielbasa sells semiautomatic rifles that he advertises as "tactical" firearms, though he said they're more restricted in New York compared to most other states. He said the existing state laws prohibit him from selling high-capacity magazines that can hold more than 10 rounds.
The gun dealer said the state also prohibits him from selling guns with bayonet lugs, flash suppressors, silencers or threaded barrels that allow the implementation of silencers. And like most states, New York does not permit full automatic weapons.
"If they do ban this stuff, all they're going to do is create a black market for criminals," said Kielbasa, a native of New York City, which has gun laws restrictive enough to block ownership to most residents.
Related: Gun shows canceled near Newtown, Conn.
The call for further gun restrictions is gaining momentum nationwide. Sen. Dianne Feinstein, a Democrat from California who was behind the assault ban that expired in 2004, is preparing to propose a new ban this month. It would be tough to get the bill through a Republican-controlled Congress, but an executive order might find a way around that.
Representatives of Wal-Mart (WMT), a seller of firearms including semiautomatic rifles in several of its stores, are planning to attend Biden's task force, after initially balking at the idea.