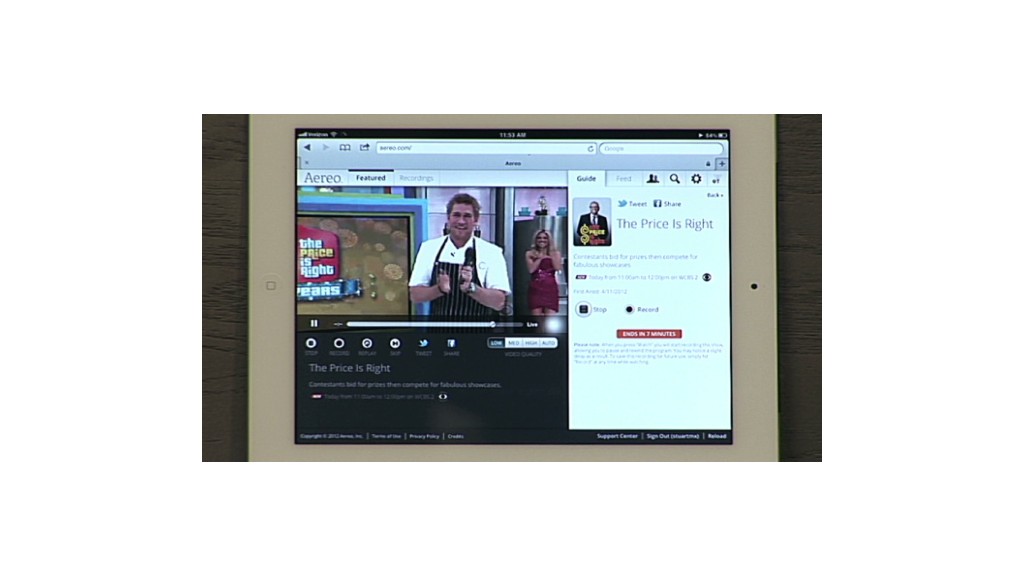 One of the boldest startups in the streaming media market, Aereo, is preparing a nationwide rollout of its controversial streaming TV service.
Aereo lets users live-stream or record programs off basic, over-the-air broadcast channels. Subscribers can view their shows and recordings on mobile devices (right now only the iPad and iPhone are supported), on a Web browser, or on TV through media devices like AppleTV or Roku. Want to watch a local sports game in your hometown while you're waiting at an airport across the country? Put it on your Aereo playlist and you can stream it live or save it for later.
The service's selling points include its intuitive user interface and flexible pricing. Occasional viewers can buy a $1 day pass (recordings are stored for 10 days), while power users can take out monthly or annual subscriptions.
Aereo launched in New York City in early 2012 and promptly got sued for copyright infringement by most of the major broadcast networks and local TV stations, including ABC parent Disney (DIS), News Corp. (NWS) and NBC Universal. An early ruling in the case went Aereo's way, allowing the service to continue operating, but the legal battle is ongoing.
Aereo isn't letting that slow its expansion plans. The company announced Tuesday that it will launch this year in 22 new U.S. cities, including Atlanta, Boston, Philadelphia, Dallas, and Houston. Aereo called that schedule the "first phase" of its planned nationwide coverage.
"Watching television should be simple, convenient, and rationally priced," Aereo CEO Chet Kanojia said in a written statement. "Customers want and deserve choice."
Aereo also announced a $38 million financing round, led by Barry Diller's IAC/Interactive Corp. and Highland Capital Partners, which it plans to use to fund its expansion. The news came during a press conference at the Consumer Electronics Show in Las Vegas.
Aereo uses a novel technical setup that the company insists make its service legal: It created tiny antennas, each about the size of a dime, and deployed thousands of them in its data centers. When you pay for an Aereo stream, you literally rent your own antenna, getting exclusive use of it until your recording or live stream is finished.
Is that a novel twist on the old rabbit-ear antennas, or a copyright dodge? That's the question Aereo will be fighting out in court for the foreseeable future.
Aereo's phase-one expansion list noticeably omits any cities in California, such as tech and media industry towns San Francisco and Los Angeles. In those areas, it may face a chillier legal climate. A Los Angeles court ruled last month against a knock-off service called "Aereokiller," granting a preliminary injunction to shut it down. U.S. District Judge George Wu's decision acknowledged the conflicting legal views different jurisdictions appear to have regarding systems like Aereo's.