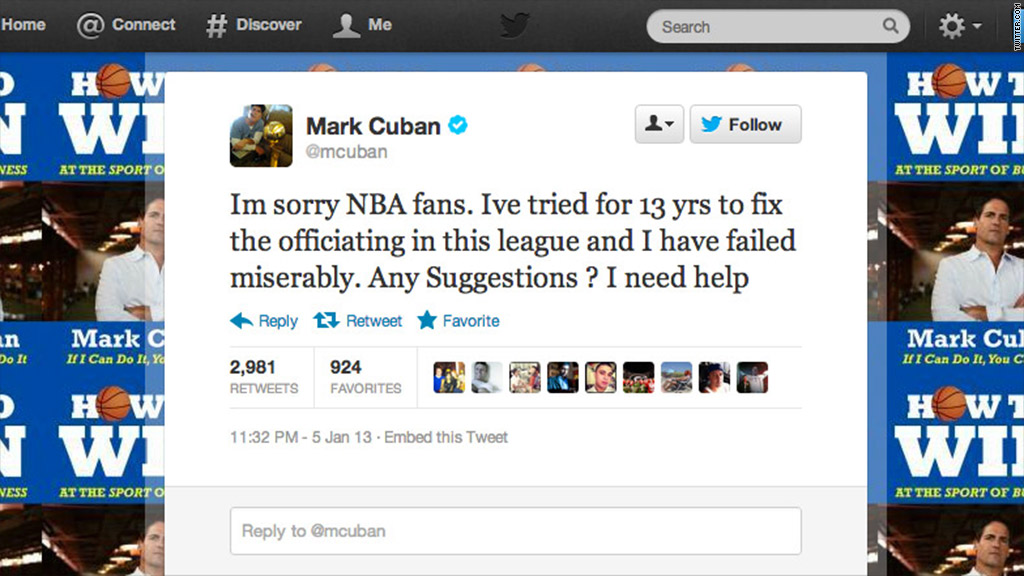 Mark Cuban fired off the one of the most expensive tweets in history on Saturday.
The media mogul and Dallas Mavericks owner was fined $50,000 for his Jan. 5 tweet criticizing NBA officiating, according to USA Today and other news outlets.
Following a 99-96 loss to the New Orleans Hornets, the outspoken Cuban blasted off a tweet saying he had "failed miserably" in his attempts to "fix the officiating in this league." He'll be paying nearly $368 per character for the short missive.
Criticizing officials is a favorite pastime for Cuban, who has been fined several million dollars over the past 13 years for his remarks as a team owner.
Several of Cuban's fines topped $250,000, including a $500,000 fine in 2002 for -- you guessed it -- criticizing officials. The National Basketball Association once fined Cuban $100,000 for telling CNNMoney's Poppy Harlow that he would be interested in signing then-free agent LeBron James. Cuban's crime? He made the comments a month before teams were allowed to openly discuss free agency.
This isn't the first time Cuban has been fined for tweets sent out to his 1.5 million followers. In March 2009, he was fined $25,000 after blaming officials for a missed call. In a follow-up tweet, Cuban wrote: "Can't say no one makes money from Twitter now. The NBA does."
Amazingly, Cuban doesn't hold the record for pricey tweets. In 2011, while NBA owners were in the midst of locking out the players, Miami Heat owner Micky Arison sent a message to angry fans via Twitter saying he opposed the lockout. "Honestly you are barking at the wrong owner," he wrote.
He was fined $500,000 for that tweet.
The most expensive tweet of all time might have been made by Kansas Chiefs running back Larry Johnson, whose posted a gay slur that landed him a one-game suspension by the National Football League. He lost $600,000 for that game and other revenue, according to Johnson's agent, who spoke to ESPN.