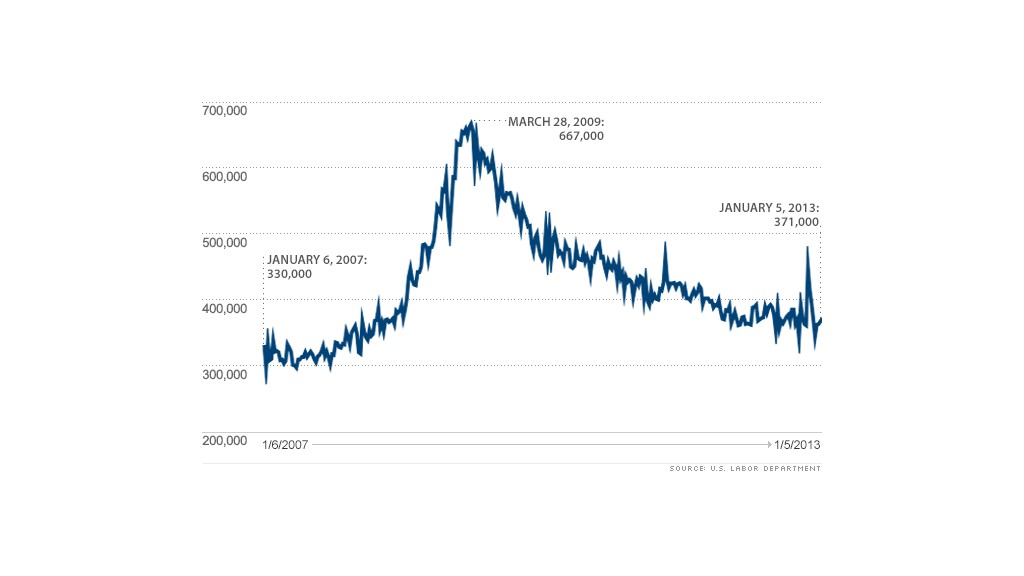 Happy New Year! The American economy kicked off 2013 with a small rise in new claims for unemployment benefits -- a closely-watched indicator of the health of the job market
Initial jobless claims rose during the first week of the new year, as 371,000 people filed first-time claims for unemployment benefits, up 4,000 from the previous week.
Over the last four years, the measure has improved dramatically. During the height of the recession, weekly claims had surged above 600,000, and then fell below 400,000 at the end of 2011.
But over the last year, the improvements have slowed as numbers of new claims have stagnated. Aside from a temporary bump due to Hurricane Sandy, they've largely been stuck in the 350,000 to 400,000 range for more than a year.
Claims at that level are consistent with hiring that adds roughly 150,000 jobs to the U.S. economy each month, as was the average in 2012. Hiring is expected to continue at that pace for the foreseeable future, barely keeping up with population growth.
How low can they go?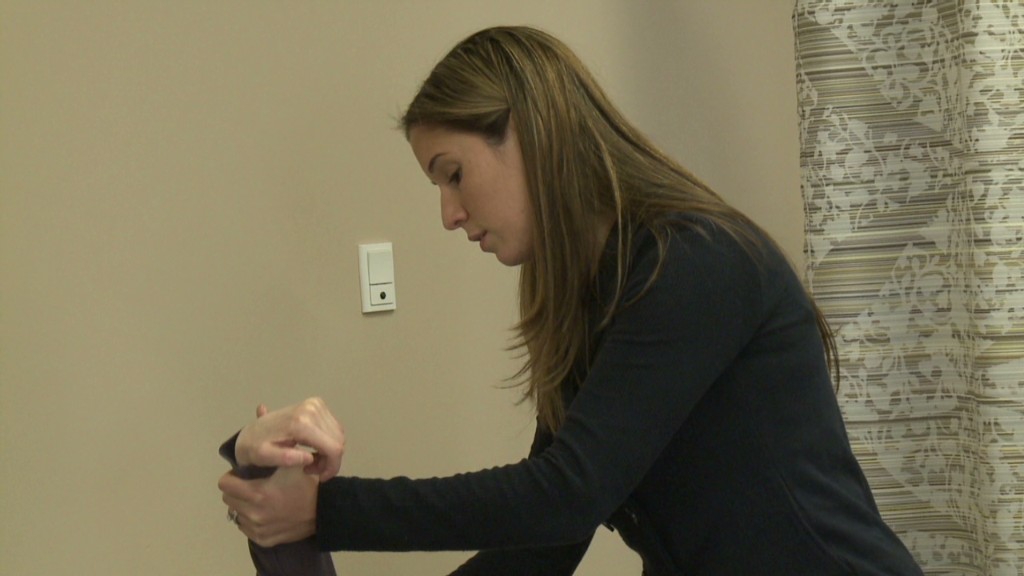 There's always a certain amount of temporary unemployment and turnover in the labor market. Even before the recession, it was not uncommon to see 300,000 initial claims being filed each week, so it's not as if claims will ever fall to zero.
"Even when the U.S. economy was firing on all cylinders, there were always people moving in and out of jobs," said Robert Kavcic, senior economist with BMO Capital Markets.
Kavcic believes the job market could improve enough to reduce weekly claims to between 320,000 and 350,000, but anything lower than that may be an unrealistic goal in 2013. Claims in that range could reflect hiring that adds about 250,000 jobs to the economy every month.
Related: I'm unemployed and hopeless
In addition to tracking first-time claims, the Labor Department also tracks people who have filed for their second week or more of benefits. The latest data shows 3.1 million people filed continuing claims in the week ending December 29, down 127,000 from a week earlier.
The unemployment rate, a measure calculated by separate data, was 7.8% in December, reflecting that 12.2 million Americans were officially counted as unemployed, regardless of whether they receive jobless benefits.
About 3 million Americans say they want a job but have not searched for one in at least a year. Are you one of them? Send your story to annalyn.kurtz@turner.com.