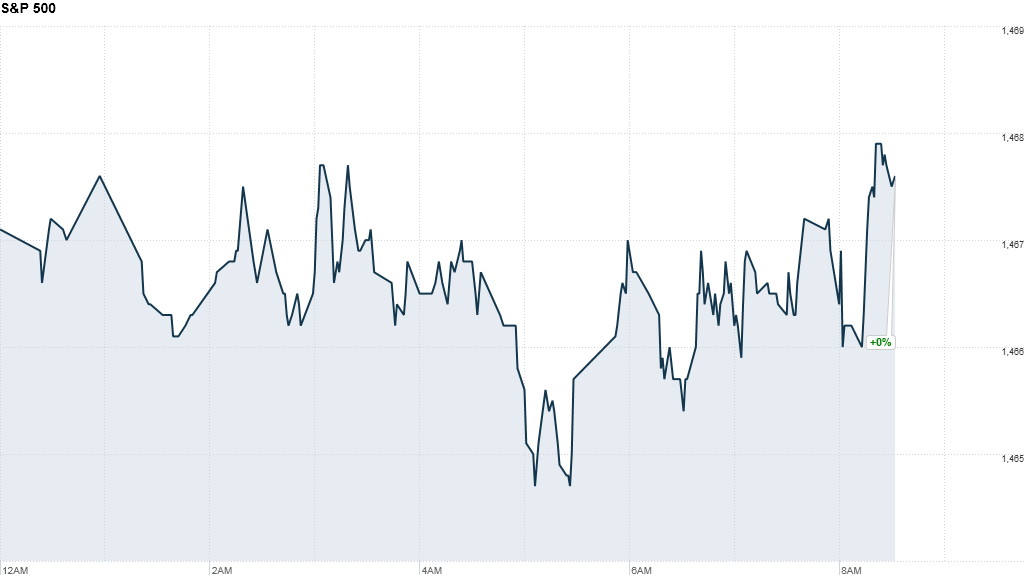 Here come the banks.
Wells Fargo (WFC) Friday morning reported a quarterly profit that beat Wall Street's expectations and sales that were roughly in-line with forecasts. It was the first bank to file its fourth-quarter results. JPMorgan Chase (JPM), Citigroup (C), Goldman Sachs (GS) will report next week. The financial sector is expected to be the standout performer in an otherwise lackluster quarter for earnings growth.
U.S. stock futures pointed to a very slightly higher open following Wells' release.
S&P 500 companies are expected to report overall earnings growth of 2.4% for the last three months of 2012, improving from a 1% decline in the third quarter, according to FactSet Research. But excluding the financial sector, earnings growth for S&P 500 companies is expected to be just 0.2%.
U.S. stocks logged a second straight day of gains Thursday, pushing the S&P 500 to a fresh 5-year closing high.
In economic news, the Bureau of Labor Statistics reported that export prices fell 0.1% in December. The Census Bureau said the U.S. trade deficit widened much more sharply than expected -- 16% -- due to a rise in consumer goods brought in from overseas.
American Express (AXP) announced late Thursday that it was cutting 5,400 jobs, becoming the latest large financial firm to reduce its headcount.
There was also more bad news for Boeing (BA) as All Nippon Airways reported an oil leak was discovered from the generator in the left engine of a 787 Dreamliner, adding to the recent troubles for that key aircraft. Boeing shares fell 1% in premarket trading on the news.
Ford Motor reported it plans to hire 2,200 salaried staff this year, the largest addition of white collar workers in more than a decade, due to aggressive product introduction plans. Shares of Ford (F) gained about 2% in premarket trading.
Shares of Best Buy (BBY) gained 5% before the bell after reporting dismal holiday sales that nevertheless beat Wall Street's expectations. The company's sales at stores open at least a year fell by 1.4% in December, with flat sales in the United States. Investors seemed less concerned that the struggling gadgets retailer's inventory was delivered earlier than expected, which meant the company needed to pay for those goods earlier, throwing a wrench in the company's cash flow estimates for the year.
European markets were steady in morning trading, continuing support from Thursday's European Central Bank meeting. ECB President Mario Draghi said the bank was seeing signs of stability returning to the eurozone, although the near term outlook for the economy remained weak.
Asian markets ended mixed with Nikkei adding 1.4%, after Japan's government unveiled a $117 billion fiscal stimulus package. Unable to match the Nikkei's momentum, the Shanghai Composite declined 1.8% and the Hang Seng lost 0.4%.
The dollar was weaker against the euro, as the ECB's unanimous decision to hold rates ended talk of a cut in the short term.