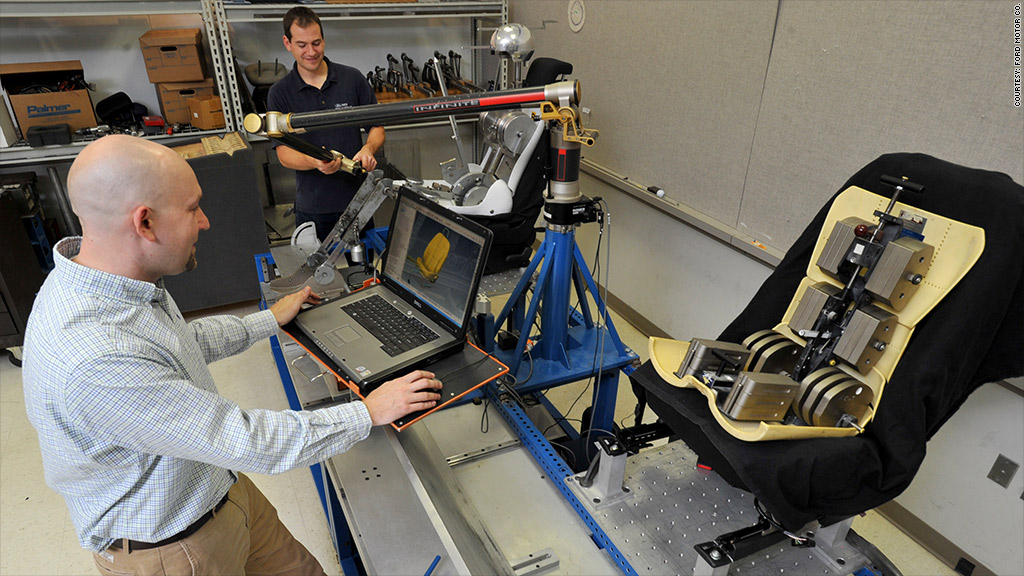 Ford Motor will add 2,200 salaried jobs this year, the biggest addition of white-collar workers at the automaker in more than a decade, the company said Friday.
The positions will be in engineering, manufacturing and computer software, and will support what Ford describes as its aggressive product development plans.
"As we expand our product lineup of fuel-efficient vehicles, we need more people in critical areas to ensure we deliver the vehicles people want," said Joe Hinrichs, president of Ford's operations in North and South America.
The hiring is in addition to the more than 8,100 combined hourly and salaried U.S. jobs Ford added in 2012. The company committed to adding 12,000 new hourly jobs in the United States by 2015 as part of its 2011 labor deal with the United Auto Workers union. These new salaried workers, since they're not represented by the union, are not included in that total.
Related: Ford Fusion wins 'Green Car of the Year'
Ford's U.S. sales rose 4.7% in 2012, resulting in its best annual sales in its home market in five years. But profit is likely to be sharply lower, due primarily to mounting losses in Europe, where Ford has announced plans to close plants and cut jobs.
Even with the problems in Europe, Ford's results allowed it to announce a doubling of its dividend Thursday.
Shares of Ford (F) were up 1.2% in premarket trading Friday after the hiring news.