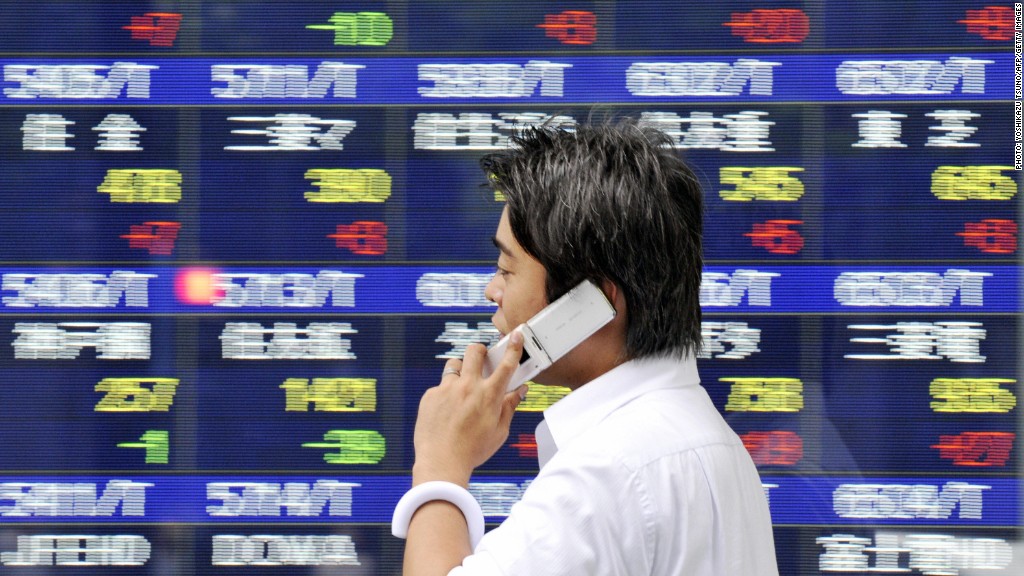 Frustrated by decades of stagnation, Japan is taking a bold gamble to revive the export engine of the world's third biggest economy: It is aggressively devaluing its currency.
The yen has weakened more than 14% against the dollar since the beginning of October, bringing about a boon for the country's manufacturers.
And many economists expect it will fall further this year as Prime Minister Shinzo Abe steps up the pressure for the Bank of Japan to ease monetary policy again, and adds to the country's debt mountain to pump money into the stalled economy.
Abe advocates "unlimited" buying of government bonds and wants to see the central bank raise its inflation target to 2%. It is not yet clear whether Japan's independent central bank will yield to Abe's wishes.
"We strongly expect the BOJ to conduct aggressive monetary easing with a clear price target," Abe's government said last week after announcing a new $117 billion fiscal stimulus package.
Weak currency cheapens the price of a country's exports, making them more attractive to international buyers by undercutting competitors. As a result, even the smallest move in the yen has a big impact on Japan's exporters.
Related: Japan unveils $117 billion stimulus package
Toyota (TM), one of the country's biggest exporters, says a fluctuation of just one yen against the dollar -- or slightly more than 1% -- leads operating profit to rise or fall by $397 million dollars over the course of a year.
For Nissan (NSANF), that figure stands at $227 million. Over the course of a year, a yen at the current level (89.21) instead of the 2012 average (79.82) results in a 34% increase in Nissan's operating profit. The companies would love to see the yen depreciate even more.
"I've been saying for a long time the yen is out of control," Nissan CEO Carlos Ghosn told reporters last month. He said the currency remains too strong for exporters to flourish and that he considers "neutral territory" to be around 100 yen to the dollar.
He may not get his wish. Many economists see the yen easing further in the short term, but perhaps settling closer to 90 to the dollar. Citigroup reckons it could fall to 95 by the end of 2013.
Another major factor helping to tame the strong yen is the country's shift from a long-term trade surplus to a deficit, triggered by the earthquake, tsunami and nuclear crisis of March 2011.
The national emergency caused the country's exports to drop at the same time as it began to import significantly more fuel. In a trade-off indicative of the tough choices Japan faces in managing its currency, a weak yen has the potential to hike costs associated with imported fuel — and smother any broader benefits to economic growth.
Related: Japan's Abe makes economy top priority
"It's difficult to tell what the appropriate level is," says Richard Koo, chief economist at Nomura Research Institute, noting traditional rules don't apply due to Japan's unusual economic circumstances.
Jesper Koll, head of equity research in Tokyo for JPMorgan, sees the dollar around 90 - 95 yen as a fair level. Based on his own observations this shopping season, he believes that range reflects parity in purchasing power.
Yet even as a weaker yen supports exports, Japan faces an uphill battle to stimulate its long dormant economy.
Koo believes no amount of monetary easing will propel the country's debt-averse private sector into the arms of lenders, a problem he sees in the U.S. and eurozone too.
After 15 years of hard work to repay their debt, Japan's corporations "never want to see bankers again," Koo said, adding that investment tax credits and allowances for depreciation are better ways to boost growth.
Koll sees some short term benefit from the current easing, but says you won't see long term growth without structural reform. To attract corporate reinvestment in Japan, Koll said, the government must lower corporate taxes, while reducing energy costs and pursuing deregulation.
"That's where the rubber hits the road."