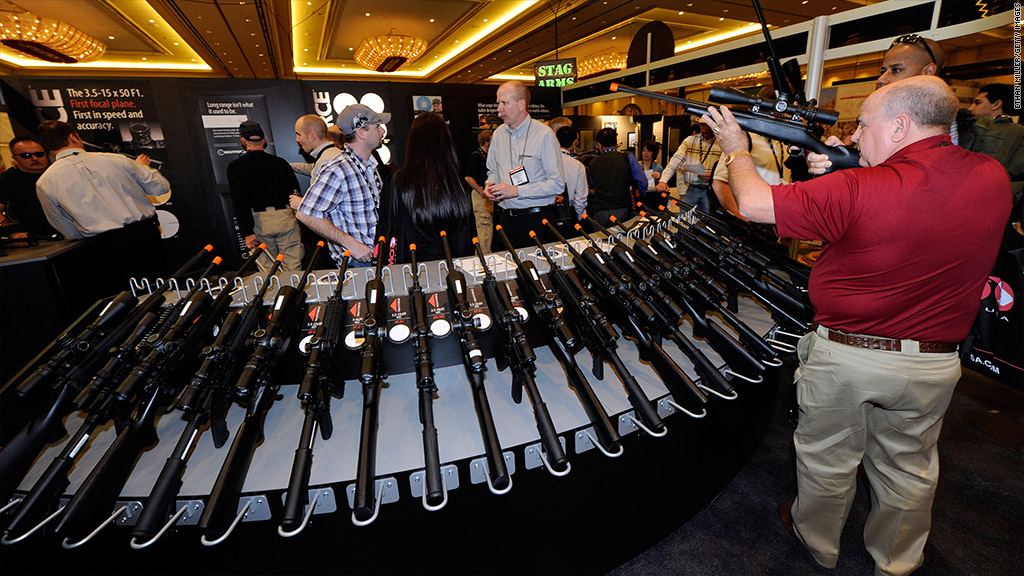 One of the biggest gun industry trade shows in America starts in Las Vegas on Tuesday, as President Obama considers proposals from Vice President Joseph Biden's task force on gun violence one month after the Newtown, Conn., school massacre.
The SHOT Show, which stands for Shooting, Hunting, Outdoor Trade, runs from Jan. 15 to Jan. 18 and is operated by the National Shooting Sports Foundation, a gun industry group that is based in Newtown.
The annual event is open only to members of the industry and not to the general public. It's being held at the Sands Expo and Convention Center for the sixth year in a row and features 1,600 exhibitors, according to the NSSF. Last year 60,000 people attended the show.
"This is where all the manufacturers meet with all the distributors and retailers," said Robert Templeton, president of the National Association of Arms Shows. Likely participants include small gun shop owners and major retailers like Cabela's (CAB) and Dick's Sporting Goods (DKS), as well as weapons makers like Smith & Wesson Holding Co (SWHC) and Sturm, Ruger & Co (RGR).
The SHOT show is taking place at a politically contentious time for guns in America. Biden's gun violence task force is submitting 19 proposals to Obama, a member of Congress told CNN. They include an assault weapon ban, a cap on magazine capacity and more stringent background checks for gun buyers, and will be made public by the President on Wednesday.
On Monday, the New York State Senate approved a gun control package championed by Gov. Andrew Cuomo, a Democrat. The state Assembly is expected to vote Tuesday on the bill, which would strengthen New York's already strict gun laws. If approved, the bill would lower magazine capacity to seven rounds from the current cap of 10. It would also impose background checks on private gun sales, which is how firearms are often sold at gun shows.
Related: Biden task force chills gun stock rally
As an industry-only trade show, the SHOT Show differs from the approximately 5,000 gun shows that are open to consumers throughout the year, according to Templeton.
Dozens of those shows are held across America on any given weekend. Thirty seven of them were held last weekend, from San Francisco to Fort Lauderdale, Fla., according to gunshows-usa.com. Next weekend, there are 44 gun shows scheduled nationwide.
Gun shows open to consumers are big business, accounting for about 10% of the industry's $3.5 billion in annual sales, according to Wedbush Securities analyst Rommel Dionisio.
Several gun shows within 80 miles of Newtown, Conn., were canceled immediately after the school shooting, which killed 20 children and six educators.
But overall, gun sales have spiked since the tragedy. Gun shop owners contacted by CNNMoney said that semiautomatic rifles and high-capacity magazines are rapidly selling out because gun enthusiasts fear they'll no longer be available. Indeed, gun sales had already started accelerating after Obama's reelection.
Related: Assault rifles are selling out
The Newtown shooting heightened the national debate about firearms and Second Amendment rights, especially since the arsenal used in that tragedy included a Bushmaster semiautomatic rifle and magazines holding 30 rounds each. Military-style rifles and high-capacity magazines were restricted under the assault weapon ban that expired 2004, and they have since been used in a series of mass shootings.