U.S. stocks ended mixed Wednesday as investors weighed decent corporate earnings reports against worries about the debt ceiling and global economic growth.
The Dow Jones industrial average fell 0.2%, with Boeing (BA) leading the decline. The S&P 500 ended little changed. The Nasdaq gained 0.2% as shares of Apple (AAPL) rose back above $500 a share in midday trading.
Boeing shares fell 3.4% as the aircraft maker's Dreamliner continued to face problems. Two Japanese airlines grounded their fleets of 787 aircraft after one of All Nippon Airways' Dreamliners was forced into an emergency landing.
Hewlett Packard (HPQ) helped offset some of Boeing's losses. Shares of the Dow component rose 4% on reports that unspecified technology companies have expressed interest in acquiring two of HP's businesses, Autonomy and EDS.
Before the market opened, JPMorgan (JPM) said it earned $5.7 billion, or $1.39 a share, in the fourth quarter. The bank said chief executive Jamie Dimon's bonus would be cut by more than half after the London Whale debacle over bad trades.
JPMorgan's earnings were in line with expectations, although revenue was hurt by declining fees and subdued trading activity, according to analysts at Baird Equity Research.
Goldman Sachs (GS) reported earnings that beat expectations, driven by strong results from its proprietary trading business. Shares rose 5%.
Shares of Chipotle (CMG) plummeted 16% after the Mexican food chain restaurant revised fourth-quarter earnings well below analysts' expectations.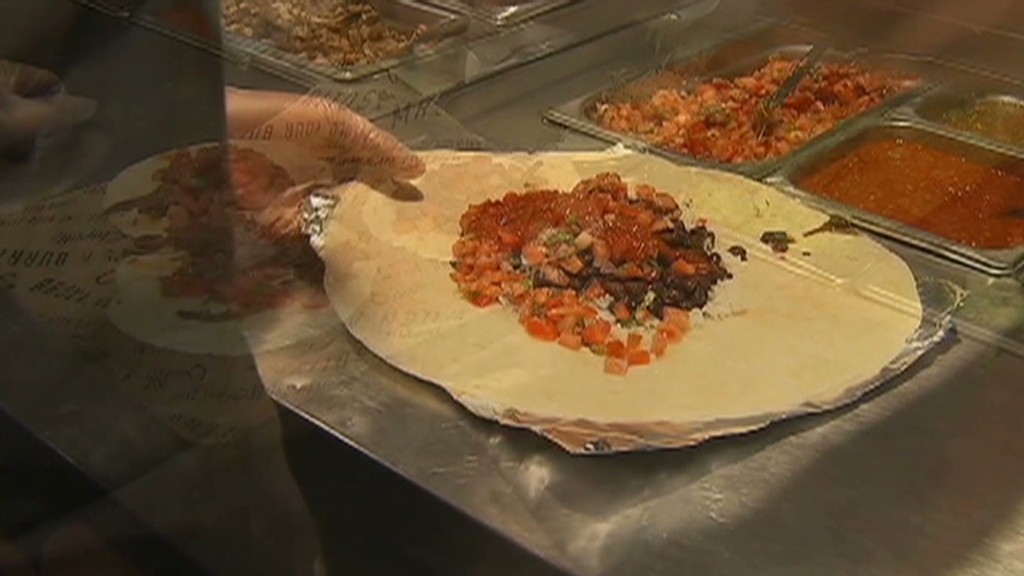 Shares of Sears Holding Corp. (SHLD) rose on news that ESL Partners, a hedge fund run by Eddie Lampert, had increased its stake in the retailer. Lampert, who owns more than 50% of the stock, took over as CEO of Sears after Louis D'Ambrosio stepped down last week.
After the market closed, eBay (EBAY) reported fourth-quarter earnings that beat expectations, although the company's outlook for earnings in the current quarter and for the full year were modestly below analysts' expectations. Shares fell in extended trading.
Bank of America (BAC) and Citigroup (C) are among the companies set to release quarterly results Thursday.
Overall, S&P 500 companies are expected to report earnings growth of 3.2% for the last three months of 2012, according to S&P's Capital IQ.
While earnings are currently the dominant theme, the focus could shift to Washington as the debate over the U.S. borrowing limit heats up, said J.J. Kinahan, chief derivatives strategist at TD Ameritrade.
"We may have a bit of a pause after earnings season ends and we head into debt ceiling negotiations," said Kinahan. "That's when you might see people start to hold back. For now, people are trading earnings as if it's a normal market."
Related: Where will the next big bull market come from?
Less-than-stellar economic reports also dampened investor enthusiasm Wednesday.
The World Bank lowered its outlook for global economic growth this year to 2.4%, relatively unchanged from the estimated 2.3% growth rate in 2012. The bank had previously forecast 3% growth for 2013. While growth in developing economies will remain solid, the World Bank expects activity in the developed countries to remain subdued.
On a positive note, the U.S. government's key measure of inflation showed that consumer prices slowed to a 1.7% annual increase last month -- mostly due to a decline in gas prices.
In other economic news, industrial production rose 0.3% in December, according to the Federal Reserve. Economists had anticipated a 0.2% after industrial production jumped 1% in November.
Economic growth continued at a "modest or moderate" pace across the 12 districts of the Federal Reserve system in the past few weeks, according to the latest edition of the Federal Reserve's Beige Book.
The Treasury International Capital report showed an inflow of $27.8 billion in November. The TIC data, which measure foreign purchases of U.S. assets, showed that overseas investors increased their holdings of Treasury bills by $4.5 billion. The yield on the 10-year Treasury note edged up to 1.83% from 1.82% on Tuesday.
Related: Fear & Greed index steeped in greed
European markets ended mixed, with auto stocks falling on poor December registrations data. The FTSE 100 (UKX) in London fell 0.2%, but the CAC 40 (CAC40) in Paris and the Dax (DAX) in Frankfurt gained.
Asian markets ended lower. The Nikkei dropped 2.6%, while China's Shanghai Composite shed 0.7% and Hong Kong's Hang Seng closed down 0.1%.
Oil prices rose 1% to end at $94.24 a barrel, helped in part by expectations that a recent cold snap will boost demand for heating oil. Gold prices edged lower and the U.S. dollar weakened versus the euro and Japanese yen.