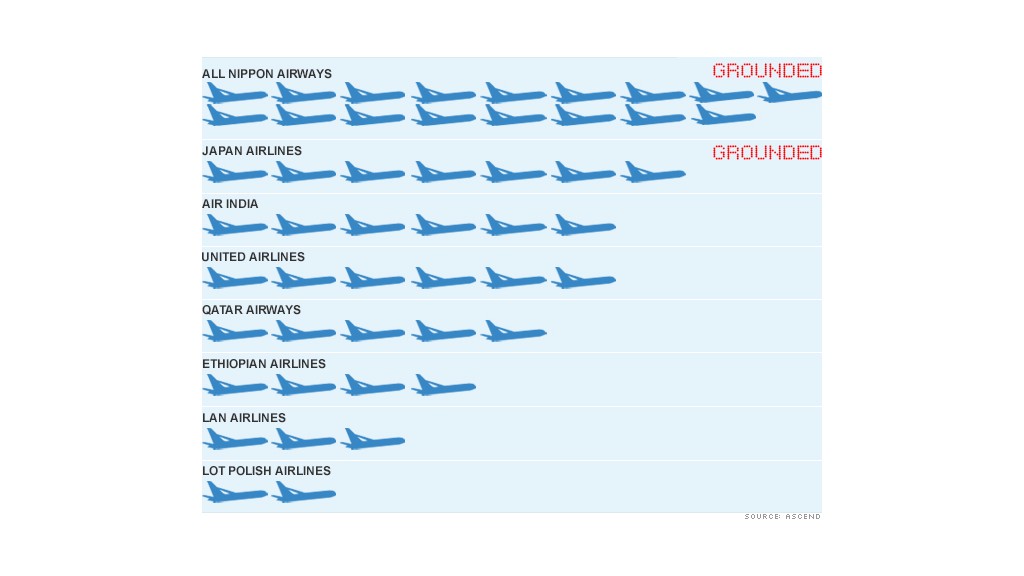 Boeing's problems with its flagship Dreamliner aircraft mounted Wednesday after an emergency landing in Japan prompted two airlines to ground their fleets, sparking a fall in Boeing shares.
The emergency landing heightened concerns about the reliability of the aircraft and prompted All Nippon Airways and Japan Airlines to halt flights on 787 Dreamliners at least until Thursday.
The Dreamliner has been involved in a series of incidents over the past 10 days, including a battery fire, a cracked windshield, two fuel leaks and a braking system problem.
Still, aviation industry experts believe the long-term fallout could be limited -- for both Boeing (BA) and its customers.
In early trading Wednesday, Boeing's stock fell more than 3%. Up until now, the aircraft maker's shares had managed to ride out the wave of negative headlines -- gaining about 1% between Jan. 7 and Tuesday's close.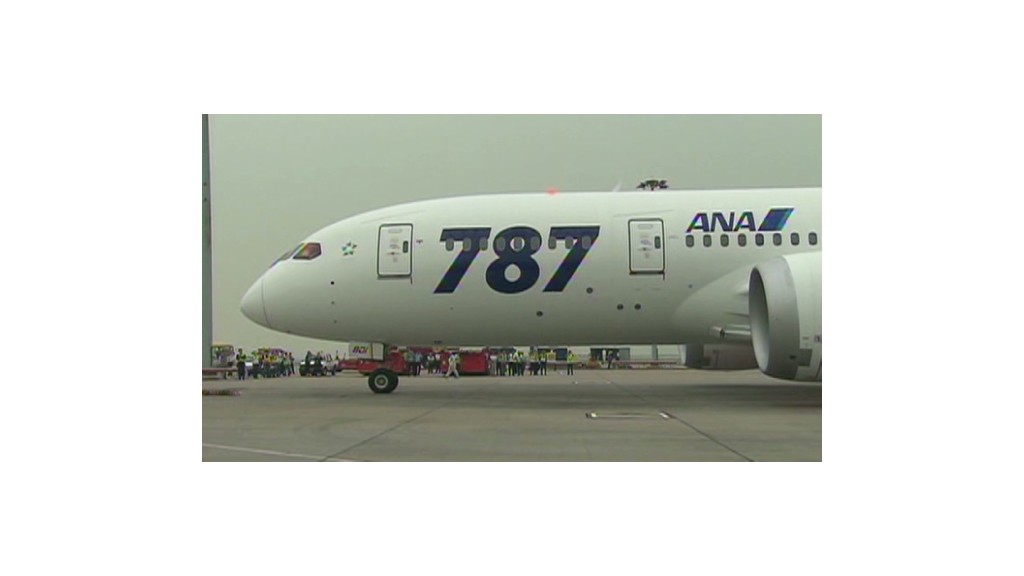 About half of the 50 Dreamliners in service have now been grounded, causing temporary disruption for thousands of passengers. U.S. aviation authorities are looking into the emergency landing and have announced a probe into the Dreamliner's design, manufacture and assembly.
"Airlines taking delivery of aircraft at the beginning of the cycle will expect these teething problems," said Paul Sheridan, head of Asia consultancy at Ascend, the advisory arm of Flightglobal. "Airlines should have plans in place to deal with the lower than expected reliability."
The first Dreamliner was put into service by All Nippon in October 2011, and 787s flew without major problems for more than a year.
CNN.com: Dreamliner woes explained
While the latest spate of incidents varied in severity, Sheridan said he doesn't think they are connected. He doubts that any airlines will cancel orders.
"I would be amazed if any airlines were sitting there today wondering about their orders," he said. "I can't see that happening."
Boeing has delivered 50 of the aircraft. It has more than 800 unfilled orders from airlines around the globe that will take years to fill.
Rival Airbus has yet to launch its answer to the Dreamliner -- the A350. It's due to go into service in the second half of 2014, a year behind schedule.
Related: Is Boeing 787 the biggest lemon in history? Far from it
United Airlines (UAL), the only U.S. carrier to have the jet in service so far, said Wednesday that it continues to fly its six Dreamliners.
"We inspected all of our 787 aircraft and they are flying as scheduled," said the airline's statement. "We are continuing to support Boeing and the FAA throughout their review."
The plane's design process was, however, notoriously labored. And many parts were assembled for the first time by suppliers spread across the globe, rather than by Boeing itself.
It's a form of outsourcing that has worked well in other areas of manufacturing, but is responsible for the delays in the plane's delivery.
The worst case for Boeing would be the discovery of a design flaw that would send engineers back to the drawing board -- and pull 787s from service on a long-term basis.
Given the nature of the problems reported so far, Sheridan doubts that scenario will come to pass. Instead, he views the latest setbacks as "teething" troubles.
"When All Nippon and Japan Airlines start flying 787s again, it will send a message of confidence back to the flying public," he said.
-- CNN's Ali Velshi contributed to this report