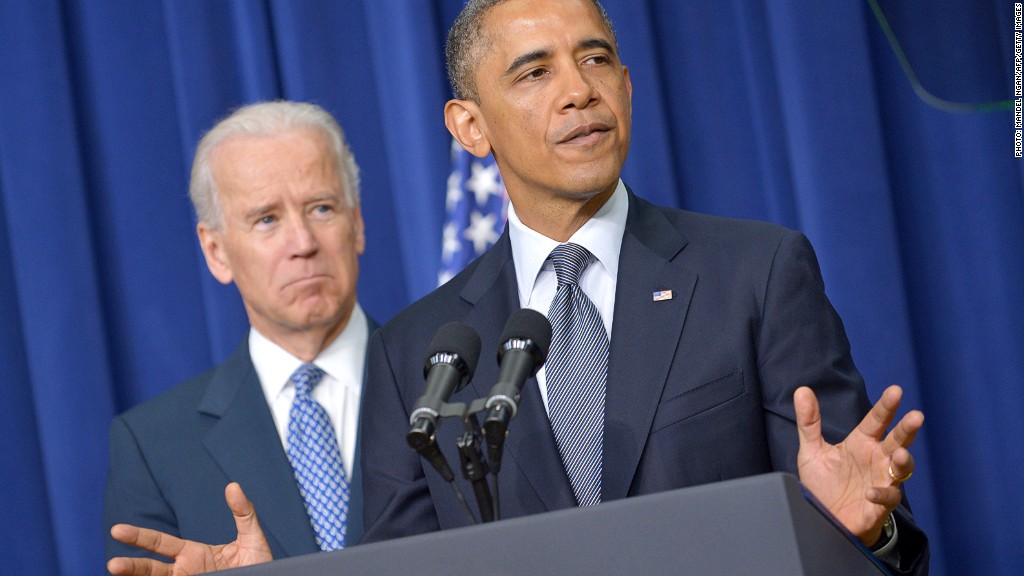 Gun stocks rose Wednesday, even as President Obama called on Congress to pass an assault weapon ban.
The stock prices for Smith & Wesson Holding Co. (SWHC) and Sturm, Ruger & Co. (RGR) rose about 4%. The stock for Sturm, Ruger has risen 13% in the month since the shooting at a Newtown, Conn., elementary school that left 20 children and six educators dead.
Retailers that specialize in guns have also done well. The stock price for Cabela's (CAB) surged 6% on Wednesday and has gained 20% over the last month. Dick's Sporting Goods (DKS) notched up slightly, and has gained 6% over the month.
Obama issued the call for the assault ban as part of a broad response to the Newtown shooting.
"Congress should restore the ban on military style assault weapons and a 10-round limit for magazines," the president said. Obama was referring to a 10-year ban that expired in 2004, which limited the capacity of magazines and restricted military-style features on semiautomatic rifles.
Related: Obama seeks assault weapons ban
But the specter of a potential ban in the wake of mass shootings around the country has prompted gun enthusiasts to stock up on the weapons that may some day be denied to them.
"Consumers are flocking to stores to purchase certain types of firearms, including assault rifles, in fears of some type of ban going forward," said Rommel Dionisio, gun industry analyst for Wedbush Securities. "It's people rushing to buy them before they're banned."
Dick's said last month that it has suspended sales of assault rifles.
Related: Assault rifles are selling out
Smith & Wesson and Sturm, Ruger manufacture a wide variety of firearms, including the semiautomatic rifles that are known various as assault weapons or modern sporting rifles.
There are many other non-public companies that manufacture semiautomatic rifles, including Bushmaster Firearms International, which makes the rifle used at the Newtown shooting and also a recent shooting in Webster, N.Y., where a convict burned down houses and then ambushed and killed two volunteer firefighters.
Such a ban, if it passes, would also impact manufacturers of high-capacity magazines. They include the Beta Company, which makes 100-round drums, and SGM Tactical, which produces 30-round and 100-round magazines.
Related: A month after Newtown, a massive gun trade show
High-capacity magazines face a potential ban because they were used by Adam Lanza in the Newtown shooting and by James Holmes, suspect in a mass shooting last year at a movie theater in Aurora, Colo.
Obama acknowledged that he faces serious opposition in trying to get an assault weapon bill passed by a Republican-controlled House.
Even as Obama spoke, thousands of gun industry members packed into the SHOT Show -- an annual trade show -- in Las Vegas. The show is owned and sponsored by the National Shooting Sports Foundation, an organization based in Newtown, less than two miles from the site of the Sandy Hook school shooting.