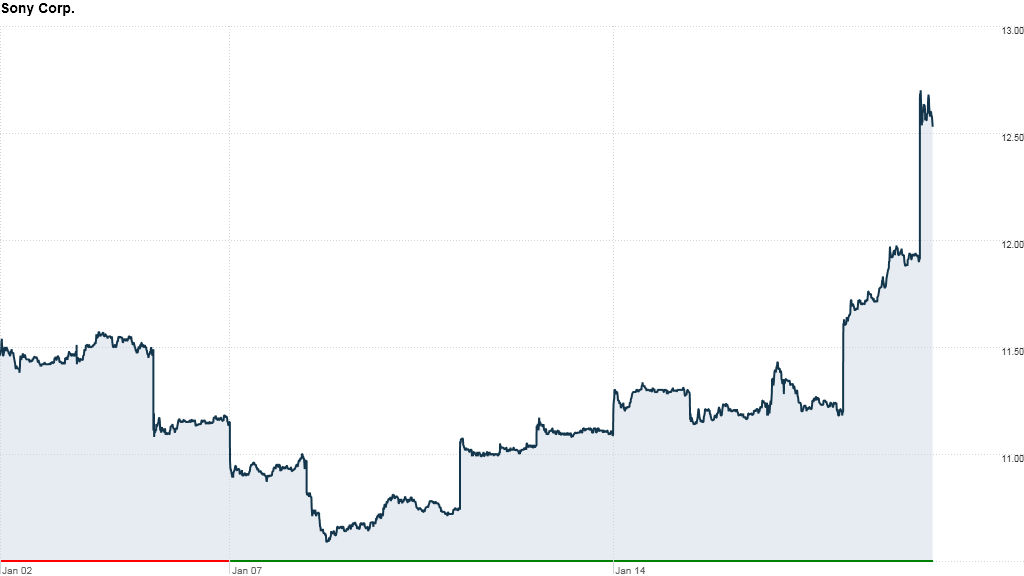 Shares of Sony moved sharply higher Friday after the company announced it would sell the headquarters for its U.S. operations in New York City for $1.1 billion.
Sony (SNE) stock was up 5.5% on the news in morning trading, but it has been lagging other media companies recently, such as News Corp. (NWSA), Walt Disney (DIS), Comcast (CMCSA), CBS (CBS), and CNNMoney parent Time Warner (TWX). All those companies are up more than 35% since the start of 2012, while Sony's shares, even with Friday's rise, have lost 30% of their value in that time. Sony's debt was cut to junk bond status late last year by rating agency Fitch.
Sony shares have also lagged behind personal electronics competitors such as Apple (AAPL), which despite losing ground in recent months is still up more than 23% since the start of 2012.
The building at 550 Madison Avenue in Manhattan is the home to Sony Corporation of America as well as Sony Music Entertainment, Sony/ATV Music Publishing and Sony Pictures Entertainment, among other units of the company. The company will continue to stay at the location for at least three years under terms of the sale.
Related: Sony Music's Bob Dylan copyright disaster
The building, known for its distinctive notched roof, is being purchased by a consortium led by The Chetrit Group, a New York-based owner of commercial properties. Sony expects to post a $685 million net gain on the sale.