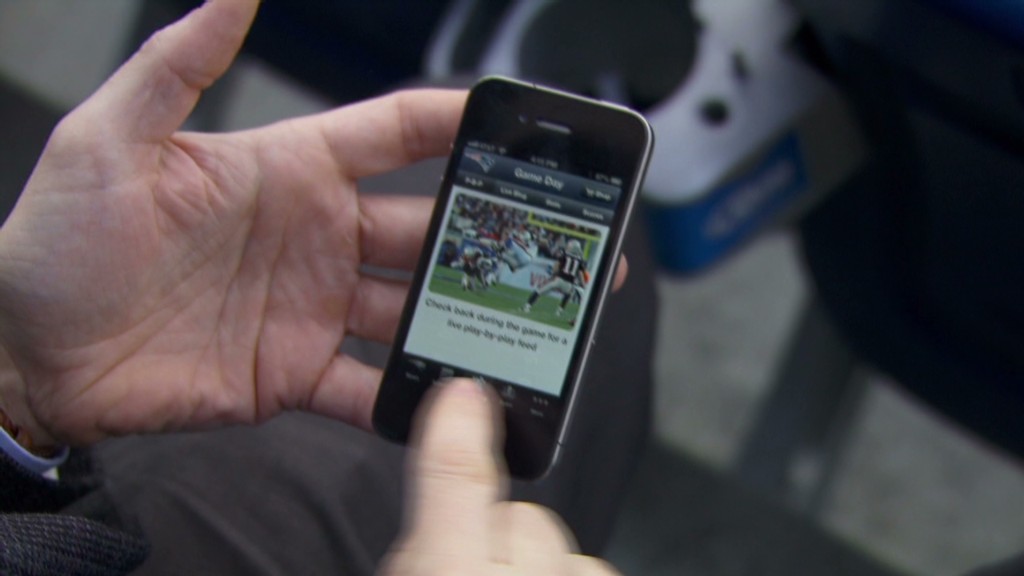 Football is America's most popular sport, so you wouldn't think the National Football League would have any trouble getting fans to come to games.
But in an era of giant high-definition televisions and NFL RedZone -- a channel that broadcasts every scoring play of every game -- football zealots are growing weary of shelling out huge sums to watch the game in person. Attendance fell for four straight years from 2008 through 2011. The league was forced to adjust its sell-out rules to avoid having too many blacked-out television broadcasts. (If a game isn't at least 85% sold, local stations aren't allowed to carry it live.)
The NFL has a potential solution. It wants to transform live games into multimedia entertainment extravaganzas that fans watch in two ways at once: on the field and through their mobile devices. The league is experimenting with exclusive camera angles, on-demand video replays, free access to RedZone, and order-from-your-seat snack and beer service -- all controlled through apps on your smartphone or tablet.
Leading the way are the New England Patriots, who deployed the league's first stadium-wide, free Wi-Fi network with streaming video at Gillette Stadium in Foxboro, Mass.
Fans can tap into cameras that stalk Patriots quarterback Tom Brady or hover directly over the end zone. Next year, the team will give in-stadium fans the ability to listen in to miked-up players (we can't wait for the profane blooper cuts), access the coach-to-quarterback audio (on a 15-second delay, of course) and find the shortest bathroom lines.
"We're not in jeopardy like some others of not filling our stadium, but we're looking at what's coming," said Jonathan Kraft, president of the Patriots and head of the NFL digital media committee, at a conference held at Gillette Stadium this week. "If you don't do this at scale, live venue viewing will really be at risk."
Related story: Why your wireless service sucks at sports games
Kraft said he expects all football stadiums to have similar systems in place by 2015.
The situation isn't life-or-death: Attendance was up this year, albeit by less than a percentage point. The league sold out 94% of its games in 2012, and turnout is up dramatically compared to some prior decades, NFL spokesman Brian McCarthy points out. Attendance hovered around 60% during the 1980s.
"We're in great shape, but we want 100%," McCarthy said.
Still, there were still 15 games blacked out in local markets this year. Even the Cincinnati Bengals, who went to the playoffs, didn't sell out a quarter of their games.
Bringing in Wi-Fi and a ton of multimedia bling sounds promising. Here's the catch: Delivering that experience to 70,000 fans packed into a relatively small area is extremely tricky. If you've ever tried texting, calling or -- God help you -- uploading a photo to Facebook (FB) while you're at a game or concert, you're aware of the problem. Washington's wireless networks jammed during President Obama's 2009 inauguration, and planners are braced for a repeat of that during his second inauguration on Monday.
Smartphones quickly become dumb phones when tens of thousands of people all try to access the same cell towers simultaneously.
Streaming video to individual devices throughout an entire football stadium requires hundreds of radios strategically placed throughout the arena, perfectly aimed and calibrated so they won't interfere with other equipment. A poorly placed radio could wipe out Wi-Fi for an entire section, as could radios placed close to television broadcast equipment.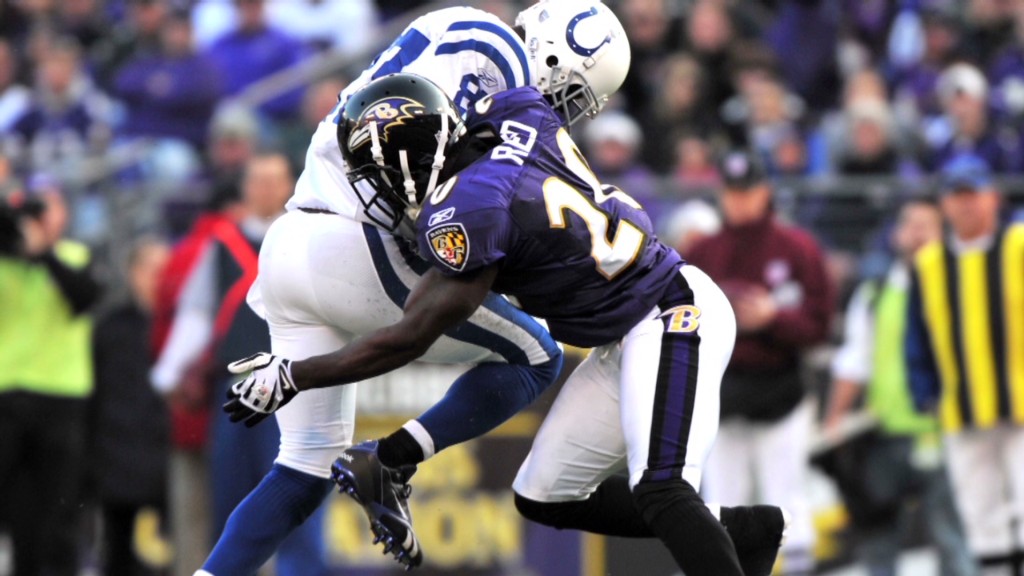 The Patriots hired networking solutions provider Enterasys -- a Cisco (CSCO) competitor -- to build their network.
Enterasys essentially treated Gillette as a medium-sized town squashed into a tiny, dense area. It created a mini-Internet service provider (like a Comcast (CMCSA) or Time Warner Cable (TWC)) inside the stadium, including a networking core that connects directly to the Internet. Enterasys custom-designed 300 Wi-Fi access points and snaked thousands of feet of cable throughout the venue.
It's a multi-million dollar project that many bigger names expressed interest in, but no other competitors were willing to guarantee the results, according to the Patriots' Kraft. The network at Gillette has performed well throughout the season, he said. It peaked at 10,000 people using the Wi-Fi simultaneously during last Sunday's playoff win against the Houston Texans, with no service disruptions.
"The idea that you could deliver streaming rich media over a Wi-Fi network was impossible just two years ago," Kraft said. "Now we've solved that."