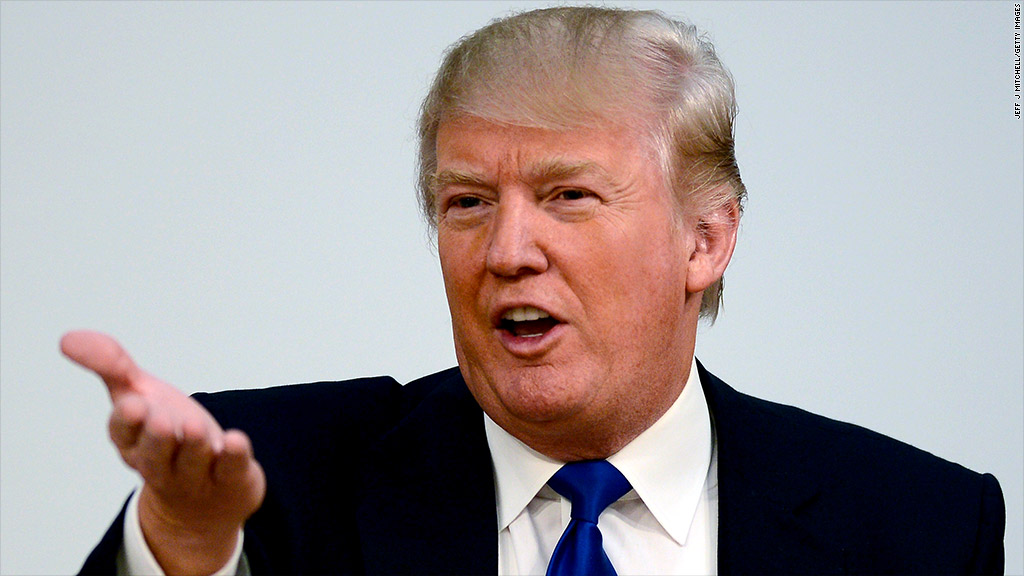 Outspoken New York real estate mogul Donald Trump has been holding meetings about possibly buying the New York Times Co., according to a report in New York Magazine.
Shares of the New York Times (NYT) were slightly lower in early trading, suggesting that investors were not taking the report all that seriously. Even the New York Magazine piece describes a purchase as "improbable."
The newspaper company has been hit by the financial problems that have dogged all of print media in recent years, amid the growing competition from the Internet. It has been losing money for a number of years. Most recently it posted a $43.7 million loss in the first nine months of last year. Its new New York City headquarters is heavily mortgaged and the company carries significant other debt. And while its shares rose nearly 16% in 2012 and are slightly higher so far in 2013, the stock has lost more than half its value over the last five years.
Related: The Trump brand, or just hype?
But the majority of the company's voting shares are controlled by the Sulzberger family, which has insisted on numerous occasions it has no interest in selling control of the company. And for the liberal Sulzberger family to sell to an outspoken conservative critic of both the Obama administration and the mainstream media seems particularly unlikely. The company declined to comment on the report.
Trump's office wouldn't comment specifically on the report, but it didn't rule out an attempt to buy the paper.
"I have watched Mr. Trump over the years navigate much tougher acquisitions," said Michael Cohen, who is special counsel to Trump. "Mr. Trump is so smart and so rich that if he wants it, he will get it. If Mr. Trump elects to purchase the New York Times, commits his time and resources, there is nothing he can't buy."