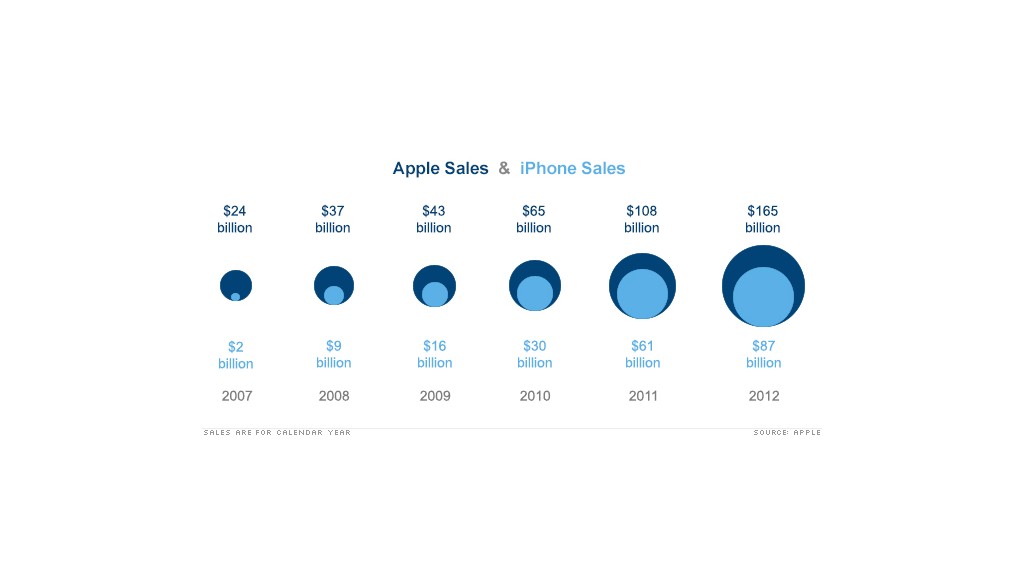 Apple reported a record quarter on Wednesday, boosted by strong iPhone and iPad sales, but the popularity of cheaper versions of its mobile devices pinched the company's profits.
The company sold 47.8 million iPhones during the past quarter, shattering the record of 37 million that it set a year ago when the iPhone 4S debuted. It's a stunning number, considering that supply chain woes limited iPhone 5 availability throughout much of the quarter.
That helped Apple record a quarterly profit of $13.1 billion, the second highest profit ever earned by a U.S. corporation -- bested only by Exxon Mobil's (XOM) record-setting $14.8 billion quarter from the fall of 2008, when oil prices were at an all-time high.
Still, many analysts and Apple (AAPL) investors are concerned that buyers' interest in the the iPhone might be drying up. Sales estimates for the current quarter and beyond are a pittance compared to the number of iPhones Apple was able to sell over the past three months, and Apple's stock has lost more than a quarter of its value over the past four months.
Customers also appear eager to pay $100 less to get a year-old iPhone 4S or $200 less to get the two-year-old iPhone 4 instead of the iPhone 5, whose features are only slightly more impressive than the older versions'. Verizon (VZ) reported on Tuesday that it sold a record number of iPhones during the quarter, but the iPhone 5 made up only half of its Apple smartphone sales.
As a result, Apple's profit just barely beat its total from the same quarter a year ago. By the slimmest of margins -- $14 million -- Apple avoided recording its first year-over-year drop in profit in nine years, as analysts had feared it might.
The older iPhones reduced the average selling price of the iPhone and contributed to Apple's pinched profit margin. The company's gross margin fell to 38.6% -- down a whopping six percentage points from the same period a year ago.
Investors didn't like the news. Shares of Apple fell by more than 11% in after-hours trading.
Apple's sales rose 17.7% to $54.5 billion, just missing analysts' forecasts of $54.7 billion.
Still, Apple fattened its cash hoard nicely: It's currently sitting on $137.1 billion.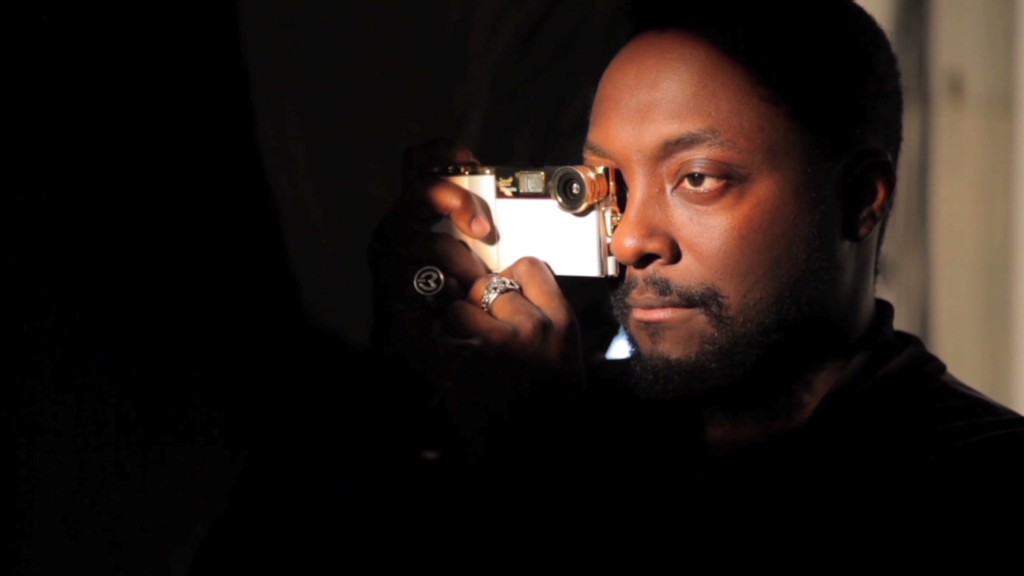 As for the iPad, Apple's other marquee mobile device, the company said it sold 22.9 million devices -- also a record. The iPad mini debuted last quarter, much to the delight of consumers waiting for a lower-priced Apple tablet.
But investors aren't quite as sold on the iPad mini. Like the older, cheaper versions of the iPhone, the eight-inch tablet cannibalized the full-sized iPad's sales, lowering the iPad's average selling price by $101. That dug into Apple's profit.
On a conference call with analysts, CEO Tim Cook was unapologetic about selling less-expensive items. He said the company's best measure of success is whether customers love Apple products. Noting that Apple sold 10 iOS devices per second last quarter, Cook said Apple hit the mark.
"You're going to hear a lot of impressive numbers on this call, but that's not the only way we measure success," Cook said. "We're unwilling to cut corners to deliver the best experience in the world."
Also on Wednesday, Apple reported 4.1 million Mac sales -- down 21% from a year ago -- and 12.7 million iPod sales. Cook said Mac sales slumped because Apple was unable to make the new iMacs quickly enough to meet demand, and the iPad cannibalized some of its PC sales.
Apple also sold more than 2 million Apple TVs in the quarter, the first time the set-top box eclipsed the 2 million mark. Former CEO Steve Jobs called the product a "hobby," but Cook said Apple TV has grown beyond a niche product. Apple is widely rumored to be working on a new television device, which some believe might debut later this year.
Peter Oppenheimer, Apple's chief financial officer, said he expects the company to produce sales of $41 billion to $43 billion during the current quarter and gross margin between 37.5% and 38.5%. Both of estimates fall far short Wall Street analysts' forecasts.
Apple's outlook has typically been ultra-conservative -- the company liked to set low bars it could easily clear -- but Oppenheimer said Apple has changed the way it provides guidance. It now "reflects what Apple is likely to achieve," he told analysts, as opposed to a "conservative estimate" that Apple expects to beat.