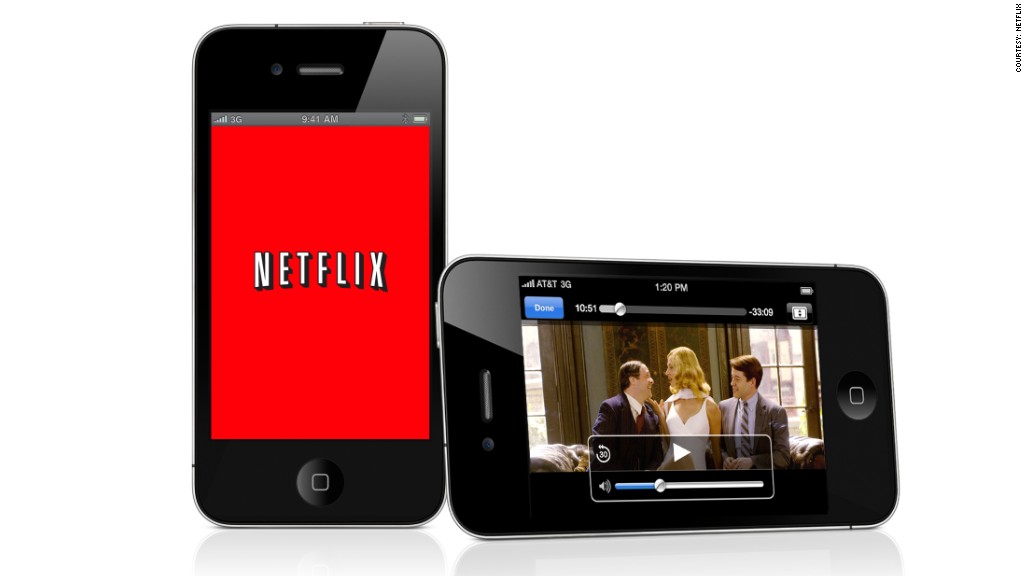 Netflix shocked Wall Street with a surprise profit of 13 cents per share on Wednesday, as analysts were expecting a loss of the same amount for the fourth quarter.
Shares soared 39% in premarket trading Thursday following the earnings announcement. Netflix booked $945 million in revenue in the quarter, which also topped analysts' estimates.
Investors were pleasantly surprised by the number of new U.S. streaming subscribers. Netflix (NFLX) signed up 2.05 million in the fourth quarter, above the range the company predicted last quarter. That brings total U.S. streaming subscriber additions to 5.48 million for 2012.
In total, Netflix now has 27.2 million U.S. streaming subscribers and another 6.1 million in global markets. Netflix's DVD-by-mail subscriptions continue to decline, falling 380,000 in the U.S. to about 8.2 million.
The company said its first quarter profit could be as high as $14 million, but that it may just break even. No profit would still be better than consensus estimates: Analysts were forecasting a loss.
Netflix has been working to add new content to allay subscriber concerns that its streaming catalog is stale. It signed a deal with Disney (DIS) in December, but new film releases from the studio won't be available for another three years.
Netflix inked two new deals this month with CNNMoney parent company Time Warner (TWX) for previous seasons of shows from Turner Broadcasting and Warner Bros., including "The West Wing" and Cartoon Network content. On Wednesday, the company also talked up its original series including Kevin Spacey's "House of Cards," another season of "Lilyhammer," and a relaunch of "Arrested Development."
Netflix said it's exploring the possibility of issuing debt in order to raise capital and fund more original programming.
"It's really good time to lock in very low-cost, long-term capital," CEO Reed Hastings said on a post-earnings conference call with analysts. "We'd be remiss in not looking at that opportunity."
An analyst asked Hastings where he thinks "the holes" exist in Netflix's catalog.
"There's much more than holes; there are vast amounts of content we want to acquire as we continue to grow," Hastings said. "[But] there's no specific holes. We'd like to get more movies, more prior-season television ... "
Netfix hasn't "made a decision for next year as to what percentage of budget will be original shows," Hastings added.
Related story: Netflix is still way overvalued
Netflix's rivals have been making moves of their own. Amazon (AMZN) signed on Epix and A&E and expanded its deal with NBCUniversal. Verizon (VZ) and Coinstar (CSTR) launched their long-planned Redbox streaming service, priced at the same $8 per month as Netflix, last month.
One of Netflix's chief competitors is in trouble, though. Hulu, the streaming video service owned by Disney, News Corp. (NWS) and Comcast (CMCSA), is losing CEO Jason Kilar. He hasn't announced his next move, but he said in January that he will step down sometime in the first quarter.
Netflix used a large chunk of its press release to discuss those rivals, saying that "when it comes to the most popular content with members on Netflix, none of these services are good substitutes." The company said that of its 100 most popular movies and 100 most popular TV shows in the fourth quarter, only 87 of those 200 titles were available through Amazon, Hulu or Redbox.