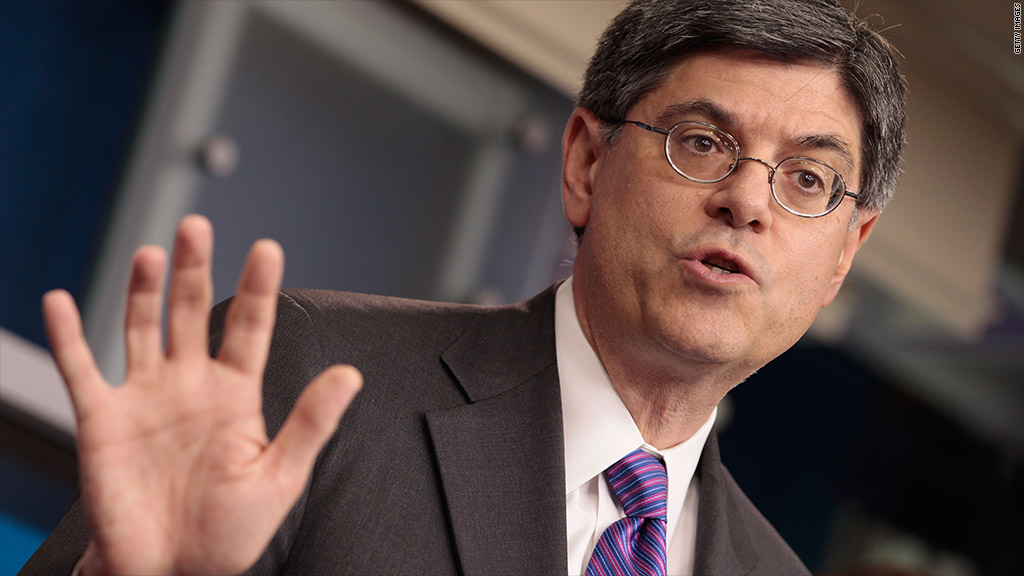 Jack Lew, the nominee to be the next Treasury Secretary, would be among the least wealthy to hold the job in recent history, even though he had a short tenure on Wall Street.
That's partly due to the fact that, as an investor, he's quite conservative.
Lew is worth between $748,000 and $1.7 million according to financial disclosures filed with the Office of Government Ethics, which requires government officials to declare ranges of assets and liabilities. Lew reported no debt.
President Obama nominated Lew to the post earlier this month. Treasury Secretary Tim Geithner's last day on the job is Friday.
Lew spent two days meeting this week meeting with senators on Capitol Hill, including New York Democrat Charles Schumer and Utah Republican Orrin Hatch. Congressional aides said that a confirmation hearing have yet to be scheduled, but Washington insiders say the Senate is likely to confirm Lew.
Related: How House Republicans would defuse debt ceiling
Lew's net worth is not far off from Geithner, who is worth somewhere between $239,000 and $6 million. The wide range is due to his four mortgages that he reported to be worth a total of between $1.35 million and $2.75 million.
But Lew's net worth doesn't compare to that of Treasury Secretaries who served during President George W. Bush's administration. Henry Paulson was worth at least $91 million, John Snow was worth about $62 million and Paul O'Neill was worth about $63 million.
What the three had in common was that they left lucrative jobs as the heads of prominent companies -- Paulson from Goldman Sachs (GS), Snow from CSX Corp (CSX)., and O'Neill from Alcoa (AA) -- to run Treasury.
The Treasury Secretary runs U.S. fiscal policy and is charged with collecting federal taxes and managing public debt, among other duties. The job pays $199,700 a year.
Related: How much is a Treasury Secretary worth?
Lew has spent most of his career working in the federal government in Washington. But he also spent three years working for Citigroup (C), first as the chief operating officer of wealth management and later as chief operating officer at Citi Alternative Investments.
In his 2009 financial disclosure, Lew reported making $945,000 in salary and restricted stock payouts from his work at Citigroup.
His move to public service prompted Lew to get rid of some stock at a bad time. He sold Citigroup (C) shares in April 2009 at between $50,000 and $100,000, more than 90% below the peak during his tenure at the economy.
In 2011, the most recent disclosure available, Lew reported that most of his retirement money is in TIAA-CREFF managed assets and much of the rest of his investments are in index funds. He also has less than $1,000 in U.S. Treasuries and at least $50,000 in State of Israel bonds.
Lew lives in the Riverdale neighborhood of New York's borough of The Bronx. He also reports owning an apartment in Queens worth up to $250,000.