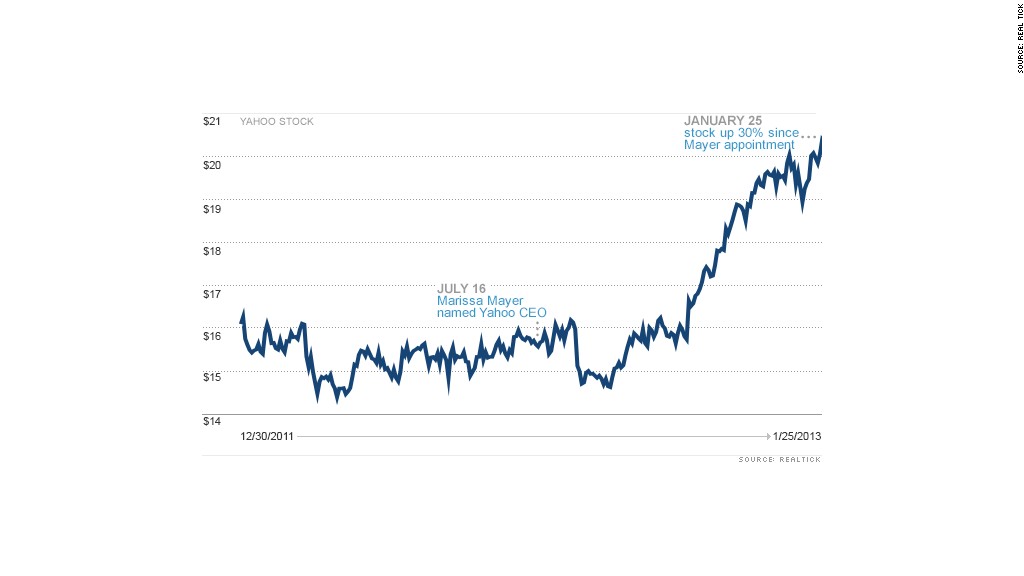 Former Googler Marissa Mayer shocked the world last summer by taking the CEO spot at Yahoo, a brand marred by tumultuous CEO tenures and waning relevance.
Since then, Yahoo's stock has been on a tear and analysts are pinning their hopes for a Big Purple Turnaround squarely on Mayer.
Mayer has laid out her plans to usher in a new era at Yahoo (YHOO), and she's generated more excitement about the company than any of the numerous other CEOs Yahoo has had in the past decade. That includes a buzz-worthy appearance at the World Economic Forum in Davos.
But industry watchers are now starting to look for proof that Mayer can deliver on her promises.
To be fair, Mayer has only been on the job for two full quarters. In October, results for the third quarter beat estimates but were hardly fantastic. Mayer's next test comes via Monday's fourth-quarter earnings report, and it will be a look into the new Yahoo business strategy -- the results of which Mayer began laying out in an all-staff meeting in September.
Mayer wants Yahoo to focus on personalizing the Web for its users. She's also trying to shake up the company culture, urging Yahoo staffers to move more quickly and interact with the Web the way the company's users do. To that end, she eliminated company-issued BlackBerrys in favor of new Apple (AAPL), Google (GOOG) and Microsoft (MSFT) phones.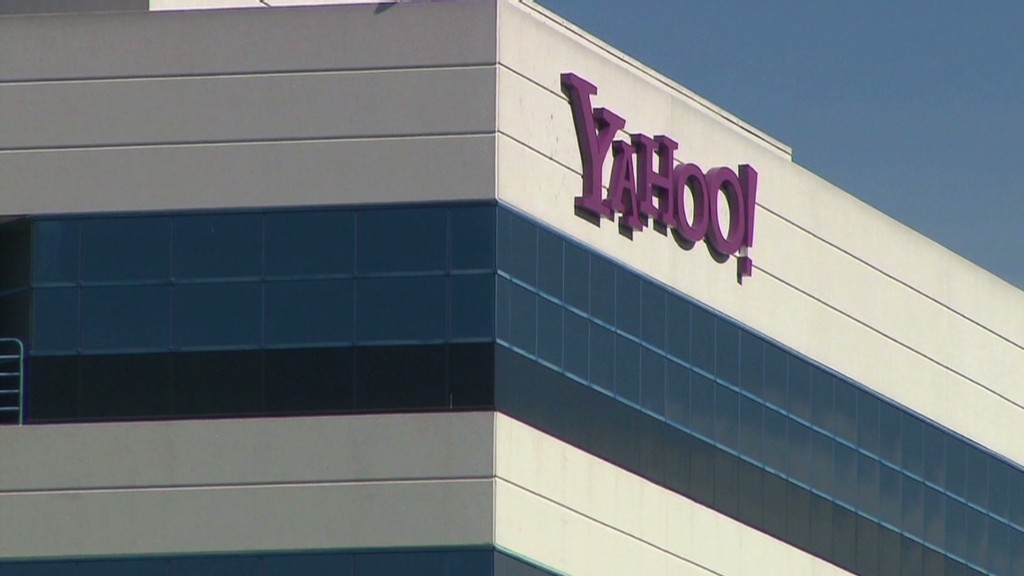 Mayer has also discussed efforts to revamp search and display advertising, as well as focusing on attracting top talent to Yahoo. Her message is convincing, at least to investors: Shares closed Thursday at their highest level since September 18, 2008.
And so Marissa-love has proliferated, with Yahoos and techies alike wondering if Mayer will finally be the one to right the Yahoo ship after years of failings. Adding to the Mayer obsession is her personal life: She gave birth to a baby boy on September 30 and returned to work after a two-week maternity leave.
Related story: Yahoo CEO Mayer's "God" and "baby is easy" quotes go viral
But, as always in business, the proof is in the numbers. Analysts polled by Thomson Reuters expect Yahoo to report fourth-quarter earnings of 28 cents per share, up 18% from a year ago. But they're forecasting just a 4% gain in revenue.
Of particular concern is Yahoo's display revenue: sales from banners, videos and other graphic ads. Display sales were flat in the third quarter, but that's an improvement over the sharp falls from previous quarters.
Still, analysts want to see a return to strong growth, not just stabilization.
BCG Financial analyst Colin Gillis put his thoughts in a haiku: "Time for the next stage, of the turnaround story: drive revenue growth," he wrote in a note to clients Tuesday.
Related story: Yahoo ordered to pay $2.7 billion in bizarre Mexico lawsuit
Gillis called Yahoo's display performance "anemic," and he's not happy with revenue from Yahoo's search partnership with Microsoft's Bing. Mayer herself called Yahoo's search results "disappointing" last quarter, and analysts will look to her after Monday's earnings report for more clarity on what she plans to change.
J.P. Morgan analyst Doug Anmuth offered tepid optimism about Mayer's reign, saying in a note Friday that he was "encouraged" by her focus on user experience, search, mobile, and more. Like Gillis, he wants more information on changes to search and display, plus investment and recruitment efforts.
Overall, Anmuth said he wants "to see a better path toward improved execution in the core business."
In other words, Mayer's honeymoon period with Wall Street may soon be over. It's time for Mayer to begin proving that her plan to get Yahoo back on track works, starting with Monday's results.