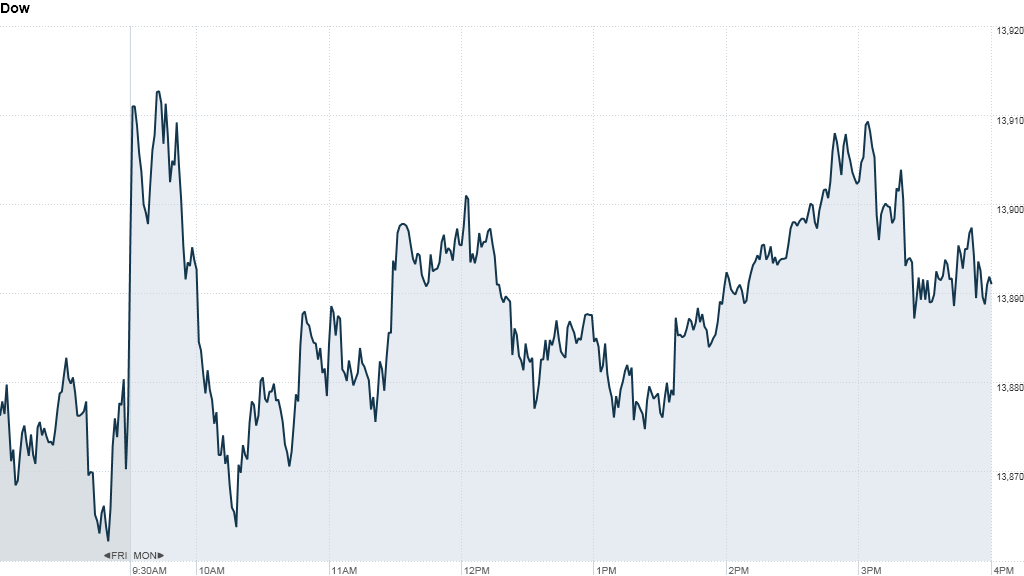 U.S. stocks barely budged Monday, despite upbeat economic and corporate news, as investors were reluctant to push prices higher following four weeks of gains.
The Dow Jones industrial average fell 0.1% and the S&P 500 lost 0.2%. The Nasdaq rose 0.1%.
Despite the modest retreat, the S&P 500 closed just above the 1,500 level. It finished above that key threshold Friday for the first time since December 2007. After posting gains for the past four weeks, the S&P 500 has gained more than 5% so far in 2013.
With stocks at such lofty levels, investors are wary of placing big bets ahead of a series of labor reports due later this week, said J.J. Kinahan, chief derivatives strategist at TD Ameritrade. "People are reluctant to pull the trigger one way or the other until we get more clarity," he said.
In the bond market, the yield on the 10-year Treasury note briefly rose above 2% for the first time since April 2012. The rise in yield, which reflects a fall in price, came as investors welcomed a better-than-expected report on durable goods orders.
The Census Bureau said orders for long-lasting goods rose 4.6% in December, compared with the 1.6% rise economists had forecast.
The National Association of Realtors said its index of pending home sales fell 4.3% in December. The index is based on the number of contracts signed in a month, but does not measure actual closings.
Meanwhile, Caterpillar (CAT) said fourth-quarter earnings fell 55% to $1.04 per share, reflecting a previously disclosed $580 million charge. Excluding the one-time item, Caterpillar's results topped analyst estimates, sending shares up nearly 2%.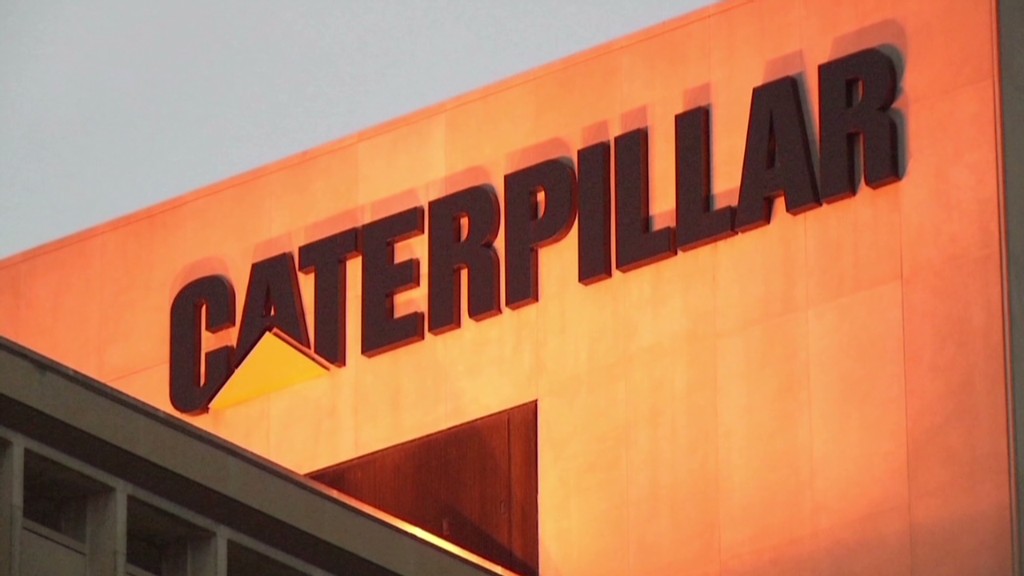 Caterpillar, the biggest seller of construction equipment in the world, said the U.S. economy will continue to improve this year, but warned that "growth is expected to be relatively weak." Despite an uncertain outlook for the global economy, Caterpillar said 2013 could be a record year for the company.
After the market closed, Yahoo (YHOO) said it earned $283 million, or 32 cents per share, in the fourth quarter, topping analyst expectations. Shares were up nearly 5% in after-hours trading.
The company's fourth-quarter results were a big test for CEO Marissa Mayer, who shocked the world last summer by leaving Google (GOOG) to take the top spot at Yahoo. The results will be a look into Yahoo's new business strategy -- the results of which Mayer began laying out in an all-staff meeting in September.
Of the 141 companies in the S&P 500 that have reported earnings so far, 67% have reported results above analyst expectations, according to Thomson Reuters. Overall, fourth-quarter earnings are expected to grow 2.8% from a year ago.
Related: Revenue rebounds as economic recovery continues
Also on the corporate front, shares of Apple (AAPL) were in focus. On Friday, Apple lost its title as the world's most valuable company to Exxon (XOM). But Apple gained more than 2% Monday and moved back ahead of Exxon Mobil in the market valuation race.
Shares of Hess (HES) rose 6% after the oil and gas company said it would sell more assets as it exits the refining business. The company also disclosed that activist investor Elliot Associates is interested in buying up to $800 million worth of Hess stock.
The Federal Trade Commission took action against Fortune Hi-Tech Marketing, a seller of health and beauty products, for operating an alleged pyramid scheme.
The news weighed on shares of Herbalife Ltd (HLF), which has been labeled a pyramid scheme by hedge fund manager Bill Ackman, who placed a $1 billion bet the company's stock would become worthless. Shares of Nu Life (NUS), which sells anti-aging products and has a similar business model to Herbalife, also sank.
Related: Fear & Greed Index deep in extreme greed
European markets ended mixed, with London's FTSE (UKX)rising 0.3%, while the DAX (DAX) in Germany retreated 0.2%.
Asian markets ended mixed. The Shanghai Composite added more than 2%, closing at its highest level since June, while the Nikkei tumbled nearly 1%. The Hang Seng in Hong Kong edged slightly higher.
Oil and gold prices were little changed. The U.S. dollar fell versus the euro and Japanese yen, but gained on the British pound.