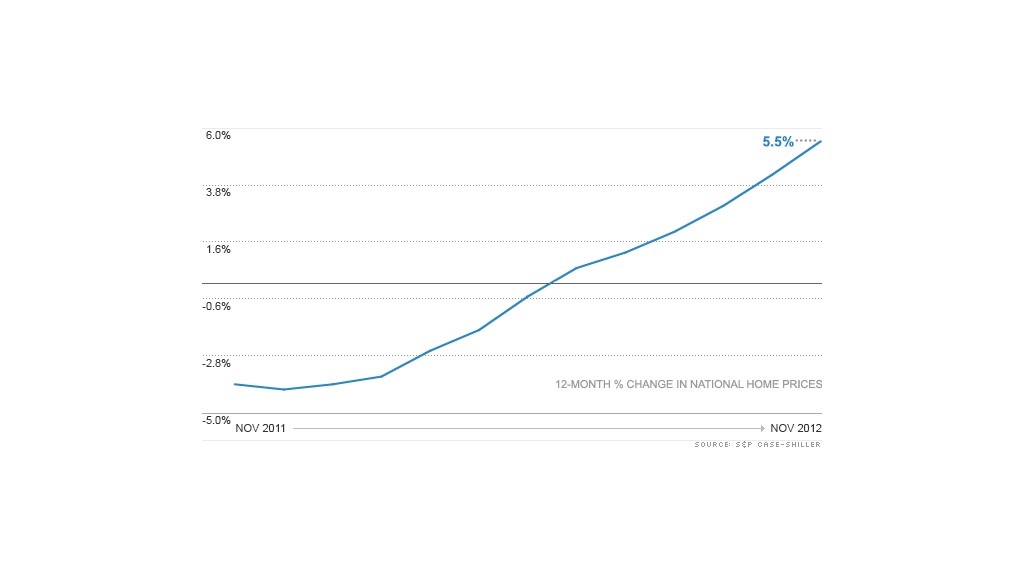 Home prices in 20 major U.S. cities were up 5.5% in November compared to a year earlier, their biggest jump in more than six years.
The latest reading of the closely watched S&P Case-Shiller index is another sign of the growing recovery in the long-battered housing market.
The last time prices jumped this much was in August 2006, when the housing bubble was still inflating. Soon after that, prices went into a steep decline that led to a flood of foreclosures. That sparked the most serious economic downturn since the Great Depression.
"Housing is clearly recovering," said David M. Blitzer, chairman of the index committee at S&P Dow Jones Indices. "Prices are rising as are both new and existing home sales. These figures confirm that housing is contributing to economic growth."
Housing prices have been helped by a number of factors in recent months, including increased sales of both new homes and previously-owned houses, a drop in foreclosures, and near record low mortgage rates. A drop in the nation's unemployment rate also is helping.
The rise in home prices is good news for more than just people hoping to sell their home. The higher prices rise, the fewer homeowners that will be underwater on their mortgage, meaning they owe more on their homes than they are worth. That can help many homeowners refinance and save money, which would pump more cash into the economy.
"The ongoing price appreciation is significant, because we expect housing wealth effects to be an important factor driving economic growth in 2013, possibly matching the direct impact on economic output from the rebound in homebuilding," said Joseph LaVorgna, chief U.S. economist for Deutsche Bank.
Related: Housing to drive economic growth (finally!)
Michael Gapen, senior U.S. economist for Barclays, said the fundamentals for the housing market are now strong enough that his firm is forecasting another 6% to 7% rise in prices in 2013, and a 5% to 6% rise again next year. He said the tight supply of homes for sale on the market should support continued price increases, and that the decline in foreclosed homes for sale is reducing the drag that those distressed properties had on overall prices.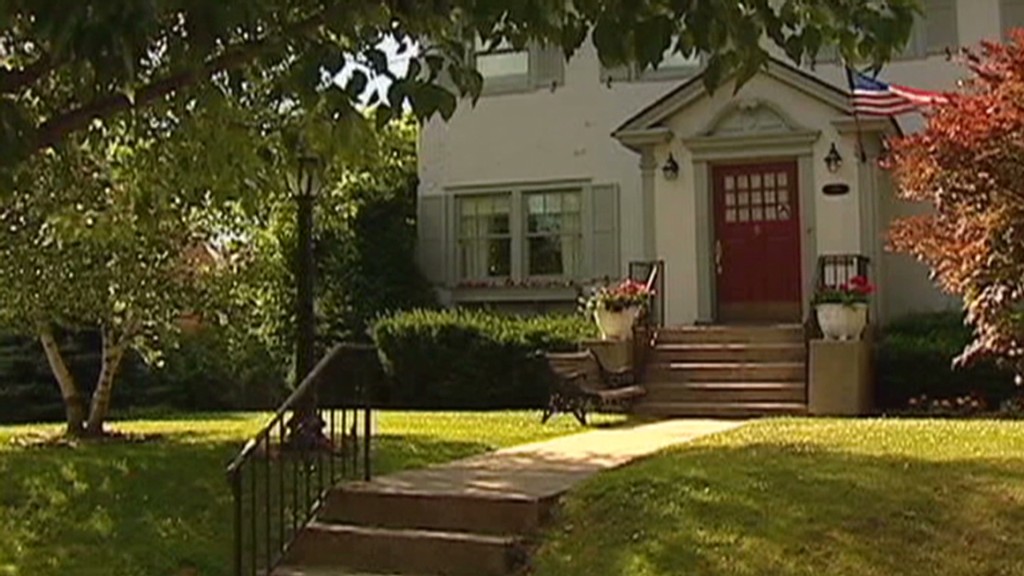 "I'm not worried about these increases being overdone," he said. "Home prices overcorrected a bit on the downside, and what we're seeing now is a recovery from that."
Related: Home building surges 12%
The S&P Case-Shiller index tracks home prices in 20 major markets. The latest reading showed 19 of them posting a gain in prices, with only New York posting a modest decline from a year earlier. Phoenix, one of the markets hit hardest by the housing crisis, posted the biggest increase, with home prices there climbing 22.8%.
San Francisco and Las Vegas, markets that were also hit by the housing boom and bust, also posted double-digit increases, while Miami, another bubble market, posted a 9.9% rise. Detroit, a city where economic problems led to a high rate of foreclosures, enjoyed an 11.9% price increase.
But even with November's strong gains, the overall index stands 29% below the home price peak reached in the summer of 2006.