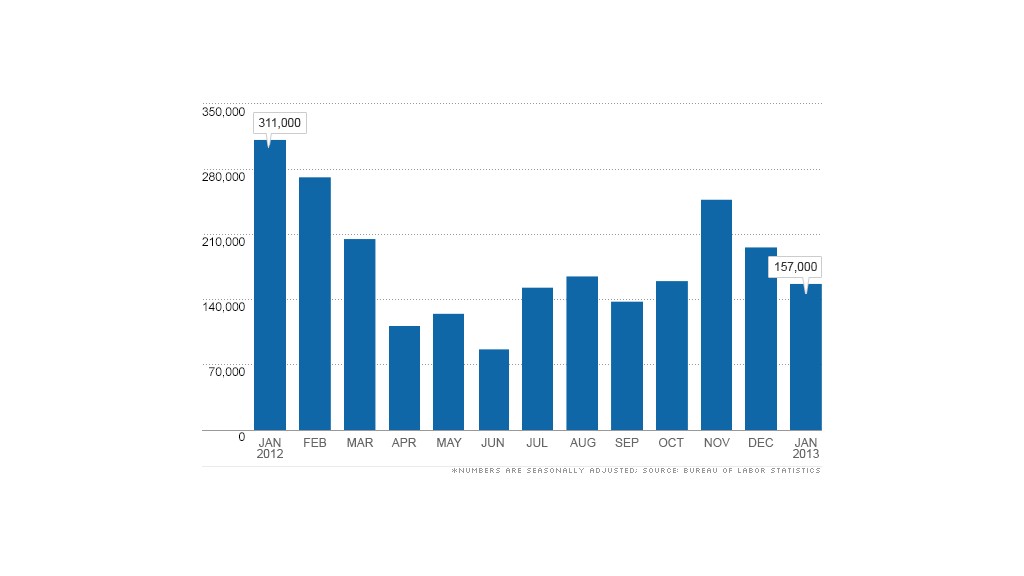 The jobs recovery continued to crawl forward at a slow pace in January, and there's little hope it will pick up any time soon.
The U.S. economy added 157,000 jobs in January, according to a Labor Department report released Friday. That's slower growth than in December, when employers hired 196,000 workers.
Call it "Groundhog Day in the labor market," said Heidi Shierholz, economist with the Economic Policy Institute. "It's the same old crap. We've been waking up to this same story for two years."
The unemployment rate was 7.9% in January, as 12.3 million people were counted as unemployed. Overall, hiring is barely keeping pace with population growth, and the Labor Department noted that the unemployment rate has barely changed since September.
Economists surveyed by CNNMoney are expecting job growth to continue in 2013 at roughly the same pace as last year, when the economy added 2.2 million jobs. They predict the unemployment rate will end the year at 7.5%.
Beata Caranci, vice president and deputy chief economist at TD Economics, said that many of the job gains are likely to happen at the end of the year though.
Related: Housing to drive economic growth (finally!)
Construction hiring could be one of the highlights this year. It was the single hardest hit sector in the recession but has recently shown some signs of life. In January, construction firms added 28,000 jobs, reflecting a stronger housing market and rebuilding efforts after Superstorm Sandy.
Caranci is predicting that construction alone will account for roughly a quarter of all the jobs added in 2013.
"The housing market is gaining more momentum on its own, and we think it could be a leader in the job market," she said.
That said, political uncertainty is still hanging over employers, as they wait for Congress to hash out a budget deal. Amid an impasse between Democrats and Republicans, chances are growing that automatic spending cuts, which aim to reduce deficits by $1.2 trillion over a decade, could take effect starting in March.
"Today's report is a reminder of the importance of the need for Congress to act to avoid self-inflicted wounds to the economy," said Alan Krueger, head of President Obama's Council of Economic Advisers, said in a White House blog post.
Check the unemployment rate in your state
In January, health care continued to be a strong sector for job growth, adding 23,000 jobs. Most of those jobs were in ambulatory health care services, a category that includes doctors' offices and outpatient care centers.
Retail added 33,000 jobs, with about a third of those gains at clothing stores.
Manufacturers added about 4,000 jobs, but the Labor Department noted that employment in this sector has changed little since July.
Meanwhile, the government continued to cut jobs for the fourth month in a row.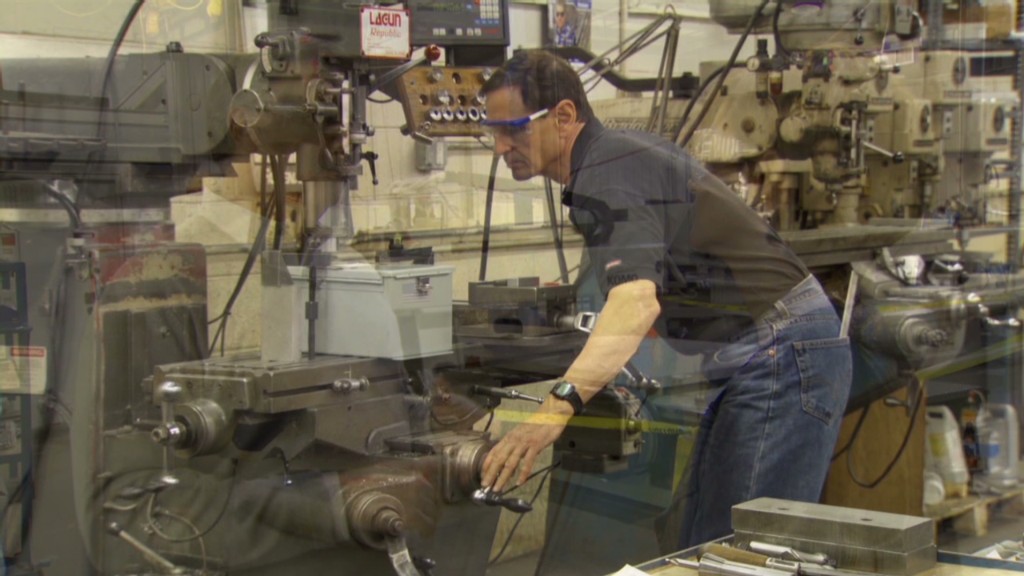 The Labor Department also released revisions to its 2012 data, showing the economy added 335,000 more jobs during the year than originally reported.
Overall, the U.S. economy lost 8.8 million jobs in the financial crisis, and is still down about 3.2 million jobs from the labor market's height in January 2008.
Investors were impressed by the jobs report, however. Stocks rallied, briefly pushing the Dow above 14,000 for the first time since October 2007.