U.S. stocks sank Monday, with the Dow retreating from the 14,000 milestone as concerns about European politics weighed on the market.
The Dow Jones industrial average fell 129 points, or 0.9%. The S&P 500 fell 0.8% and the Nasdaq lost 0.6%. On Friday, the Dow surged to close above 14,000 for the first time since October 2007, putting an all-time high in sight.
European markets closed sharply lower as concerns about political instability in the eurozone resurfaced. The DAX index in Germany and France's CAC 40 both fell more than 2%.
"Politics have been an important driver today," Scotiabank analyst Camilla Sutton wrote in a note to clients, pointing to corruption allegations against the Spanish Prime Minister and a banking scandal in Italy ahead of this month's election.
The sell-off comes after a strong rally for U.S. stocks in January. The Dow gained 5.9% last month, making it the best January performance since 1994. Given the recent strength, many analysts had suggested that stocks were due for a pullback.
"Last week is a tough act to follow," said Art Hogan, a managing director at Lazard Capital Markets.
Hogan said stocks could struggle for direction this week as corporate earnings season winds down and the flow of economic data is relatively light. But stocks could find some support as investors who missed out on the recent rally look for opportunities to get back in, he added.
"I don't think this is the beginning of a reversal of fortune," said Hogan.
Meanwhile, investors found little solace in economic data and corporate results released Monday.
The Census Bureau said new orders for manufactured goods rose 1.8% in December, which was weaker than expected. Economists had forecast a 2.4% increase in orders, according to estimates from Briefing.com.
Shares of Standard & Poor's owner McGraw-Hill (MHP) plunged after the company said the U.S. Department of Justice would be suing it over favorable ratings tied to mortgage-related securities before the 2008 financial crisis. S&P rival Moody's (MCO) fell sharply as well.
Royal Caribbean Cruises (RCL) reported a fourth-quarter loss, but said it expects demand to improve this year in North America, while Europe will remain weak. Gannett (GCI) shares fell nearly 7% after the media company said earnings excluding restructuring costs rose in the fourth quarter.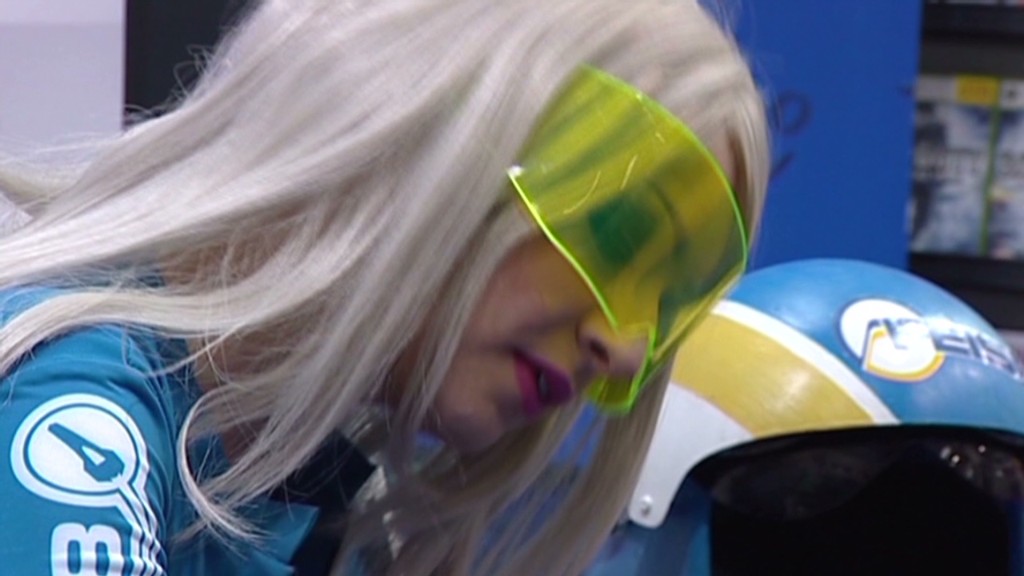 Yum! Brands (YUM) will report after the close. Disney (DIS) and BP (BP) will release quarterly results on Tuesday.
Shares of Dell (DELL) were down 2.6% despite more reports that the company could go private early this week. Microsoft (MSFT) is reportedly poised to assist in financing the deal.
Facebook (FB) shares fell more than 5%, as the social networking site marked the ninth anniversary since its inception. The company reported strong earnings and sales increases last week but investors were still disappointed by a slowdown in mobile advertising growth.
Herbalife (HLF)shares rose despite a report in the New York Post said the company is being investigated by the Federal Trade Commission. In a statement, Herbalife said it was unaware of any investigation and disputed the newspaper's claims.
BlackBerry, formerly Research In Motion, began trading under a new ticker symbol, BBRY. Shares surged more than 15% after analysts at Bernstein upgraded the stock.
Fear & Greed Index still showing Extreme Greed
Asian markets ended mixed. The Shanghai Composite added 0.4% and Japan's Nikkei advanced 0.6%, while the Hang Seng declined 0.2%.
Oil prices sank 1.6%, while gold prices edged higher. The yield on the 10-year U.S. Treasury note was unchanged at 2%. The U.S. dollar gained versus the euro, but lost value against the British pound and Japanese yen.