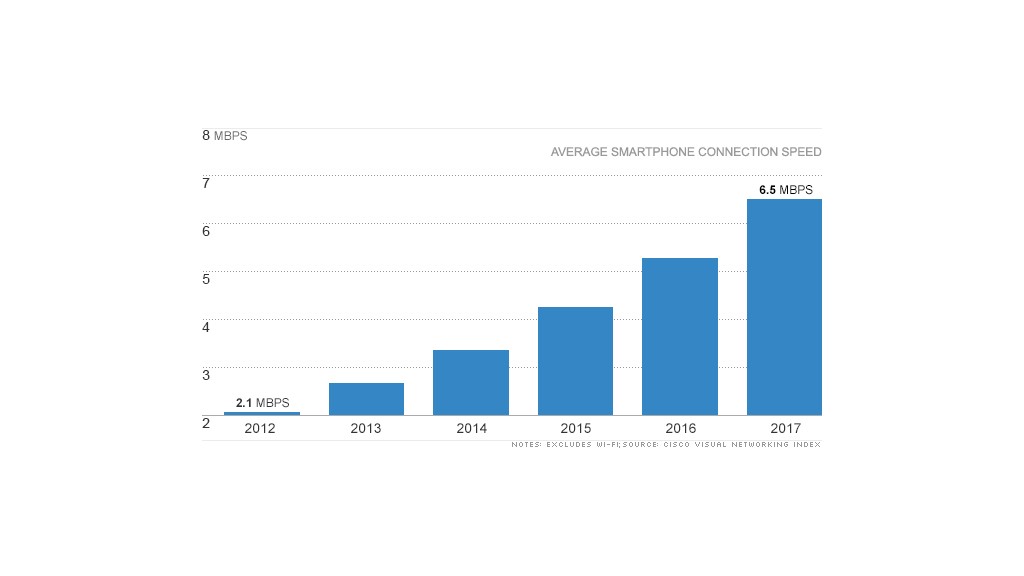 Thinking about upgrading to a 4G phone? Prepare to pay more. Before you know it, those 2-gigabyte data caps your carrier put in place just aren't going to cut it.
The average American will use 6.2 GB of data on their mobile devices each month in 2017, according to the latest annual Visual Networking Index released by Cisco (CSCO). To put that into context, Americans used just 752 MB Americans on average last year.
If data plans stay the same five years down the road, the average user's smartphone bill could grow by $40 a month.
The wide-spread roll-out of 4G, the lightning-fast wireless networks that all four of the major carriers are in the process of deploying across the country, is expected to be the main culprit. 4G is capable of speeds comparable to your home broadband service, and it's roughly 10 times faster than 3G. By 2017, Cisco predicts that the average smartphone connection speed will grow more than three-fold.
The faster the connection, the more stuff people consume on their mobile devices -- particularly large video files, which will be the primary driver behind the download explosion, Cisco says. Streaming video services such as Netflix (NFLX), Hulu and Google (GOOG)-owned YouTube are expected make up two-thirds of downloads in five years.
Related story: Video and mobile are breaking the Internet
The number of 4G devices is relatively small now. Just 1% of devices were connected to 4G networks last year -- but those smartphones and tablets accounted for 14% of global mobile traffic. By 2017, Cisco estimates that 10% of the world's devices will have 4G connections, and they will make up almost half of all traffic.
Clearly, people who have (or plan to buy) 4G-capable phones will download like crazy. That has vast implications for wireless carriers -- and your wallet.
Today's mobile-data-per-user average sits just below the entry-level 1 GB data tier that Verizon (VZ) has put in place and well under the 3 GB tier that AT&T (T) offers. But if Cisco is right that we'll all be consuming 6.2 GB-per-month on average in five years, those same Verizon or AT&T customers would have to pay $40 a month more in their cell phone bills to cover all that data.
Related story: Why your cell phone bill is going up
The companies haven't exactly been shy about stating the rationale behind switching to tiered and shared data plans. As customers rack up more and more gigabytes on their 4G devices, they pay more.
But if those plans don't change, carriers with data caps or tiers are going to have a revolt on their hands. For the time being, Sprint (S) and T-Mobile continue to offer unlimited data service for mobile customers
"As you have more people using bandwidth-intensive applications on the networks, carriers are putting data caps in place," said Thomas Barnett, manager of Cisco's Visual Networking Index team. "But carriers will need to evolve their tiers for cell service to remain affordable -- while still getting those top users reined in."
AT&T and Verizon declined to comment on whether they'd consider raising their tiers as average use ticks higher in the future.
But those tiers have clearly been very effective. American mobile customers offloaded half of their traffic to Wi-Fi networks last year. In other words, the prospect of paying more has forced customers to think twice about when they need to use a 3G or 4G network.
By 2017, Cisco forecasts that 66% of smartphone and tablet traffic will be over Wi-Fi. So that may be a way for consumers to keep watching Netflix on their phone or tablet without paying an arm and a leg to their carrier.