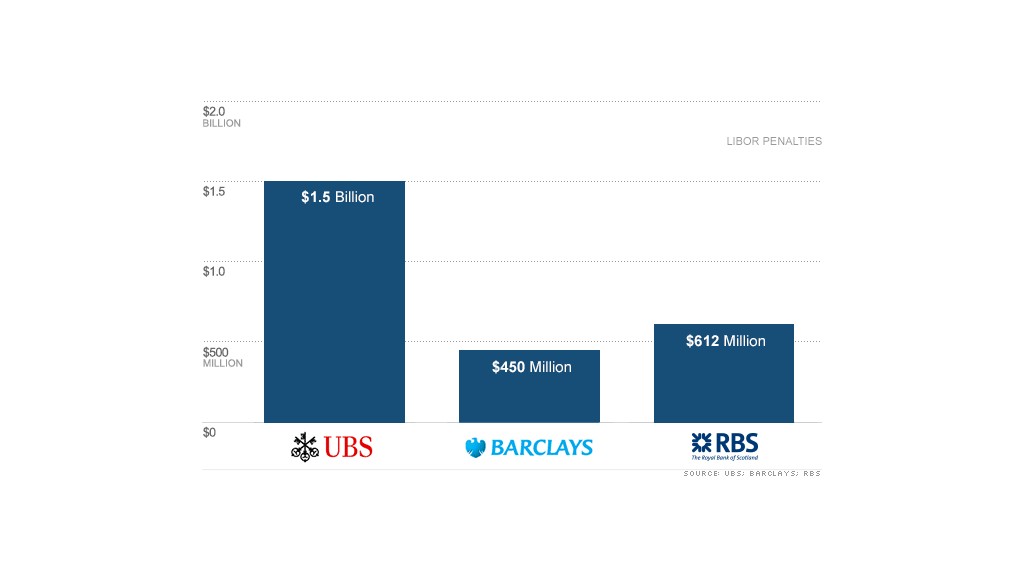 The Royal Bank of Scotland has been fined $612 million by regulators after an investigation found 21 bank employees tried to rig global benchmark interest rates over a period of four years.
The settlement with the part-nationalized U.K. bank follows similar deals last year with Swiss bank UBS (UBS) and Barclays (BCLYF), which paid out $1.5 billion and $450 million respectively.
RBS (RBS) pleaded guilty to wire fraud in Japan, admitted attempting to fix rates to boost trading profits and acknowledged serious failing in its internal controls .
RBS will pay £87.5 million to the U.K. Financial Services Authority, $325 million to the U.S. Commodity Futures Trading Commission and $150 million to the U.S. Department of Justice.
Regulators and law enforcement officials around the world have been investigating the role of at least 14 banks in setting the London Interbank Offered Rate, or Libor, and related interest rates that are used to price financial products worth trillions of dollars.
Among the banks facing scrutiny are Citigroup (C), Deutsche Bank (DB), JP Morgan (JPM)and HSBC (HBC).
Authorities in the U.K. and U.S. said there would be no let up in the investigation.
"These are extraordinary results, and our investigation is far from finished." said U.S. assistant attorney general Lanny Breuer. "Our message is clear: no financial institution is above the law."
All 21 RBS employees have left the bank or been disciplined, and two managers have been dismissed. The bank's head of investment banking, John Hourican, will also leave.
While not involved in the Libor affair, Hourican was leaving "in recognition of the management issues identified in relation to this settlement and the impact on the group's reputation," RBS said.
Barclays admitted last June to attempting to manipulate the rate to make the bank appear stronger during the financial crisis, and to benefit trading positions. Its chairman and CEO paid for the scandal with their jobs.
Related: Misconduct costs Barclays another $1.6 billion
UBS was found to have attempted to rig rates on hundreds of occasions over a period of 10 years. It made corrupt payments to outside brokers for help. Two former UBS traders face criminal charges in the U.S.
Libor is a collection of rates generated for various currencies across 15 different time periods. The quotes are used as benchmarks for an estimated $10 trillion in loans and $350 trillion in derivatives. For example, the interest on your mortgage might be based on a Libor rate plus 2%.
The banks that set Libor are also facing legal action from plaintiffs who claim they lost money on Libor-related investments due to the manipulation.
Related: Cases against UBS traders tip of the iceberg
The U.K. government owns just over 81% of Royal Bank of Scotland after it spent some $70 billion to prevent the bank collapsing during the financial crisis. It made clear it expected RBS investment bankers, not taxpayers, to feel the pain of the Libor fine in the form of reduced or withheld bonuses.
RBS said it was cutting bonus payments by about $468 million to help pay for the penalties. Bonuses have been clawed back from staff and managers involved, supervisors with responsibility for the business and more broadly across the bank, particularly in its investment banking division.
The bank misled U.K. regulators in March 2011 when asked specifically about its systems for supervising Libor submissions.
"The FSA takes it very seriously when firms tell us that they have appropriate systems but do not," said Tracey McDermott, director of enforcement and financial crime.
The U.K. government is implementing the findings of a review of Libor, which include transferring responsibility for the rate-setting process from the British Bankers' Association, a trade group, to a new administrator regulated by the Financial Conduct Authority.