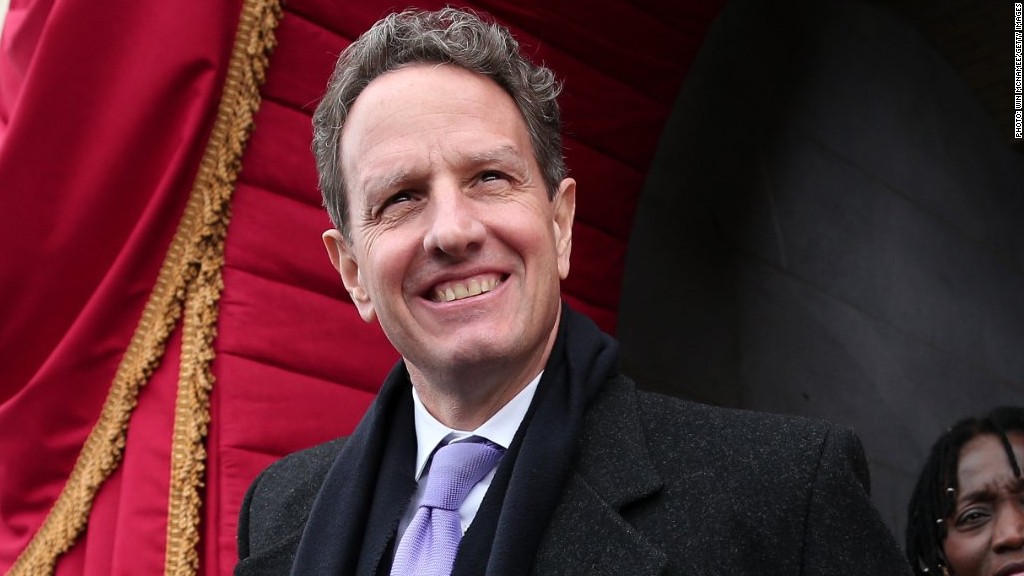 Tim Geithner wants another word on the financial crisis.
The former treasury secretary plans to write a book about the response to the crisis, with publication targeted for 2014, according to a source familiar with the project. The source said Geithner has yet to settle on a publisher.
The news was reported earlier by the Associated Press.
Geithner's book will be another addition to the crisis-memoir genre, following books from ex-government officials including Bush treasury secretary Hank Paulson, former Federal Deposit Insurance Corporation chairwoman Sheila Bair and former bailout watchdog Neil Barofsky.
Geithner also plans to join the Council on Foreign Relations later this month as a distinguished fellow, the New York-based think tank announced Wednesday.
Geithner has a masters in international economics and much of his early career focused on that field. He had been under secretary of Treasury for international affairs during the Clinton administration, moving to CFR as a senior fellow in 2001, and then onto the International Monetary Fund later that year.
He became president of the Federal Reserve Bank of New York in October 2003, serving in that role until he was tapped as Treasury secretary in 2009. His final day in that office was Jan. 25. President Obama has nominated his chief of staff Jack Lew to take his place, but he has yet to be confirmed by the Senate.
While much of Geithner's time at Treasury focused on domestic issues, such as the various government bailout programs, tax policy and the nation's debt ceiling debate, he also was the administration's point man on many international issues including the European sovereign debt crisis or the U.S. push for China to allow its currency to appreciate in value relative to the dollar. The Treasury Department said he logged more than 600,000 miles on international trips during his tenure, visiting 38 foreign cities.