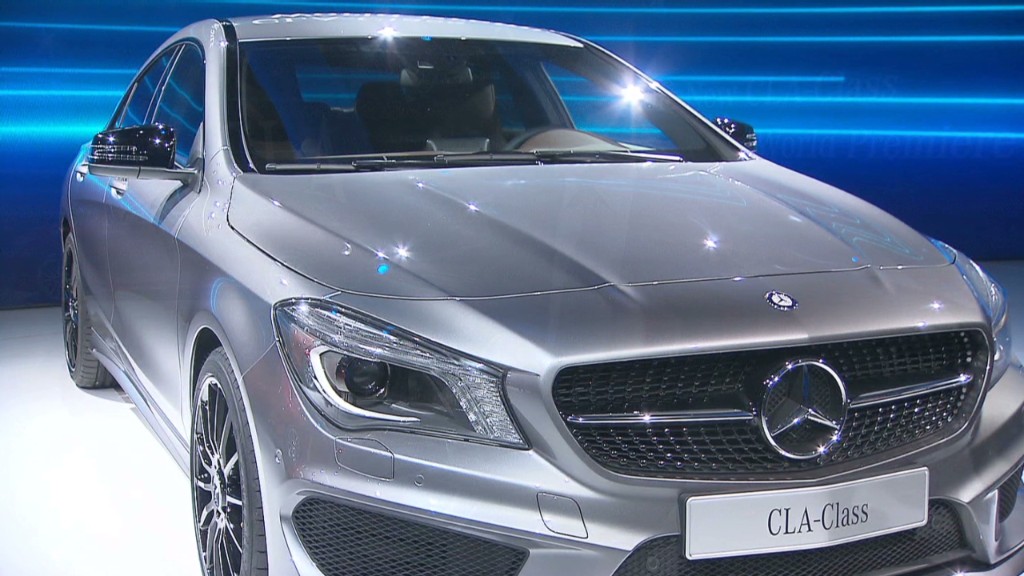 If you found yourself tempted by Willem Dafoe's devil in the Mercedes CLA Super Bowl ad, in which a young man decides he doesn't need to sell his immortal soul to get into the low-priced luxury car, you're not alone. Not at all.
After its big Super Bowl advertising push, the CLA sedan became the most-researched vehicle on the popular automotive Web site Edmunds.com, a place many car shoppers go to compare details on new cars. And it wasn't just the most-researched luxury car, either. On the Monday following the game, the CLA was the most researched vehicle on Edmunds.com... period. The next most-researched vehicle was the Toyota Rav4.
Now, if you want to buy one, that's another story. Even if you are willing to sell your very soul, you're not getting a CLA before September. That's when it goes on sale in the United States.
So why bother?
Why would an automaker -- or an anything-maker, for that matter -- bother to advertise a product that won't be available for another nine months, let alone advertise it during the Super Bowl at a cost of over $4 million a pop?
Super Bowl spots: Psy meets the GoDaddy girls
Well, as the Super Bowl isn't just any ballgame, the CLA isn't just any car. The CLA is Mercedes' attempt to reach "a new generation of buyers," the automaker says.
The CLA's base price is a mere $29,900, low for a luxury car. That's a big part of the car's appeal.
For that price, buyers will get a front-wheel-drive car with a four-cylinder engine. But the CLA looks quite similar to a V8 powered Mercedes-Benz CLS which costs at least $70,000.
The CLA is actually just the first in a series of new lower-priced new models Mercedes is planning to introduce.
With these cars, Mercedes is trying to capture first-time luxury car buyers who might otherwise buy a BMW 1-series or an Audi A3. Mercedes has the highest customer retention of any luxury automaker, boasted Mercedes spokeswoman Donna Boland, so a customer who buys or leases a CLA this fall will likely return to take a C-class or maybe even an E-class.
Related: Cool cars from the Detroit Auto Show
With all those future repeat customers at stake, Mercedes had to go big, said Boland.
"You had to use the Super Bowl," she said. "The broadest reach. The 111 million to 115 million viewers."
The fact that the Super Bowl took place in early February and not closer to the CLA's launch date presented only a minor problem. Mercedes will keep interest going in the meantime with regular doses of social media, Boland said.
Mercedes had already been doing a big social media push with "teaser" ads leading up to the big Super Bowl spots. By the time the ads aired, on-line versions had already been viewed millions of times online.
Mercedes may have missed an opportunity by not being better prepared for the rush of interested shoppers once the ads aired, though, said Jeremy Anwyl, vice chairman of Edmunds.com.
"The experience on the Edmunds site could have been a lot better," he said.
All those people clicking through links to find the car on Edmunds.com were greeted one measly grayed-out photo with the words "Target Launch: Fall 2013" splayed across it. Mercedes could have provided more information and more photos of the car, Anwyl said.
But there was plenty of information available at Mercedes' own Web site, MBUSA.com, Boland pointed out. Either way, Boland is confident that Mercedes can hold car shoppers' interest in the new car until the fall.
"It will be September before you know it," she said.