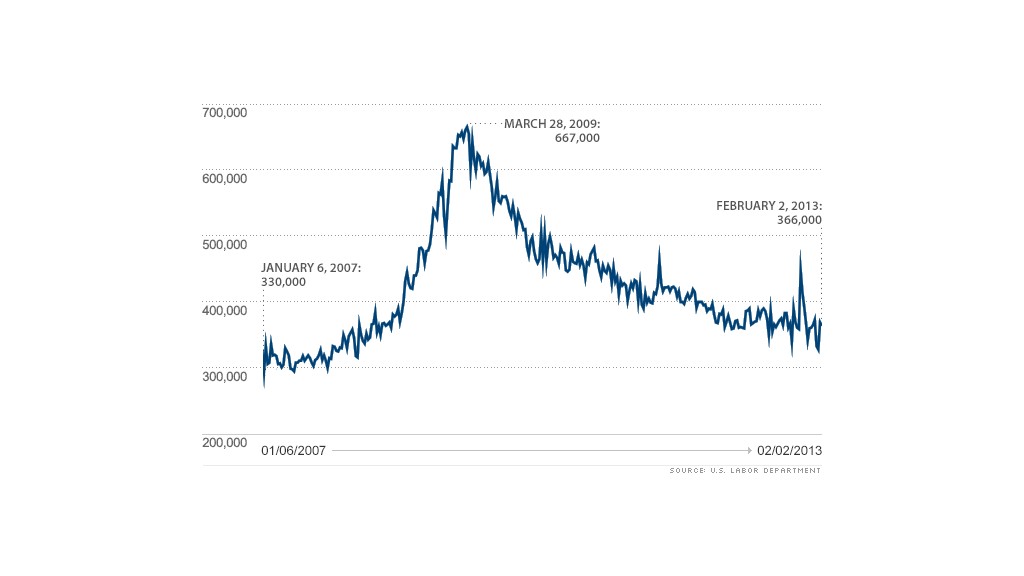 Claims for unemployment benefits fell slightly last week, but overall, they point to the same slow hiring in the U.S. economy that's persisted for nearly two years.
First-time jobless claims fell slightly last week to 366,000, from an upwardly revised 371,000 the previous week, the Labor Department said Thursday.
Jobless claims are a key economic indicator because they're considered a proxy for layoffs. Over the last month, they've been especially volatile, making it difficult to get a clear reading on the job market.
Initial claims plunged to a five-year low in early January, and then snapped back up in the following weeks. Now, they're hovering back in the in the 350,000 to 400,000 range, where they've largely been stuck for more than a year.
Claims at that level are consistent with hiring that adds roughly 180,000 jobs to the U.S. economy each month, as has been the average over the last two years.
"Businesses are still quite cautious on the hiring front," said Jennifer Lee, a senior economist with BMO Capital Markets. "There's still uncertainty about taxes and spending, and that's going to play out in the next quarter or so. They're only hiring the workers they need -- no more, no less."
Related: Check the unemployment rate in your state
Economists often prefer to smooth out the volatility in the weekly claims data by looking at a four-week moving average. That measure was 350,500 last week, marking a slight decrease from the week before.
In addition to tracking first-time claims, the Labor Department also tracks people who have filed for their second week or more of benefits. The latest data shows 3.2 million people filed continuing claims in the week ending January 26, barely changed from a week earlier.