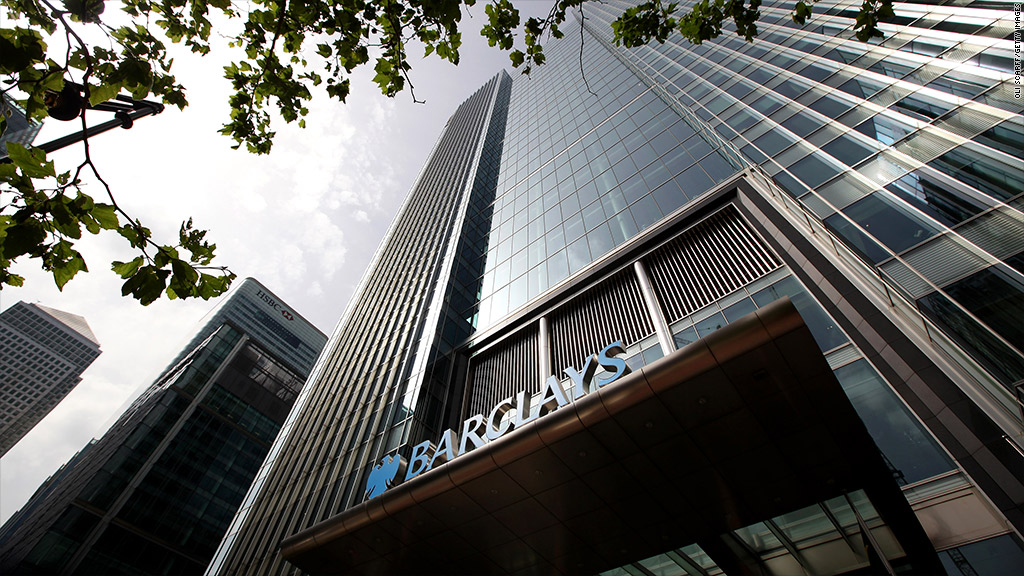 Barclays is cutting 3,700 jobs and scaling back investment banking in Europe and Asia in a bid to clean up its reputation and revive profits after a series of damaging scandals.
The cuts will be divided almost equally across its investment and retail banking operations, mainly in continental Europe and Asia. Barclays (BCLYF) is also closing its structured capital markets unit, at one time its most profitable business, which focused exclusively on helping clients avoid taxes.
"We know that we need to change the way we do business if we are going to regain the trust of our various stakeholders and begin to restore our reputation," CEO Antony Jenkins said in a statement. "The process will take time but we are committed to transforming Barclays."
Pretax profit at the bank slumped to £246 million in 2012 from £5.9 billion the previous year as it felt the impact of a fine for rigging benchmark interest rates, and provisions totaling £2.45 billion for compensating customers who were sold payment protection and interest rate hedging products they didn't understand or need.
Jenkins, who has already waived his bonus for 2012, became CEO in August. He succeeded Bob Diamond who resigned after the bank was fined $450 million for manipulating Libor interest rates in order to make money for its traders.
Related: RBS fined for Libor rigging, more to come
The strategic overhaul launched last fall by Jenkins is meant to place much greater emphasis on doing business "in the right way." Jenkins told lawmakers recently he was aiming to shred the legacy left by star investment banker Diamond.
Barclays said it would focus on investment in the U.K., U.S. and Africa while retaining a smaller presence in Europe and Asia to support its global investment bank.
Adjusted pretax profit for last year was £7.05 billion, up 26%, and broadly in line with market expectations. Still, the shares gained more than 4% in morning trading.
Jenkins may have waived his bonus, but Barclays' investment bankers will still receive an average payout of £54,100, down 17% from a year earlier.