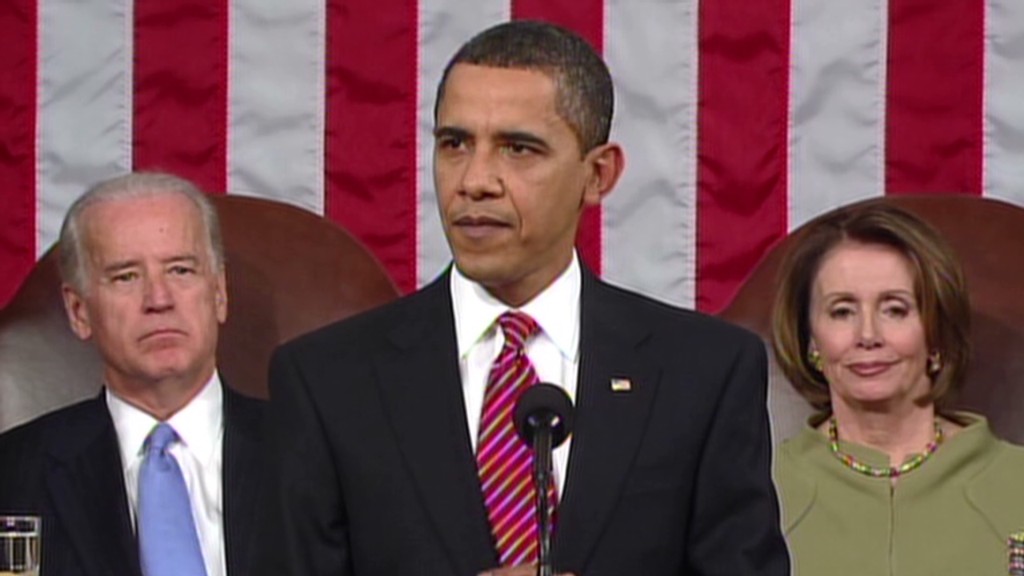 In every State of the Union speech so far, President Obama has pledged to help small businesses.
Expect more of that this year.
But has he delivered on his promises so far? Here's a look at some of his comments in previous State of the Union speeches.
"We must also address the crushing cost of health care... it is one of the major reasons why small businesses close their doors and corporations ship jobs overseas." - 2009
Health care costs for small businesses keep rising, according to last year's Kaiser Family Foundation study. The average cost of yearly premiums in an employer-sponsored single plan rose 3% last year to $5,429. There was an even bigger jump for family plans, which rose 4% to $15,073.
Employers typically pay a portion of those plans, so higher premiums mean a bigger bill for business owners. They can choose to pay a smaller share of the premium, but doing so only forces higher costs on their employees.
The president hoped -- and still hopes -- that Obamacare will halt rising health care costs. One solution might come from state health care exchanges, marketplaces that are meant to give businesses an avenue to shop for cheaper plans. But that, along with most other significant changes, won't go into effect until next year.
"Let's pass an agenda that helps them succeed. Expand tax relief to small businesses that are raising wages and creating good jobs." - 2012
There haven't been sweeping tax rate cuts, but the federal government has made minor tweaks here and there. It's easier for small businesses to deduct mobile phone expenses, new companies can deduct $10,000 in startup costs (double the previous deduction) and there are now limits on tax-error penalties.
Not all tax breaks are still around. For example, payroll taxes on employers have gone back up. Also, small business owners may no longer deduct their own health care expenses when calculating self-employment tax.
And while Obama frequently touts his 18 small business tax cuts, several were simply renewals of old tax breaks and some were double counted. It's really closer to 14.
"Financing remains difficult... I'm proposing that we take $30 billion... and use it to help community banks give small businesses the credit they need to stay afloat." - 2010
The Small Business Lending Fund, as the program later came to be called, fell far short of that $30 billion. Only $4 billion was actually disbursed. A tiny fraction of the nation's 7,000 community banks applied to the Treasury Department program, and even fewer -- 326 -- made the cut.
While few banks took part in the program, those that did have reported increased lending to small businesses. During the first year of the program from mid-2011 to mid-2012, the banks lent entrepreneurs $7.4 billion more than they did the previous year. According to Treasury, the typical bank in the program increased its small business lending by a median of 30%. At the same time, similar banks outside the program only increased business lending by 6%.
"To reduce barriers to growth and investment, I've ordered a review of government regulations. When we find rules that put an unnecessary burden on businesses, we will fix them." - 2011
Obama did indeed issue an executive order demanding that every agency taper its rulebook. Agencies put forward more than 500 proposals, and 143 regulations are currently under review. The administration last year said changes to just nine regulations would save more than $10 billion over the next five years.
As for the pace of creating new regulations, Obama is in line with his predecessors. In its first three years, his administration approved 297 new regulations every year on average, according to the Pulitzer-winning project PolitiFact. That's about the same pace as the Bush and Clinton administrations.