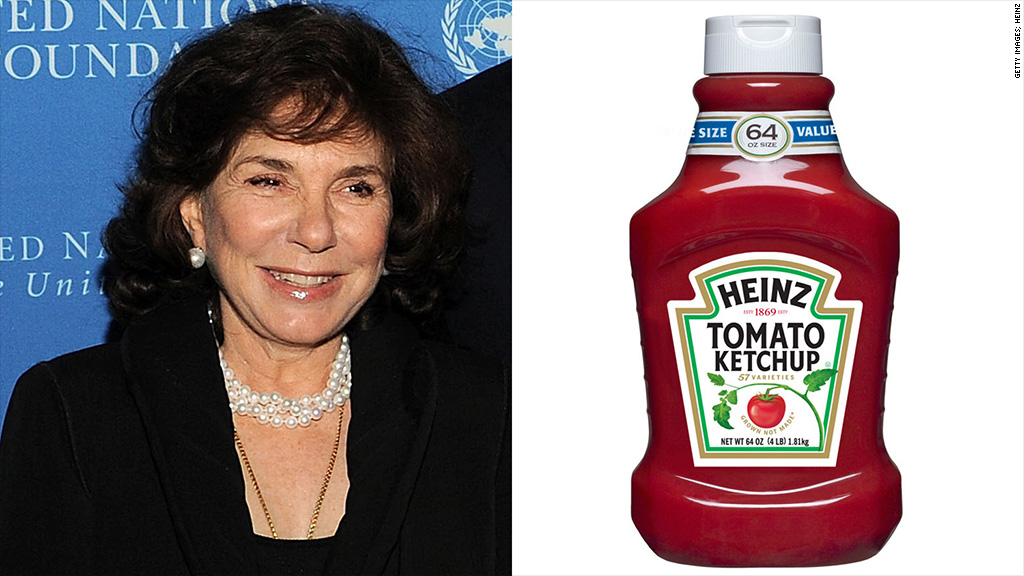 Teresa Heinz Kerry may carry the
Heinz

(HNZ) name but she's not going to be able to cash in on the company's $28 billion sale.

That's because Heinz Kerry holds, at most, a negligible stake of less than 1%, according to analysts. Neither the Heinz family nor its trusts are named in any public filings.

Heinz Kerry, the wife of Secretary of State John Kerry, inherited her stake after her husband, H. John Heinz, died in 1991.

It's unclear how much she personally owned and how much was tied up in Heinz family trusts, but the bulk of those holdings were sold through a secondary offering in 1995, according to SEC filings.

Heinz Kerry's wealth came under the spotlight during Kerry's run for President in 2004. At that time, the company said her family owned less than 4%. "They have no involvement in the Heinz Ketchup business or any of the company's other brands or products," said Heinz (the company) in a statement.

Related: Buffett and Brazilian investor to buy Heinz

Opensecrets.org estimated that Kerry's net worth was between $184 million and $288 million in 2011. At the time, he was the wealthiest member of the Senate. Kerry and his wife file separate tax returns, so more nuanced details of her wealth are not publicly available

In recent disclosures ahead of Kerry's hearings to become Secretary of State, he noted that two of Heinz Kerry's trusts are invested in Heinz but didn't disclose how large the stake was.

Heinz shares are widely held, and a large number of stakeholders stand to benefit from the $28 billion sale, announced early Thursday by Warren Buffett's Berkshire Hathaway (BRKA) and private equity firm 3G Capital.

Mutual funds run by BlackRock (BLK) and the Vanguard Group are among the largest shareholders, with stakes of 5% and 4.5% respectively.

Heinz CEO William Johnson holds the largest insider stake, totaling roughly 1.4 million shares, according to FactSet. That should net him a cool $100 million when the deal closes.

Heinz is one of the few major iconic American food companies where the heirs have sold out. The heirs to Campbell Soup (CPB),Hershey (HSY),Kellogg (K) andJ.M. Smucker (SJM) still hold a large percentage of those shares.