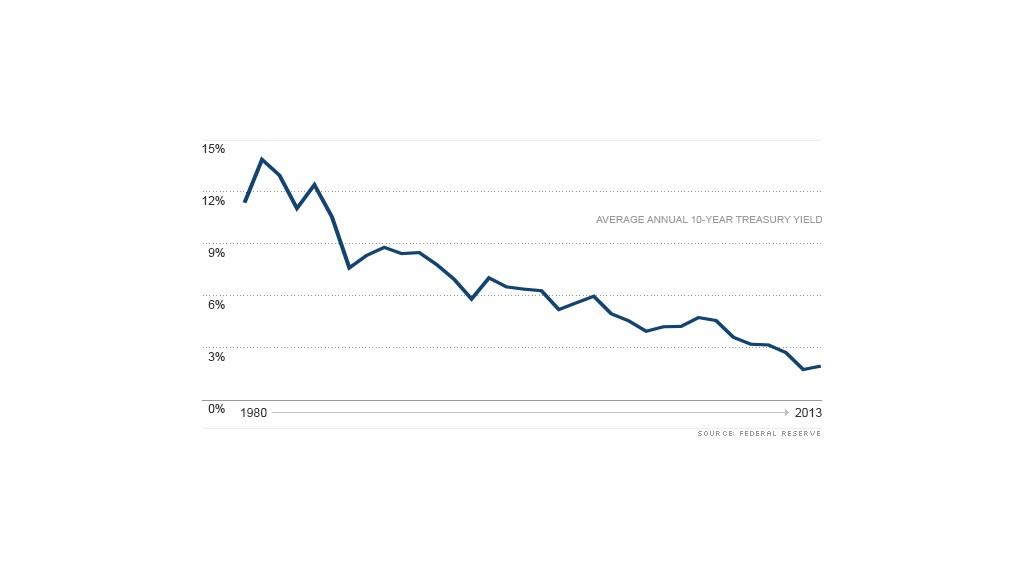 Bonds have been outperforming stocks for the past 30 years, but that's about to change, warn experts.
"Bonds are not the safe haven that they used to be," said Michael Sheldon, chief market strategist at RDM Financial Group. "Interest rates have been declining since the early 1980s but now we're heading into a period of rising rates, which means that investing in the bond market will be a lot more challenging over the next few years."
Investors with stakes in long-term Treasuries are already feeling the pain.
As the 10-year Treasury yield recently crept up to 2% from its record low of 1.4% last July, the iShares Barclays 7-10 Year Treasury ETF (IEF) and the iShares Barclays 10-20 Year Treasury ETF (TLH) declined 3%, while the iShares Barclays 20+ Year Treasury Bond ETF (TLT) dropped 10%.
Related: 10-year Treasuries: Buy today, cry tomorrow
If the 10-year yield rises back to the level it was before the financial crisis (around 5%), bond funds could plunge 25%, said Fred Dickson, chief market strategist at KDV Wealth Management.
The threat of rising yields is especially worrisome for individual investors, who have poured more than $1 trillion into bond funds in the aftermath of the financial crisis, according to the Investment Company Institute.
That trillion-dollar inflow has led to an overcrowded market.
Related: Beware the bond bubble in 2013
"Investors have way too much exposure to the bond market," said Christian Magoon, CEO of Magoon Capital. "They're invested in bonds for their perceived safety, so they'll likely be extra sensitive to the price moves. Losing 10% or 20% in the bond market feels like losing double that amount in the stock market."
The risk is even more alarming when you consider valuations, said Dickson, adding that the bond market "looks eerily similar" to the overvaluation of the stock market at the height of the dotcom bubble, when the S&P 500 was trading at 30 times trailing earnings.
By comparison, the S&P 500, which is near a new record high, is trading at less than 16 times 2012 earnings. Even at its all-time high in October 2007, the S&P 500's valuation was just above 17.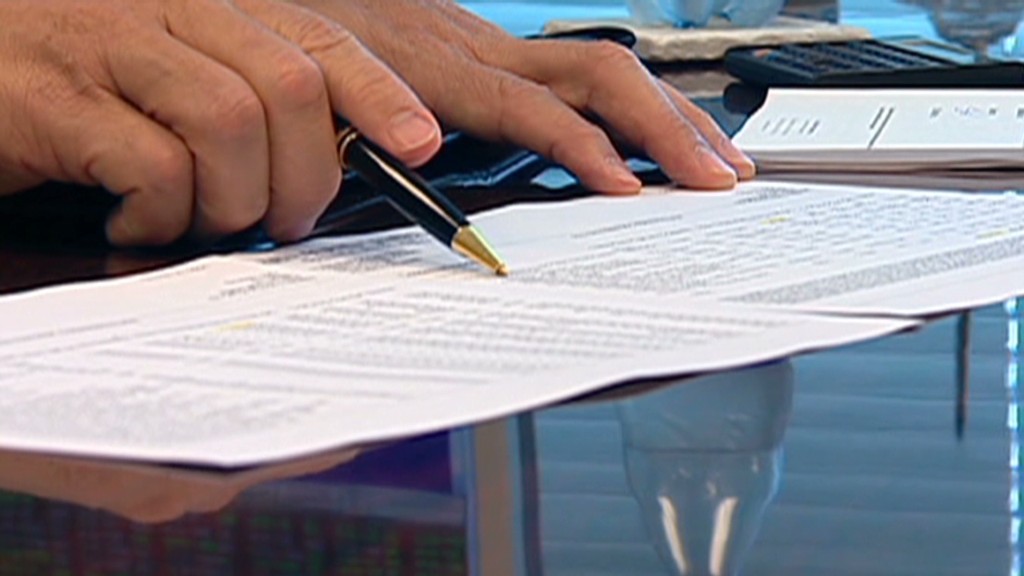 "There are certainly also risks in the stock market, and there's always a possibility of a correction," said Magoon. "But relative to bonds, stocks look much safer over the long term. And without more exposure to stocks, most investors won't be able to get the kinds of investment growth and the ability to fight inflation that they need to meet their retirement goals."
That's because stocks offer better returns that bonds. On a historical basis, stocks deliver an average annual return between 6% and 7% after inflation, according to Jeremy Siegel, professor of finance at the University of Pennsylvania's Wharton School. At best, bonds have historically returned up to 1%, after inflation.
Of course not all bonds are created equal. Experts like Magoon are investing in debt issued by emerging markets like Mexico, where the fiscal and debt outlooks are brighter than those of developed countries, including the United States.