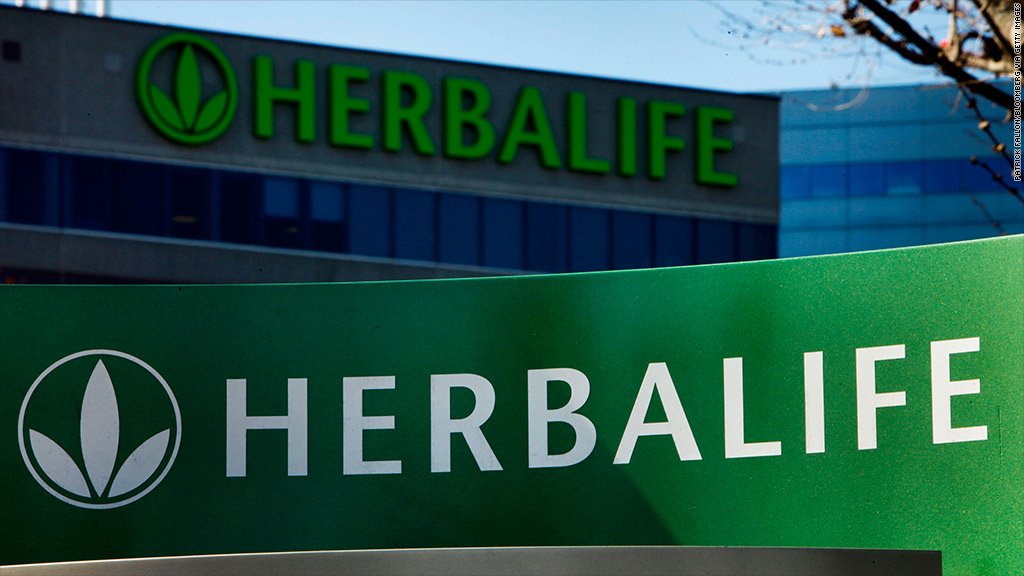 Questions have been swirling around Herbalife for two months, but the nutritional supplement company didn't give analysts much time to ask them on its quarterly conference call.
The company entertained only about 5 questions during its 45-minute call. Executives spent the bulk of the call rehashing its quarterly results.
Shares of Herbalife (HLF) declined by as much as 3% Wednesday, one day after the company reported double-digit profit and revenue growth, boosted its 2013 guidance and issued a dividend.
Herbalife CEO Michael Johnson said the company's business continues to perform "exceptionally well," despite "unprecedented, unfair attacks."
Back in December, hedge fund manager Bill Ackman called Herbalife a "massive pyramid scheme" and said he'd placed a $1 billion bet against the company.
Since then, investors have been clamoring for clarity about Herbalife's business. To make matters even murkier, hedge fund managers Dan Loeb and Carl Icahn threw their support behind Herbalife and bought separate stakes in the company.
Johnson declined to comment on Icahn's involvement in the stock or Icahn's suggestion that Herbalife could be taken private.
"We continue to believe that our stock is a compelling investment opportunity," he said.
Related: Herbalife raises 2013 guidance, reveals SEC inquiry
During Wednesday's call, Herbalife's executives acknowledged that some of its "nomenclature" has added to confusion over its business model. Executives said that Herbalife plans to start distinguishing the "wholesale buyers" of its nutritional supplements from those who actively sell its products.
But there was no specific timeline for when these changes might take place.
Herbaliff operates as a multi-level marketing company. Its worldwide network of salespeople, or "distributors," make money by selling Herbalife's products, and by recruiting new members and taking a portion of each of their sales.
The company has vehemently denied being a pyramid scheme.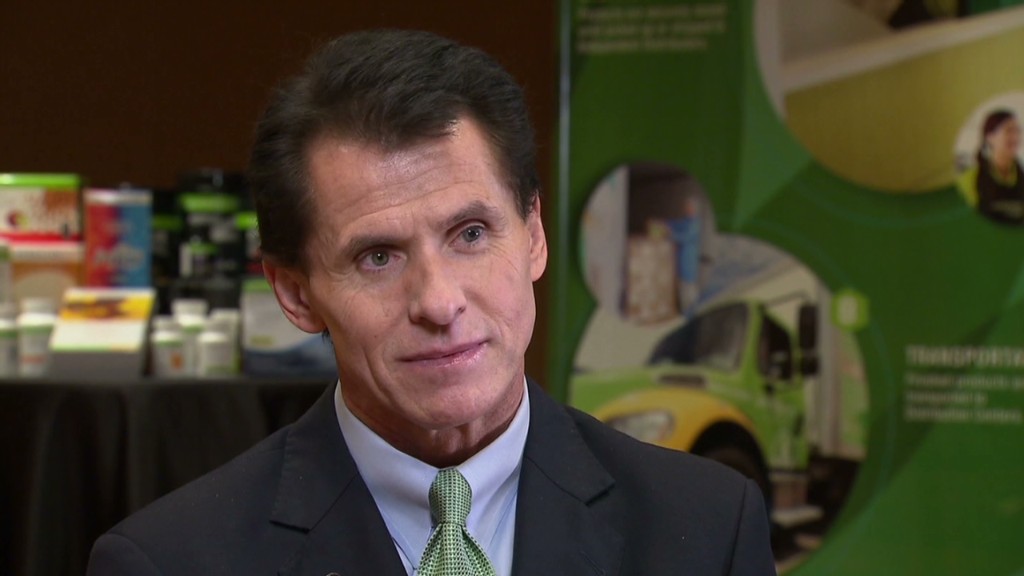 A company is considered a pyramid scheme if it generates the majority of its revenue from signing up new salespeople rather than from selling products, according to the Federal Trade Commission.
Related: Why Bill Ackman is targeting Herbalife
Johnson said Herbalife plans to make its business model more accessible going forward, so "investors in the public can more easily understand our business."
To show the world that consumers actually drink Herbalife shakes and take its vitamins, executives said that the company is in the process of hiring a vice president of research who can put numbers behind how many people use its products. In a recent presentation to investors, Herbalife acknowledge that it didn't have access to these figures.
"If Herbalife really wants investors to understand their business better and provide full transparency as Johnson said on the call, they should start by answering even one of the 284 questions we submitted publicly to them two weeks ago," said Ackman in an emailed statement. "To date, they have yet to respond to one of those questions."