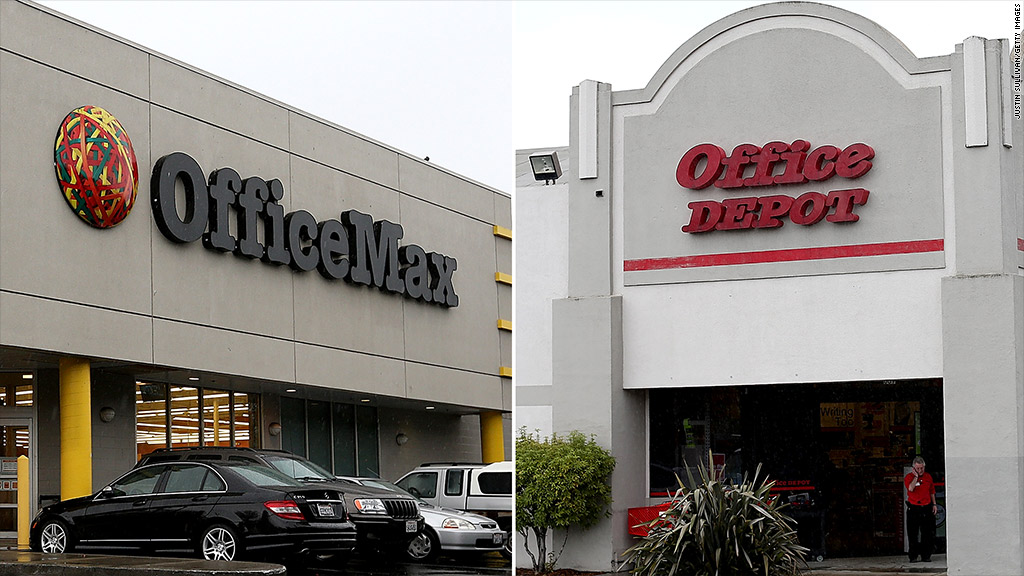 Office Depot announced a deal to merge with smaller rival OfficeMax in an all-stock deal worth about $1.2 billion.
Details on the deal were limited. The companies said they expect to save $400 million to $600 million annually from the combination. But there were no estimates of staffing cuts or store closings.
The decision about what to call the combined company will be determined after a CEO is selected. The company will look at both current CEOs as well as outside candidates before deciding who will run the companies.
The announcement itself was a bit of an embarrassment and cast a negative light on Office Depot's operational controls.
First word of the deal came when Office Depot posted, apparently by mistake, a fourth quarter earnings statement which mentioned the deal on page 4 under "other matters." That earnings statement was then removed from the company's investors relations Web site later in the morning. Once the earnings statement disappeared the New York Times reported that the negotiations on the deal were still ongoing. Then immediately after the market opened came the official joint announcement of the deal, which the companies described as a "merger of equals." News of this type typically is announced before or after market trading hours, not immediately after the start of trading.
Office Depot CEO Neil Austrian blamed the mistake on the company's Webcast provider and apologized to analysts during a conference call Wednesday for the confusion it had caused.
The deal is clearly an attempt for the two companies to compete with larger rival Staples (SPLS).
Office Depot has 1,629 stores worldwide and 38,000 employees.
OfficeMax had 941 stores at the end of 2012, and 29,000 employees in 2011, the most recent year it has reported.
Staples operated 2,248 stores worldwide in 2011 and has 90,000 employees.
Executives from Office Depot and OfficeMax said they could not give estimates as to how many stores would be closing, saying that they had not been able to have those discussions during the merger discussions.
Experts in corporate mergers say not having a new company name and a the lack of new CEO is very unusual at the time of a merger announcement.
Darren Hensley, a Denver merger & acquisition attorney, said Wednesday's announcement seemed to suggest the final decision on a deal was somewhat rushed.
"There was a huge push to get this into the market fast. The plans weren't half-baked, but they weren't finished baking," he said.
Executives with the companies didn't comment on what a future company name might be, but OfficeMax CEO Ravi Saligram did tell investors "we've got a lot of work to do once we combine."
In addition to competing with the larger company, Staples, all the companies in this retail segment have faced increased competition from online retailers such as Amazon (AMZN).
Under the deal, OfficeMax shareholders will receive 2.69 shares of Office Depot stock for each of their shares. That is only about a 4% premium, based on Tuesday's closing stock prices. But OfficeMax shareholders had already profited on widespread reports of the deal ahead of Wednesday, which drove shares up 21% on Tuesday alone. Office Depot shares had also closed up 9% on Tuesday.
Shares of OfficeMax (OMX), Office Depot (ODP) and Staples (SPLS) were all trading lower at midday after starting the day higher immediately after the announcement.
Related: M&A making a comeback
The combination annoucement comes as mergers and acquisitions have picked up.
Just last week, US Airways (LCC) announced a merger with American Airlines parent AMR (AAMRQ). Warren Buffett's Berkshire Hathaway (BRKA) announced it was buying Heinz (HNZ). And Comcast (CMCSA) announced a $16.7 billion deal for the 49% of NBC Universal that was still owned byGeneral Electric (GE).