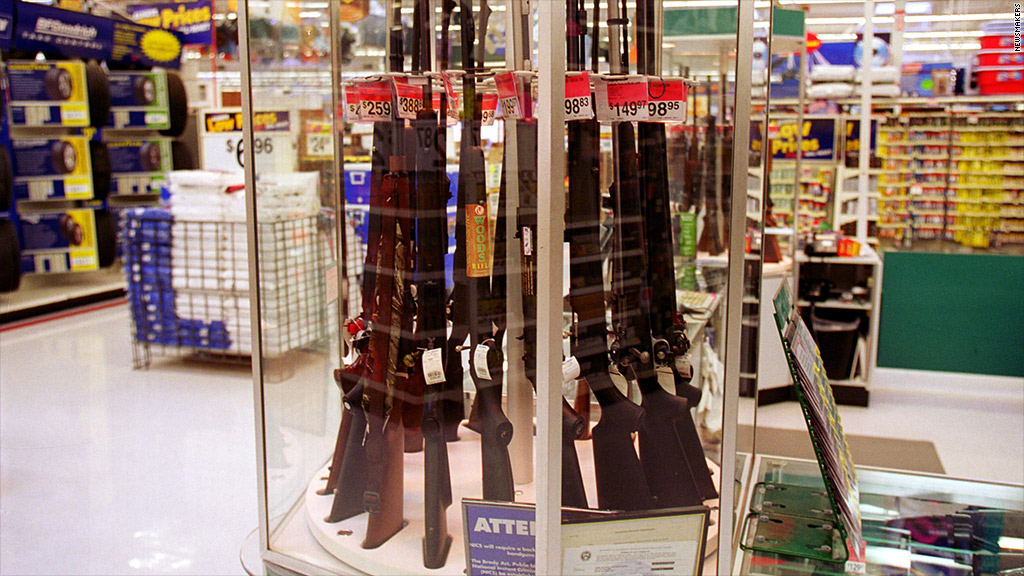 Looking to buy a gun? Wal-Mart might be sold out of the one you want.
"There are certain firearms that are very difficult to get," Wal-Mart U.S. CEO Bill Simon said Thursday, although the company wouldn't say which models and makes he meant.
Stores have had a hard time keeping guns and ammunition in stock since President Obama's reelection in November. Sales picked up even more steam after the tragic school shooting in Newtown, Conn., in December.
Wal-Mart's sporting goods division, which includes guns and ammunition, was up in its fourth quarter, according to Simon.
Earlier this month, the nation's largest retailer said it had to ration sales of ammunition after months of surging demand. Customers are limited to three boxes per day at its stores across the country. Simon said he doesn't know when it will be lifted.
There are no limits on the number of guns a customer can buy in stores, according to Wal-Mart spokesman Randy Hargrove, who said the retailer sells guns at "a little less than half" of the country's 4,000 stores.
In the past year, gun sales at Wal-Mart (WMT) have skyrocketed. In October, Executive Vice President Duncan Mac Naughton told shareholders that gun sales at Wal-Mart stores open for a year or more increased 76% to that point in 2012, and ammunition sales were up 30%. The retailer did not release updated figures for the fourth quarter.
"Our firearms and ammunition sales are mirroring the market run-up now," Simon said on Thursday.
Related: As firearm sales soar, Wal-Mart rations sale of ammunition
Gun shop owners told CNNMoney that semiautomatic rifles and high-capacity magazines are flying off shelves across the country, since many people are worried that their right to buy assault weapons could be curtailed with gun control legislation. Gun industry experts say they are buying up guns while they have the chance.
Last month, President Barack Obama proposed background checks on all gun sales, as well as bans on military-style assault weapons and high-capacity magazines. That same week, New York Gov. Andrew Cuomo signed a gun control package into law that fortifies the state's existing assault weapons ban, limits the number of bullets allowed in magazines and strengthens rules governing the mentally ill.
Related: Handgun homicides in the United States
Because Wal-Mart is the largest retailer in the country, the demand for guns at Wal-Mart could be seen as a barometer of gun sales across the country.
Background checks, the most reliable way to track the number of gun sales, have reached their highest levels in fifteen years over the last two months, according to FBI data. Nine of the 10 highest days for gun background checks since 1998 have taken place since the school shooting in Newtown.