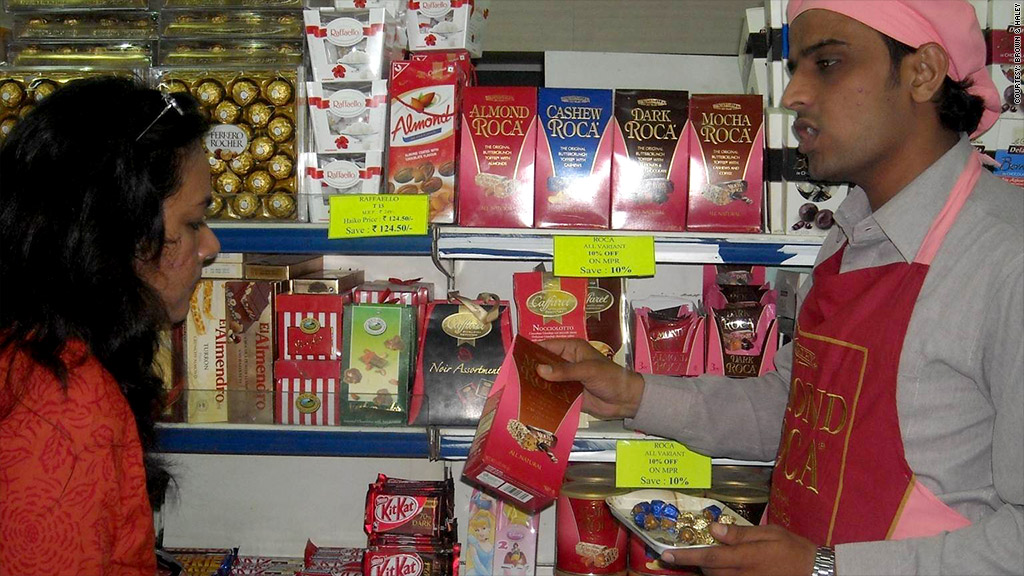 India, a land of hot weather and spicy food, is suddenly having a serious craving for chocolate.
The entire chocolate market in India is booming, but pricey chocolates are especially in demand there as its growing middle and upper class develops a taste for luxury goods, according to a report from market research firm Mintel Group. For luxury chocolate makers in America, it's a chance to break out from a crowded home market and expand into a fast-growth emerging market.
"There is tremendous untapped market opportunity for Western premium chocolate brands in India," said Peter Ayton, global consumer analyst at Mintel.
India is the fastest-growing market for chocolate in the world right now, according to Mintel. Sales there have doubled to $857 million in 2011, up from $418 million three years ago, Mintel found.
Chocolate consumption in India has jumped similarly, reaching 2.58 ounces per person in 2011 from 1.41 ounces in 2007. In more mature markets like the United States, consumers in 2011 averaged a far heftier 12.8 lbs.
In other words, the market still has lots of room to grow, said Ayton.
Related story: Made in America. Stayed in America
To make inroads with India's swelling population of chocolate lovers, some American chocolatiers are heading overseas.
Brown & Haley, a Tacoma, Wash.-based firm that's been making gourmet chocolates for 90 years, launched its iconic Almond Roca in India last fall.
The buttercrunch hard toffee, covered by a thin layer of chocolate and chopped almonds, "is a quintessential American product," said John Melin, Brown & Haley's chief operating officer. But, he added, "our chocolates mesh well with the Indian palate because consumers there love almonds and crunchy chocolate."
The company's other flavors include Dark Roca, Cashew Roca and Mocha Roca. All four debuted in Mumbai in 2012, and are selling exceptionally well, said Melin.
Despite the favorable reception, Melin plans to expand slowly, city by city. That's because there are challenges when selling in India too, he said.
For example, U.S. chocolate companies coming to India have to contend with high import taxes, a lack of modern supermarkets and a distribution network that's still primitive compared to the West, said Melin.
Also, Indians still mostly favor traditional sweets over chocolates during big celebrations such as weddings, Diwali (start of the Hindu New Year), and Holi (the spring harvest season).
"India's premium market will be very big in five to 10 years from now," said Melin. "For now, we want to position ourselves there and get consumers to know our products."
Tcho Chocolate, a seven-year-old San Francisco-based luxury chocolate maker, also wants to tackle the Indian market, but more slowly, planning to sell there in the next five years.
Tcho chocolates are made with organic ingredients and fair trade cacao beans from Ecuador, Peru and Ghana. Its chocolates with nuts and flagship dark chocolates could do well in India, said Jane Metcalfe, president of the firm.
"Indians have a strong culture of eating sweets. It's a big part of the food there," said Metcalfe. India is a great opportunity but also a "very big and complicated market," she said.